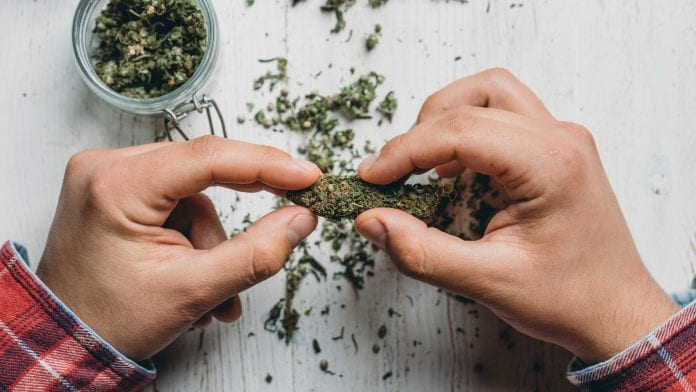 Today, the Centre for Medicinal Cannabis (CMC) is calling on the UK government to urgently review medical cannabis policy relating to cannabis access.
The call comes as the Centre for Medicinal Cannabis publishes a breakdown of the largest ever UK survey showing the extent of the prevalence of use of street-available cannabis for diagnosed medical conditions amongst the general population in England, Wales and Scotland.
The data from a YouGov survey of 10,602 adults is published in a new report 'Left Behind – The Scale of Illegal Cannabis Use for Medicinal Intent'. This survey showed that over 1.4 million people (2.8% of the adult population) are using cannabis to treat chronic health conditions.
The report reveals that people across Britain are using cannabis therapeutically across all age groups, social classes, family groups, and both genders, with almost half spending over £100 per month on their symptomatic relief.
After extrapolating survey results CMC have estimated that a startling 653,456 people in the UK are using cannabis for depression, 586,188 for anxiety, 326,728 for chronic pain, 230,631 for arthritis, 182,583 for insomnia and 177,778 for post-traumatic stress disorder (PTSD).
Dr Daniel Couch, Medical Lead, Centre for Medicinal Cannabis: "The data in our report demonstrates the 'hidden' personal, moral and societal costs of using 'street' cannabis.
"The tried and tested drug evaluation process does not take these non-clinical and wider-societal risks into account so therefore may not be suitable for the assessment of medicinal cannabis.
"We must debate an adaptive onward approach for the UK."
A breakdown of the key findings
The report found that cannabis is used across all socio-demographic groups, and that 56% of those self-medicating are people from social classes C2DE, whilst 44% are from ABC1.
The bulk of people treating themselves with cannabis are aged 18-44 (71.4%), but a significant number of users are aged over 55 (14.6%) and 80% of those people treat themselves with cannabis daily or weekly.
Regarding frequency of use, the report found that 55.8% reported using cannabis as a medicine on a daily basis, 23.4% on a weekly basis, 8.5% on a monthly basis. A total of 42% of people using cannabis to treat themselves spend over £100 a month on 'street' cannabis.
9% reported spending nothing to acquire cannabis per month, suggesting they either grow their own or are given it by a friend or carer.
The highest mean expenditure per month was for Parkinson's disease (£357).
UK should review medical cannabis policy
The YouGov poll found that people are treating themselves for the following diseases (sorted by number of people): depression, anxiety, chronic pain, arthritis, insomnia, PTSD, autism spectrum disorder, psoriasis, inflammatory bowel disease, high blood pressure, cancer, schizophrenia, spinal cord injury, peripheral neuropathy, epilepsy, glaucoma, heart disease, immunosuppression, multiple sclerosis, vascular disease, Parkinson's disease, Huntington's disease and HIV/AIDs.
As a proportion of people with a disease, the most frequent cannabis users were Huntington's disease (41.67% of those with Huntington's), schizophrenia (41.18%), Parkinson's disease (30.43%), autism spectrum disorder (20.39%), Multiple Sclerosis (19.23%), and PTSD (17.37%).
The CMC is calling for a review of medical cannabis policy as the monetary, ethical and social cost to individuals who are using cannabis to relieve their symptoms is high, and unnecessarily exposes them to significant personal risk.
At present there are a limited number of appropriately sized clinical trials assessing the therapeutic value of cannabis-based medicines, reflected recently by the calls from NICE and the National Institute for Health Research for focussed research.
Steve Moore, Founder, Centre for Medicinal Cannabis said:  "These findings quantify what we long suspected, almost 3% of the UK adult population are choosing to use cannabis rather than traditional pharmaceutical products to treat their chronic medical conditions.
"We urgently need to know why and can only do so by extending access to cannabis based medicine and accelerating clinical learning regarding its efficacy. Other countries such as Denmark and France faced with these same challenges have established national medicinal cannabis pilots, we urge the UK government to do likewise."
Ian Tordoff, CEO of Block Commodities said: "The report published by the UK Centre for Medical Cannabis reaffirms the importance of re-evaluating the UK's stance on the accessibility of medical cannabis through the NHS.
"It is frustrating that people are still forced to resort to 'criminal' activity to find relief for conditions that it could be effectively treating. In my role as CEO of Block Commodities, a UK-listed company, we support the efforts of the CMC and continue to raise awareness of the positive impact that the cannabis plant, in its various forms, can have on public health and overall social wellbeing."