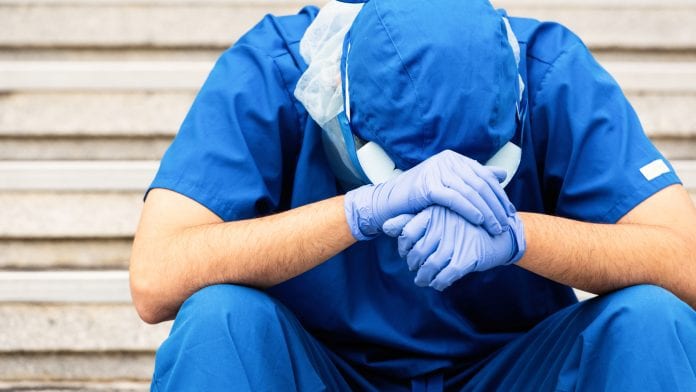 The COVID-19 pandemic has created a growing mental health crisis.
Isolation, uncertainty, and fear have all been significant factors in worsening mental health during the COVID-19 pandemic. Many people have lost their jobs, while colleagues left behind have been compelled to take on additional duties.
Employees working from home must contend with inadequate working spaces, dropped connections, pets and children with little regard for meeting etiquette, caring for children and elderly relatives, and the newfound need to balance professional and domestic responsibilities. Parents have found themselves trying to educate bored, distressed children from home with marginal support from school authorities; meanwhile, children and young adults have been unable to continue the educational and social development which they would normally receive in a school setting.
The issue has been particularly pressing for children of low-income families and those from volatile or abusive family backgrounds: the resources and support which they would normally be able to access at school, such as counselling and mental health support, free access to computers and the internet, dedicated working spaces, and specialised support for issues such as drug abuse, bullying, violence and molestation, have been broadly cut off.
A crisis in waiting
Up to 80% of people already living with mental illness have reported that their mental state has worsened as a direct result of the COVID-19 pandemic. In Ethiopia, the number of patients reporting symptoms of depression has tripled since before the outbreak; while 50% of healthcare workers in China have reported experiencing depression since the pandemic began, and 47% of healthcare workers in Canada have reported needing mental health support. Studies from Italy and Spain have indicated a rise in children exhibiting symptoms of mental distress such as irritability, nervousness and an inability to concentrate; one Canadian study found that 20% of respondents between the ages of 15 and 49 reported that their consumption of alcohol had increased during the pandemic.
World Health Organization (WHO) Director General Dr Tedros Adhanom Ghebreyesus said: "The impact of the pandemic on people's mental health is already extremely concerning. Social isolation, fear of contagion, and loss of family members is compounded by the distress caused by loss of income and often employment. It is now crystal clear that mental health needs must be treated as a core element of our response to and recovery from the COVID-19 pandemic – this is a collective responsibility of governments and civil society, with the support of the whole United Nations system. A failure to take people's emotional wellbeing seriously will lead to long-term social and economic costs to society."
UK charities call for action
The UK's suicide prevention charity Samaritans has partnered with more than 50 organisations from the social and third sectors, including Mind, Rethink Mental Illness and the Association of Mental Health Providers, to call on Prime Minister Boris Johnson to act swiftly to address the pending mental health crisis which they anticipate will occur as a result of the pandemic. The coalition has written to the Prime Minister to request the establishment of a cross-sectoral group to work alongside mental health bodies, to form policy and unlock funding for key measures in the fight to preserve the country's mental health.
Samaritans CEO Ruth Sutherland said: "We are continuing to hear about the devastating impact that coronavirus has had on our nation's mental health and our experience tells us that our service, and those of the other coalition charities, is going to be more vital than ever in the aftermath of the virus. As we come out of lockdown to face the challenges of recovery and a possible recession, Samaritans is calling for a Mental Health Renewal Plan which prioritises comprehensive support for people at risk of suicide.
"We want this to focus especially on groups such as less well-off middle-aged men and young people who self-harm, both of whom have long needed better support when they are struggling, and who are likely to face acute challenges in the coming months. As part of a coalition of experts, Samaritans stands ready to work collaboratively with government to inform how people at risk of suicide can be better supported."
Mental health funding in Scotland
The Scottish government has released funding of more than £8m for projects and services aimed at providing help and support for people dealing with loneliness and isolation during lockdown. The funding, which forms part of the government's £50m Wellbeing Fund, has been allocated across 344 programmes offering support within the community, from respite care to food parcels.
Communities Secretary Aileen Campbell said: "Adjusting to life under lockdown is tough and although we have all found it difficult, for some, the strain on their mental health and wellbeing has been a real struggle. A quick phone call or dropping off a few essential groceries can have a huge positive impact on people who may be self-isolating or shielding for health reasons. Small acts of kindness will also help those people who have seen their support network – whether that be friends, extended family, colleagues or community groups – disappear almost overnight. That is why this funding has been so important. It has enabled groups providing mental health and wellbeing support, alongside other vital services, to offer help and advice as we deal with this pandemic. I am glad we have been able to support groups across Scotland to provide these lifelines at a hugely difficult time."
This article is from issue 14 of Health Europa. Click here to get your free subscription today.