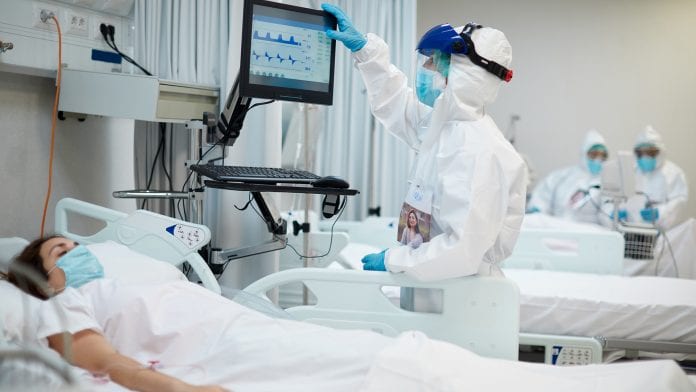 Data from over 130,000 hospitalised patients confirms that COVID-19 leads to more severe illness and higher death rates than seasonal influenza
The Lancet Respiratory Medicine journal has published data, confirming that nearly twice as many people were admitted to hospital for COVID-19 at the height of the pandemic than for influenza at the peak of the 2018/19 flu season.
The study is based on French national data from 89,530 patients hospitalised with COVID-19 over a two-month period, (between 1 March and 30 April 2020) and 45,819 patients hospitalised with seasonal influenza over a three-month period (between 1 December 2018 and  28 February 2019).
The data indicates that the death rate among hospitalised COVID-19 patients was three times higher for COVID-19, at 16.9%, while for influenza patients, the figure was 5.8%. As well as this, 16.3% of COVID-19 patients required intensive care, in comparison to 10.8% of influenza patients. The lengths patients stayed in an intensive care unit (ICU) also differed, with COVID-19 patients averaging 15 days, compared to an average of eight days for influenza patients.
The authors note several limitations to their study. For example, testing practices for influenza are likely to have been variable across hospitals whereas testing for COVID-19 may have been more standardised. This may account for some of the increased numbers of patients admitted to hospital with COVID-19 compared with seasonal influenza. Additionally, it is not possible to say whether the 2018/2019 flu season is representative of all seasonal influenzas, although the authors note that it was the most severe season in the past five years in France.
They also note that the difference in hospitalisation rate may be partly due to existing immunity to influenza in the population, either as a result of previous infection or vaccination, their findings reinforce the importance of measures to prevent the spread of both diseases and are particularly relevant as several countries prepare for the COVID-19 pandemic to overlap with outbreaks of seasonal influenza.
Dr Pascale Tubert-Bitter, research director at L'Institut National de la Santé et de la Recherche Médicale (Inserm) and from the University Paris-Saclay, France, who jointly led the study, said: "Taken together, our findings clearly indicate that COVID-19 is much more serious than seasonal influenza. At a time when no treatment has been shown to be effective at preventing severe disease in COVID-19 patients, this study highlights the importance of all measures of physical prevention and underlines the importance of effective vaccines."