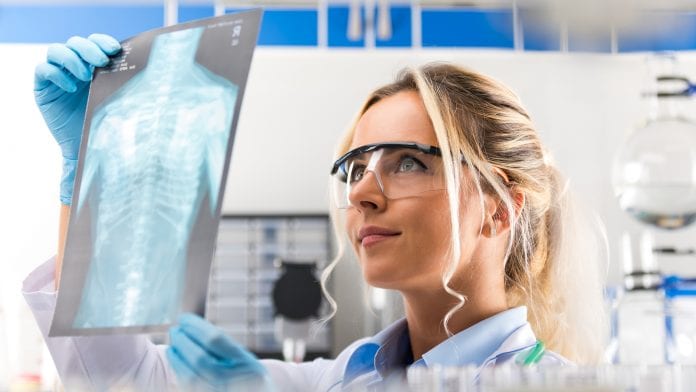 Controlling infections can be difficult in tight spaces. In a new article, radiologists from Shanghai have highlighted the measures taken during CT examination processes to reduce risk of infection during COVID-19.
A team of Chinese radiologists have published the details for controlling infections during the COVID-19 outbreak. Details include modifications made to the CT examination process, strict disinfection of examination rooms, and personal protection measures for radiographers.
The article has been published by the American Journal of Roentgenology and written by Jieming Qu, Wenjie Yang, and colleagues, at Shanghai Jiao Tong University Medical School Affiliated Ruijin Hospital.
Protective measures in examination rooms
The authors note that in order to undergo CT scans, patients must exit the fever clinic and proceed to an examination room elsewhere at the institution. CT examination rooms are not designed according to the rule of three zones and two aisles – a clean zone, a semi-contaminated zone, and a contaminated zone, along with a patient aisle and healthcare worker aisle.
In order to examine patients with suspected cases of COVID-19 an infection control strategy was implemented which included reconstructing the area and planning the path a patient would take, making it one-way and separating contaminated zones from clean ones.
A routine was created for disinfection of the examination room which included using an air disinfector and a movable ultra violet light, as well as cleaning non-plastic equipment surfaces,  protection items, and doorknobs with a solution at least 75% alcohol, washing plastic surfaces with soapy solution, and mopping the floor with a disinfectant containing 2000 mg Cl per litre of water. Similarly, all patient waste was considered infectious medical waste and managed accordingly.
Typically, CT scanning is performed by two radiographers.
The authors said: "The positioning radiographer works inside, and outside the scanning room (contaminated area). and is responsible for communicating with and positioning the patient. The positioning radiographer is not allowed to enter into the control room until the shift ends."
As part of the disinfection process, once a shift is finished, the positioning radiographer is allowed to enter the clean zone only after protective equipment has been properly discarded in the buffer zone.