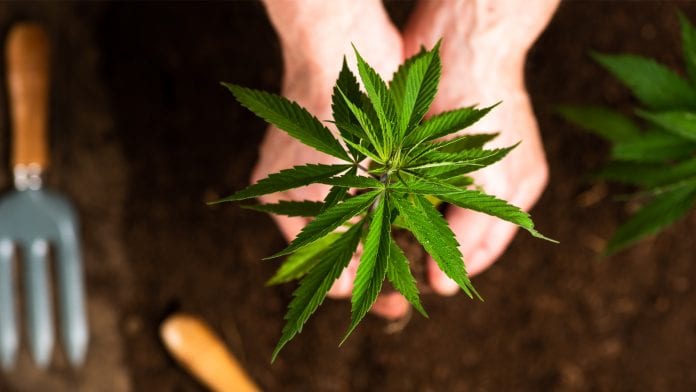 Estate agent Savills is teaming up with medical cannabis sector specialists to help British farmers and landowners capitalise on opportunities by growing medical cannabis.
Savills is joining forces with Hanway Associates, the leading cannabis strategic consultancy and CambridgeHOK, an innovative glass-house builder facilities to launch Crop17, a turnkey solution for planning, building and operating medical cannabis facilities within the UK's regulatory framework.
Savills will help identify potential sites for investment for medical cannabis ventures.
Alex Bragg, director at Savills said: "The UK agriculture sector is embarking upon a period of unprecedented change. A phasing out of subsidies, a new dawn for trade, adapting to meet climate change targets and a huge growth in agtech presents the industry with huge challenges and opportunities.
"For the forward thinking and innovative farmer and grower adapting into new markets is a key priority. This turnkey solution is the type of innovation we expect to see more of within UK agriculture."
Crop17
Crop17 will offer an end-to-end solution for investors and businesses wishing to capitalise on the enormous growth potential of the UK's medical cannabis market.
It will provide specific geographical information about a potential cultivation site, alongside regulatory and operational consultancy in order to advise on investment decision making. The turnkey solution will vastly improve the feasibility of businesses looking to become medical cannabis cultivators in the UK.
George McBride, Co-Founder of Hanway Associates, said: "Growing cannabis legally in the UK is difficult, but far from impossible. Extensive barriers to entry guard lucrative opportunities in the nascent medical cannabis industry. Crop17 greatly reduces the risks involved in developing a commercial cultivation operation. Only 20 high-THC cannabis cultivation active licences were issued to companies between October 2018 and 2019."
BDS Analytics has forecast that the worldwide legal cannabis industry generated revenues in the region of £11.5bn in 2019 and is expected to grow to around £35bn by 2024. The potential margins from growing medical cannabis are more lucrative per gram for a grower than strawberries.
The total number of medical cannabis prescriptions issued in the UK could surge from a few hundred in 2019 to more than 185,000 by the end of 2023 if the country follows a similar path to Australia, whose medical cannabis programme has grown rapidly since the government relaxed restrictions in 2018.
Steve Hinch, Finance Director at CambridgeHOK, said: "We see the medical cannabis sector as a high potential growth area offering attractive returns for our customer base. Alongside working with best in class partners – in Hanway Associates and Savills – we have strengthened our management team to be able to build operational insight into our extensive history of building glasshouses and controlled environment, indoor growing facilities. We believe this collaboration offers a truly unique offering to the market place giving growers/investors a lower risk market entry."