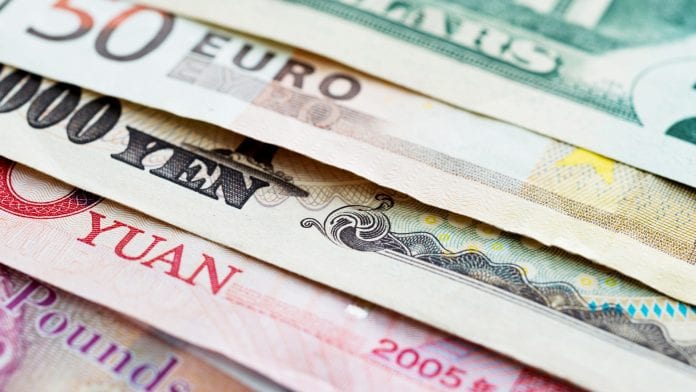 Currency UK specialises in the movement of money internationally for cannabis businesses, and offers competitive exchange rates with zero fees.
Currency UK specialises in the movement of money internationally, offering very competitive exchange rates and zero payment fees. The company's expert staff can assist with a range of issues surrounding international payments; allowing clients to invoice internationally as well as paying suppliers in currency and facilitating the receipt of international investments. Currency UK operates in tandem with its client firms' bank accounts, like a third party multicurrency account.
Other services provided by Currency UK include unparalleled hedging and risk management expertise, whereby Currency UK works with CFOs, FDs and CEOs to create bespoke hedging plans, in order to ensure foreign exchange (FX) risk is consistently and effectively managed.
Unlike some other FX brokers, Currency UK has operated within the cannabis sector for over four years; and can therefore provide solutions to businesses which are usually under pressure from regulators within the banking world.
What should prospective investors bear in mind when considering investing in the cannabis industry?
There are always currency risks when investing internationally, especially within a very global sector such as the cannabis industry. We work with a lot of international investment vehicles to look at the strategy behind their investments at an FX level. With the sector on the rise, there are many fantastic opportunities out there to get involved in CBD and invest in some promising young companies, which have the potential to grow exponentially as the industry itself continues to innovate and expand.
In spite of increasingly lenient policies on cannabis around the world, many countries still implement strict regulations on the cannabis industry with regard to banking and taxation. Does this slow industry growth? How should these policies change?
Banking is always a slow industry to change simply because of the pace of regulation surrounding anything to do with money. In time, we do believe that the banking sector will catch up with the industry – it could slow industry growth for now, but as most people within the cannabis sector know, bankers will want to be dealing with cannabis companies in the longer term purely because of the growth the industry is experiencing.
What are the challenges facing CBD and cannabis businesses conducting international trade; and how can they be mitigated?
In terms of international trade, money transfer is naturally a big part of this, and this is where we can help. Firstly, commercial banks don't deal with currency and international money transfers in a way that benefits their customers. Banks tend to take up to 3% commission plus additional fees when dealing with anything to do with currency: this is something that CBD and cannabis companies definitely need to take note of.
Secondly, if not accounted for, large fluctuations in exchange rates can cause significant losses for businesses by increasing the cost of goods and materials, damaging cash flow. As exchange rates are influenced by political and economic factors it is hard to predict when sudden fluctuations will occur, leaving your business at risk. This currency risk can be mitigated with finance tools and a specific strategy which is aligned to your business goals.
The main method of managing FX risk is to lock in favourable exchange rates, through the use of forward contracts. This tool allows a business to buy a year's worth of currency in advance and pay for it in monthly instalments, knowing that its profits and cash flow are locked in and secure.
There are other techniques, such as using market orders that also give more control back to businesses when dealing with foreign exchange. A market order allows our clients to pick the exchange rate they want for a specific amount of currency: we then put a live order into the market, which will automatically buy the currency our client wants when the price they wish to receive becomes available.
What should new and emerging cannabis companies do to ensure they stand out in a growing industry?
From working with the industry for a number of years, continuous innovation has been key. Separating themselves apart from the competition, for example through innovative marketing, brand awareness and customer loyalty, is what makes companies stand out. Of course, education is arguably the most important part of driving the cannabis industry; and when companies show the willingness to support their customers in this education it leads to increased adoption of their product.
What should cannabis companies consider when expanding internationally?
From a currency standpoint, there will be a lot of different currencies moving around a business when it expands internationally (unless it's within the Eurozone). This can lead to challenges in terms of receiving payments, inter-company payments; and the risk of one currency falling hugely against another, thus affecting a company's profit margin.
If you are planning to move into the international market it is extremely important to have a risk management strategy in place, to protect your bottom line. It is also worth considering having an FX specialist in place when expanding internationally, so they can guide you through the process, act as your eyes and ears in the currency market and keep your profit margins safe.
What are the differences between using a currency broker as opposed to your bank?
Gone are the days when banks ruled currency transactions: when it comes to the commercial foreign exchange market and the services available to small and medium sized enterprises (SMEs), UK companies have access to some of the best specialist currency brokers in the world.
Specialist currency brokers can buy at the same wholesale exchange rates as banks, but operate on much lower overheads, enabling you to benefit from better rates and reduced fees. We have market leading tech solutions to ensure you get the support you need, when and where you need it; enabling you to lock in favourable rates in advance.
A specialist currency broker will take the time to learn about your business, build a relationship, and provide tailored solutions as your business continues to grow internationally.
What are the difficulties of cannabis banking and how can Currency UK help?
We know that it can be challenging for the industry; however we can absolutely provide support here in the sense that once a company has a bank account (preferably in the currency which they report in), we can offer them the ability to utilise up to 40 different currency accounts as their own, which will allow them to make and receive payments on an international scale. We enable our clients to move money in 40 different currencies with confidence, knowing that our online platform is there to support them; enabling them to price competitively, maintain, mitigate and manage their currency risk.
Ben Kohler
Head of Sales
Currency UK Ltd
+44 (0) 2077380777
ben.kohler@currencyuk.co.uk
Tweet @CurrencyUKLtd
LinkedIn
Facebook
This article will appear in the second issue of Medical Cannabis Network which is out in April. Click here to get your free subscription today.