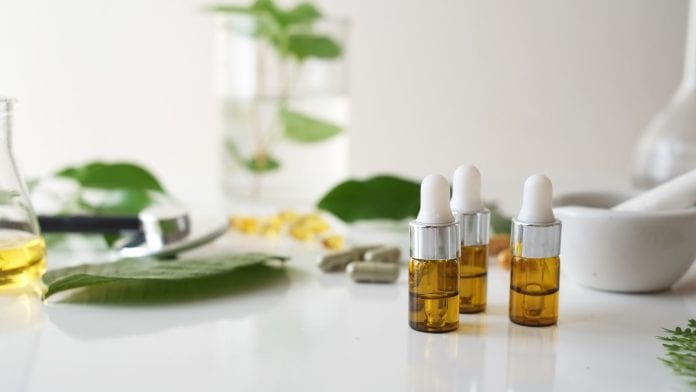 Cymra Life Sciences is pioneering plant science research to create superior cannabis pain relief medicines.
Australian life sciences company Cymra Life Sciences is harnessing science to create novel pain medicines from unique cultivars. We focus on two areas:
Creating full spectrum cannabis medicines, targeting GMP pharmaceutical and nutraceutical markets worldwide; and
Supplying our cultivation partners with advanced genetic programmes through seed and tissue culture.
Cymra Life Sciences' focus
We are focused on creating medicines that relieve chronic and neuropathic pain in patients, as we believe that opiates are not a good long-term option in the treatment of chronic conditions. Within our product development pipeline we have also developed formulations that assist in alleviating the symptoms and causes of pain, which include sleep, anxiety and inflammation.
Our medical advisory team has direct experience in prescribing cannabis to over 200 patients across a variety of indications. Our board has deep nutraceutical and pharmaceutical experience which allows us to navigate the regulatory, product management and distribution challenges of cannabis.
Our plant science team has deep technical and research experience in breeding and plant tissue culture. This will allow us to create and license genetics that thrive in Australian and international agricultural conditions. They will also produce the compounds at the ratios required for each of the medical conditions we target.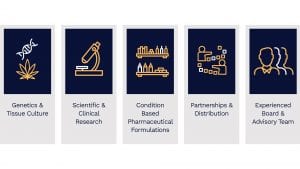 Cymra's objectives
Research, breed and license specific strains with compounds that are beneficial for targeting our medical conditions;
Provide advanced genetics programmes through tissue culture and seed to large scale medical cannabis cultivators;
Build a world class cultivation, tissue culture, research and development (R&D) and good manufacturing practice (GMP) facility on the Northern Rivers in New South Wales, Australia;
Develop outdoor sites to grow high volumes of genetically selected cannabis for medical purposes; and
Register a formulated cannabis pain medicine with the Australian Therapeutic Goods Administration (TGA), the US Food and Drug Administration (FDA) and the European Medicines Agency (EMA).
What is tissue culture?
Plant tissue culture is a broad collection of techniques and tools which enable plants to be grown in an in vitro environment which is free from external environmental pressures. It ensures a plant is kept in a juvenile physiological state and allows for vigorous growth.
Also known as micropropagation, plant tissue culture can allow propagators to select desirable variants and generate new, viable cultivars more quickly and easily. It also speeds the introduction of hybrid cultivars: through plant tissue culture, new cultivars reach sufficient numbers to become commercially available in two to three years, whereas cultivars produced with traditional propagation methods require six to seven years. Plant tissue culture helps eliminate systemic diseases in starting materials, dramatically reduces greenhouse space required for maintaining stock plants, and provides growers with healthy and uniform plants year-round.
Plant tissue culture involves exposing plant tissue to a specific regimen of nutrients, hormones and lights under sterile in vitro conditions to produce many new, genetically identical plants over a very short period of time. The technique has been commercialised for more than four decades; and has been used for the vegetative propagation of millions of superior plants annually in horticulture and forestry for the last several decades.
During this time period, plant tissue culture has effectively moved from the confines of small laboratories and has taken its place among some of the more mainstream, broad scale techniques employed by the agriculture industry. It is estimated that the current global market of tissue cultured products consists of several billion plants annually and the demand is increasing steadily. Research and advancement in plant tissue culture techniques have become especially important in the agricultural community over the past 10 years.
Benefits of tissue culture
Yield
The growth medium is designed and formulated by expert scientists who combine hundreds of plant nutrients and hormones to create perfect growing mediums for individual strains (the main ingredient which gives the plant all of its energy is sugar). This growth medium provides the plant with all of its energy in a biosecure environment. The plants are able to thrive free from external pressures, such as pests.
Plants cultivated through tissue culture also exhibit strong and healthy juvenile characteristics compared to cuttings taken from mother plants, which deteriorate in quality as the mother plant ages. Strong and healthy starter material leads to higher yields.
To achieve maximum efficiency, like any agricultural industry with limited space, producers often cannot afford the loss of a whole crop or a percentage of crop to pest, disease or yield. As an example, on a $1m crop, a 5% loss of crops from either potency, growth or death on each harvest is a $100,000 loss. Over four cycles this can grow to as much as $200,000 per year in lost revenue.
Efficiency
Another benefit of tissue culture is its ability to save very valuable space in a propagation facility while at the same time producing far superior plants to traditional vegetative cuttings. As tissue culture is undertaken at a micro level over one square metre, you can fit thousands of plants which every four weeks will produce thousands and thousands of new plants. In a traditional vegetative cuttings programme a single mother plant can take up a square metre and only produce 100 cuttings every month. In addition, expensive lights and greenhouse temperature control systems are required to maintain a good environment for mother plants to be grown. The higher cost of maintaining mother plants in the cannabis industry brings the cost of vegetative cuttings up in comparison with tissue culture.
For greenhouse grower it is much more efficient to use every square metre and every staff member available for flower cultivation, in order to ensure maximum yield. Purchasing in tissue culture also means you will not have to worry about managing enough healthy cuttings for every growth cycle, allowing the cultivator to focus on cultivating rather than breeding new genetics and managing cutting programmes.
Reduced risks
While there is always an element of risk with plants, because tissue culture is conducted in a biosecure process with minimal human exposure the risks of spreading pest, pathogen or disease (PPD) are much lower when compared to cuttings. Any PPD can wipe out entire rooms or even greenhouses, meaning the whole crop can be lost: a huge cost to the business both in financial and reputational terms.
Secondly, because the growing environment can have such a big influence on a plant's phenotype (physical characteristics), once fully grown a clone may not have the same characteristics as the mother plant. This can result in further phenotype variations in later generations that make it challenging to ensure the genetic integrity and ability to produce 'true to type' cannabis plants of the strain across future crops. This can affect cannabinoid yield, which ultimately affects revenue.
Thirdly, to maintain their unique intellectual property, cannabis companies can preserve strain genetics using tissue culture to develop a 'tissue bank', which is the best way to preserve genetics for decades without having to set aside significant production space. This level of surety is not achievable with seeds or even conventional clones, for which potency and yield will begin to fade over time.
Tissue banking is also a great way to protect future patents. As the cannabis industry shifts its focus to phenotype-based intellectual property rights for entities to claim legal possession of a particular cannabis phenotype, it will be key to maintain the original living plant sample. Increasing demand for cannabis in Australia and around the globe is leading companies not only to rethink the way they maximise the efficiency of their cannabis operations, but also how they protect the resiliency of their cannabis genetics and reduce operational risk.
Tissue culture propagation may offer the best way forward to producing large yields of healthy, true to type cannabis plants while preserving and securing possession of superior cannabis strains.
The market
Cymra believes cannabis is an exciting space, with much more growth and research yet to come. However, this is a longer-term play for investors and companies alike. The winners will be people with patentable IP who have invested in research and development and who have experience creating pharmaceutical companies worldwide. We are just at the very beginning of a very exciting but nascent industry.
Why pain? An Australian pain specialist's perspective
A lack of evidence is not the only barrier to prescribing medical cannabis products (MCP). It is recognised that chronic neuropathic pain needs a multidisciplinary approach and that single modality treatments, including medications, are unlikely to be of long-term benefit.
In the USA, neuropathic pain stemming from diabetes, trauma, HIV or chemotherapy is the most common indication for MCP. One systematic review concluded there is low strength evidence that cannabis alleviates neuropathic pain, but insufficient evidence in other pain populations.
According to the TGA, most evidence on medicinal cannabis use in chronic non-cancer pain (CNCP) is derived from studies where cannabinoids were adjuvant interventions. The TGA states that cannabinoids are 'second line' and should not replace current approved first line treatments for pain.1,2
As with palliative care, applications through the special access scheme (SAS) will only be approved currently if patients have been tried on opioids and coanalgesics first.
In selecting patients suffering chronic neuropathic pain or MS-related pain who have failed other treatments for MCP treatment, I would specifically consider:
Patients who have not benefited from an interdisciplinary pain self-management programme and want to focus on reduction in pain intensity;
Older patients complaining of side effects of other analgesics and coanalgesics;
Patients on high dose opioids wanting to reduce their reliance on them or coanalgesics such as gabapentioids. Prospective, open label studies support this concept but no RCTs have yet been undertaken1; and
Palliative care patients with poorly controlled pain.
Side effects
Then there are the concerns about side effects and serious long-term complications, such as schizophrenia, psychosis and cardiovascular events. There are also concerns about milder side effects such as sleepiness, hallucinations or withdrawal symptoms; but with the doses used so far – average THC doses are between 10mg to 20mg per day – these occurrences are low and are reversible with the reduction of doses.
A few patients, however, have not been able to tolerate enough to make an impact on their symptoms. Serious adverse events have been described, but the severity, time course and recovery details are not well known. The doses required in adults have been observed to be relatively low, compared to the much higher levels used recreationally which may then lead to addiction and dependency. Serious adverse events have been described but the severity, time course and further details are not recorded. MCP users in Australia are unfortunately not exempt from roadside drug testing, which limits the permissible daytime use of higher THC doses.
It is a reality that several well-designed systematic reviews have concluded that cannabinoids are 'not highly effective'. This view is based on finding the Number Needed to Treat (NNT) to achieve a 30% reduction in pain to be much higher for medicinal cannabis (where 15 to 25 patients must receive treatment in order for one to benefit more than with a placebo) than for opioids and conventional coanalgesics, where between two and six patients must be treated in order for one to benefit.
But given that five million Australians (20% of the population) are estimated to suffer chronic pain3 and this could potentially apply worldwide, even an NNT of 25 means some 200,000 Australians could benefit from access to medicinal cannabis – and this is just in pain treatment. This is especially the case if patients are already in the two to six group who do not respond to the coanalgesics, or if they are fearful of being started on opioids.
In weighing up the medicinal cannabis 'advocacy versus evidence' dilemma, we should remember there can be many reasons why cannabis medicine lacks full clinical evidence:
It is new and has not completed full regulatory testing. This is the case with the newer medicinal cannabis products such as Cybis, Cymra's pain medication;
Cannabis was already in widespread use before the regulatory agencies such as the TGA and FDA were established; and
Cannabis could be effective, but the studies may be low on the clinical evidence hierarchy or poorly designed.
It is also noteworthy that many of the primary studies included in the systematic reviews of cannabis have involved marijuana or its extracts, rather than pharmaceutical grade medicinal cannabis products such as Cybis, which the TGA and other regulatory bodies now approve. Unlike MCP, the manufacture of marijuana is unregulated; cannabis extracts purchased online may be slightly better, but there is still no guarantee about their production or whether they have been tested according to the doses, frequencies, and routes of administration that their sellers recommend.
As Humphreys and Saitz pointed out in JAMA recently, many studies of cannabis involve 'unregulated products available to be inhaled in smoke or vapour, applied topically as oils and creams, eaten in edibles, or taken orally or sublingually. The demonstrated efficacy and safety of these products should not be labelled as medical.'4
In Australia and some other parts of the world, a patient request for medicinal cannabis presents somewhat of a conundrum for clinicians based on the lack of existing evidence and of prescription medicines in chronic pain conditions. Many patients with chronic pain are aware of cannabis and are interested in trying it. However, it doesn't work for all patients.
Our people
Experienced people are at the heart of everything we do. We rely on specialist advisors to support our growth and R&D to execute our strategies. Here is an overview of our key people:
Board
John Montgomery – Executive Director
John Montgomery has 40 years' experience in the pharmaceutical industry including the US, UK, Australia and major Asian markets including Japan. John was CEO of Alphapharm and Regional Director, Asia Pacific for Merck Generics; and then President, Mylan Asia Pacific for 11 years from 1999 to 2010.
Alphapharm remains the largest pharmaceutical company in Australia as measured by prescription volume. Since leaving Alphapharm, John has been General Manager of Pfizer Established Products for Australia and New Zealand and is now CEO of Montrose Pharma Pty Ltd. Before Alphapharm, he spent 20 years with Warner Lambert in a variety of roles including Vice President, Portfolio Management North America and Regional President Australia and New Zealand. He was Chairman of the Generic Medicines Industry Association (GMiA) for six years, representing the industry to government.
Richard Henfrey – Non Executive Director
Richard has been working with natural medicines and health products for over 10 years. He worked in a variety of positions before becoming CEO of Blackmores Ltd, Australia's largest health supplements company. Today, Blackmores is an ASX 200 company with a market capitalisation of AU$2bn.
He was on the board of Complementary Medicines Australia for seven years and president for five years. Richard understands the go to market strategies, regulatory environment and distribution channels for vitamin, mineral and nutritional supplements extremely well. He holds a Masters in Natural Sciences from the University of Cambridge.
Andrew Sneddon – Chairman
Andrew is the Chairman of Cymra Life Sciences. Prior to this he spent 33 years as a Partner at PriceWaterhouseCoopers (PWC) where he led the Technology and Life Sciences division, specialising in fast growth and emerging technology companies. Andrew is the former Chairman of clinical stage medical company Elastagen, as well as TGR Biosciences, a biotechnology company. He also served as a Non Executive Director of Innate Immunotherapeutics Ltd.
Simon Pettinger – COO and Co-Founder
Simon oversees Cymra Life Sciences' facility operations and horticultural research partnerships with the Universities of Sydney, New South Wales and Newcastle. Before co-founding Cymra Life Sciences, Simon was the Managing Director of Australia's largest plant tissue culture facility; and he has unrivalled experience in the commercial development of plants from indoor propagation. Simon holds a Bachelor of Business from UON and a Masters in Organisational Development from UTS.
Joel Hardy – CEO and Co-Founder
Joel leads at Cymra Life Sciences and has over 17 years' experience in high growth software companies in sales. An ambitious entrepreneur, Joel started the business through importing cannabis products: Cymra Life Sciences has since grown to be one of the first companies to be awarded a cannabis licence in Australia.
Most recently, Joel has held senior leadership positions in $20m revenue businesses for public enterprise SAAS companies. Joel holds a Bachelor of Economics from the University of Sydney and a Masters of Business Administration (MBA) from UNSW.
Scientific Advisory
Rachel Palumbo – Genetic Licensing Programme Manager
Rachel has been working in the agricultural sector within Australia and globally for over 11 years, having held senior leadership roles within Monsanto and Bayer in the areas of general management, strategy, global marketing, product management and licensing.
Rachel holds a degree in business majoring in business law and marketing, a graduate diploma in public relations, a Masters in communication; and an Executive MBA through Melbourne Business School, where she was awarded the Egon Zehnder Leadership Prize.
Dr Ian Paanenan – Plant Licensing (PBR) & Plant Health
Ian is an experienced horticultural scientist working in commercial plant tissue culture, integrated pest and disease management, greenhouse and nursery management and Plant Breeders Rights intellectual property protection. As a director of an independent consulting business for the last 24 years he has protected nearly 1000 plant varieties from all plant industry groups and consulted on plant health issues. Ian is well positioned to advise on integration of production aspects from breeding to propagation to production and protection. Ian holds a Degree in Agricultural Science from the University of Sydney and is also well travelled in the world of Permaculture Design and training.
Medical Advisory
Dr Paul Glare – Medical Advisory
Paul is the Medical Director of Cymra Life Sciences, leading the company's physician engagement strategy. Paul is a vastly experienced medical practitioner and motivated to continually explore new approaches to pain management. He is the Chair of Pain Medicine in the Northern Clinical School at Royal North Shore Hospital and also holds various posts at the University of Sydney, including Director of the Pain Management Research Institute, Head of Pain Medicine in the Faculty of Medicine and Master of Medicine in Clinical Epidemiology.
Dr Richard Chye – Medical Advisory
Richard Chye is Director of Sacred Heart Supportive and Palliative Care, St Vincent's Hospital, Sydney. He has worked in Palliative Care for more than 28 years, and has integrated community, inpatient, hospital consultative and private palliative care services.
He is Adjunct Professor of Medicine at the University of Notre Dame Australia & the University of Technology, Sydney; and Adjunct Associate Professor of Medicine at UNSW. He was integral in the formation of the Australasian Chapter of Palliative Medicine and was awarded the RACP's highest award, the John Sands medal, as his efforts led to the recognition of palliative medicine by the Australian government.
He was awarded the inaugural Lyn Taylor Award for Leadership in Palliative Care by his peers for his efforts to develop palliative care professionally and operationally in New South Wales.
He has significant patient experience with chronic and complex pain where cannabis could be used as adjunct therapy. Previously, he conducted a clinical trial programme at Sacred Heart including using vaporised cannabis to treat the symptoms of cancer and anorexia. He is an inaugural member of the Australian Advisory Council of the Medicinal Use of Cannabis.
References
Whiting, PF, et al. Cannabinoids for medical use: a systematic review and meta-analysis. JAMA, 2015.
Donovan, KA, et al. Relationship of cannabis use to patient-reported symptoms in cancer patients. Palliat Med, 2019.
Blyth, FM, et al. Chronic pain in Australia: a prevalence study. Pain 89 (2-3), 2001.
Humphreys, K and Saitz, R. Should Physicians Recommend Replacing Opioids With Cannabis? JAMA, 2019.
Joel Hardy
Cymra Life Sciences Pty Ltd
info@cymra.com.au
This article will appear in the second issue of Medical Cannabis Network which is out in April. Click here to get your free subscription today.