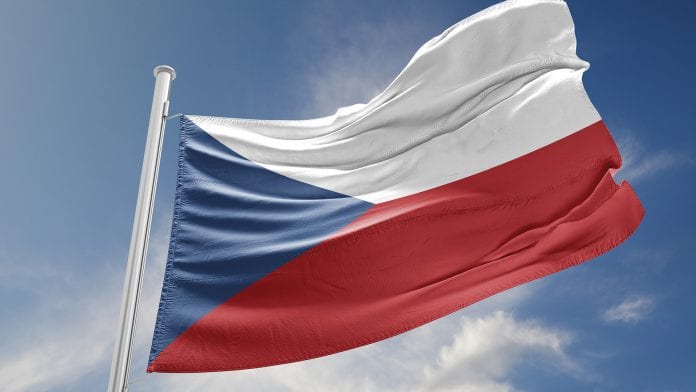 From the new year the Czech Republic Ministry of Health will be subsidising payment of medical cannabis from public health insurance.
Since 2010 cannabis has been legal for medicinal use in the Czech Republic but there was no regulation of the cost and it was not covered by health insurance, making it difficult for patients to access the medicine,
Earlier this year the Ministry of Health proposed for 90% reimbursement of products containing cannabis for medical use from public health insurance. On Tuesday the proposal passed through parliament – meaning that from the new year patients will be paying just hundreds a month for their medical cannabis rather than the thousands they will currently be paying.
S lékovým záznamem dnes Parlamentem prošla ještě jedna pro pacienty naprosto klíčová věc. 90procentní uhrada léčebného konopí! Od nového roku tak pacienti hlavně s chronickou bolestí budou proti současným tisícovým částkám doplácet maximálně pár stovek měsíčně, jako u jiných léků

— Adam Vojtěch (@adamvojtechano) September 24, 2019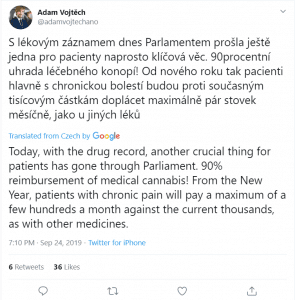 Speaking earlier this year Minister of Health, Adam Vojtěch, said: "We realise that today's cost of therapeutic cannabis can be a significant burden for some groups of patients, especially those who are disabled and have low incomes.
"It can even lead to illegal domestic self-cultivation of cannabis of unknown quality, which can ultimately have a negative impact on the patient's health. Therefore, we want to contribute up to 90% of the sale price of cannabis in the pharmacy from public health insurance.
"The amount of the supplement will be comparable to the supplement for the treatment of chronic diseases."
Czech Republic public health insurance
The passed proposal will see a limit of 30g per month for cannabis covered by public health insurance.
The Minister explained: "We consider this to be sufficient, because today one patient consumes on average up to 10 g per month. This was confirmed by the survey conducted among prescribers. However, in exceptional cases, on the basis of a proposal by the attending physician, after approval by the medical examiner, reimbursement beyond this limit will be possible."
The price of medical cannabis will be newly regulated by the State Institute for Drug Control and the maximum surcharge will be capped.
The patient's supplement serves as a safeguard against excessive use and leakage to the black market. For the purpose of collecting and evaluating cannabis efficacy data, the proposal introduces an obligation for doctors to send clinical reports. Even today, medical cannabis is prescribed for eRecept [an electronic prescription], but it will now also include requirements such as diagnosis, KLP levels, dosage, pharmaceutical form or route of administration.
Positive alternative
In a questionnaire of the State Institute for Drug Control conducted in December 2018 among 58 doctors, reimbursement was supported by 75% of respondents.
Chairman of the Czech Pharmaceutical Society (CzMA JEP) Štěpán Svačina said: "Cannabis treatment is clearly an alternative treatment for a small number of patients. We welcome the proposal of the Ministry that these people, to whom cannabis can really help in the treatment, will be paid almost the entire amount."
Cannabis for medical use is available to patients today from two sources – grown in the Czech Republic, which is provided by the State Institute for Drug Control (SUKL) on the basis of a public contract and further from imports.
Irena Storová, Director of the State Institute for Drug Control, assured patients, stating: "In the Czech Republic, cannabis is in sufficient supply for patients."
Growing use
In 2018, medical cannabis was prescribed and delivered to 447 patients at least once, which is more than a threefold increase on the previous year. The number of registered doctors also increased – in 2018 it more than tripled. As of March 2019, SÚKL has a total of 74 registered doctors.
Storová said: "Registration of doctors is very simple. The doctor will only send us a request in writing, by e-mail or via a data box, which is usually handled by us within a maximum of two weeks."
Twice a year special courses take place at the Institute of Postgraduate Medical Education. Štěpán Svačina said: "The registration process for doctors is not really complicated. This is evidenced by the significantly increasing number of prescribers."
All pharmacies can prepare and deliver cannabis from imports. Pharmacies may issue cannabis grown in the Czech Republic after they have concluded a contract with SÚKL.
Cannabis consumption continues to increase. In 2018, 4,800 g of therapeutic cannabis was dispensed, which is almost four times more than in 2017 and twice as much as in 2016. Storová said: "On average, it treats 67 patients a month with an average consumption of 6.3 g per month."
The price for 1g of medical cannabis grown in the Czech Republic for a patient today is 180 CZK (~€6.97) without VAT. The average monthly cost per unique patient is CZK 1,134 without VAT. Minister Adam Vojtěch said: "Our design makes medical cannabis significantly more accessible to patients. The costs should be in the order of hundreds of crowns a month at the most."
Approximately 90% of the total amount of therapeutic cannabis is used to diagnose chronic intractable pain, followed by multiple sclerosis in about 4% of the total amount of cannabis.
Jiří Kozák, Chairman of the Society for the Study and Treatment of Pain, said: "In patients with intractable chronic pain, I find cannabis beneficial. Although it is necessary to emphasise that there is no clinical study conducted in the Czech Republic, which would prove its absolute effectiveness on chronic pain.
"In practice, there is a great interest of people in prescribing medical cannabis without having problems for its indication. They simply want cannabis and not classic medicines."
Please note, this article will appear in issue 11 of Health Europa Quarterly, which will be available to read in October 2019.