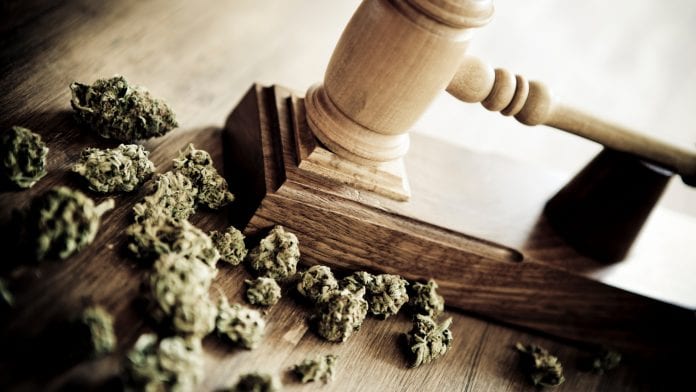 Former Republican politician, Dana Rohrabacher, has been a long-time advocate of medical cannabis in America. Here, Medical Cannabis Networks discusses evolving cannabis policy in America.
On 12 March, Medical Cannabis Network is acting as a media partner for the International Cannabis Business Conference (ICBC) in Barcelona, Spain, where Rohrabacher is one of the high-level speakers. MCN spoke to him ahead of the event to get his views on evolving cannabis policy in America, including the potential for nationwide legalisation and President Trump's support for this.
American politician, Dana Rohrabacher, has worked as a youth organiser in Ronald Reagan's first campaign for governor and, a few years later, was hired to be the Assistant Press Secretary of Ronald Reagan's Presidential campaign.
Once Reagan won, he took Rohrabacher with him to the White House as a senior speechwriter and special assistant to the President. He went on to play a key role in developing and launching the Reagan Doctrine which had the United States supporting pro-freedom and anti-communist insurgencies worldwide. He also worked with President Reagan on science, space related and economic related issues. The achievement he is most proud of, however, is smuggling Reagan's Historic 'tear down this wall' speech it directly to the President in Berlin.
Since then, Rohrabacher has been held several positions in congress including a senior Member of both the House Committee on Science and the Committee on Foreign Affairs, Vice-Chairman of the House Science Committee, Chairman of the Space Subcommittee, and Chairman of the Foreign Affairs Subcommittees on Oversight and the Subcommittee on Europe, Eurasia, and Emerging Threats.
In Congress, one of Rohrabacher's greatest legislative victories was rallying support for the Rohrabacher/Farr amendment which prohibited federal authorities from superseding states' laws in those states that legalised medical cannabis. He also co-sponsored legislation that would legalise the adult use of cannabis.
How do you foresee cannabis policy in America evolving? Is the federal legalisation of cannabis feasible in the next few years?
Many citizens in the United States are hoping for federal cannabis legalisation nationwide, and that would certainly be fantastic. However, I think that what we will see in the US is the removal of federal cannabis prohibition, and cannabis policy in America will be left to individual states to decide.
The federal government should get out of regulating cannabis other than overseeing interstate commerce in a way that is similar to other agricultural crops. Cannabis policy is clearly a states' rights issue. In my opinion, a federal policy that protects all state cannabis laws, similar to what my legislation did for state-level medical cannabis programmes in the US, has a great chance of passing in the next few years.
What would the economic and health benefits of more lenient policy on cannabis be?
Colorado was the first state to allow legal adult-use cannabis sales in the U.S. Between 2014 and 2019 Colorado's cannabis industry generated $1.2bn (~€1.08bn) in public revenue. That is one state. Now, imagine if all 50 states were also allowing legal cannabis sales. Jobs are being created and local economies are receiving significant boosts in all legal cannabis states. The potential economic benefits are undeniable and abundant. Thousands of studies have found that cannabis is an effective and safe medicine. Cannabis reform doesn't just help generate revenue – it also helps suffering patients receive safe access to a proven medicine.
As more states move towards legalising medical and adult use cannabis, how should federal tax and banking laws evolve to reflect the needs of the industry?
Federal laws in the US as they relate to cannabis taxes and banking are in desperate need of reform. Cannabis companies are paying a ridiculous amount of federal taxes and that needs to stop. Also, companies are seeing their bank accounts frozen, if they are even lucky enough to get an account in the first place, and that also needs to stop. Cannabis companies that are complying with state laws should be afforded the same deductions and access to the US banking system as any other business that is complying with state laws.
280E reform doesn't receive enough attention despite being an extremely important issue. A lack of banking access creates logistical issues for cannabis companies that have to figure out how to store large amounts of cash, and it creates public safety issues for everyone else because cannabis companies are targets for criminals. Cannabis companies should be able to put their cash in banks and pay a fair federal tax rate with a bank check.
You have advocated for cannabis policy reform from a strictly Republican perspective, citing states' rights and the importance of individual liberty. Why do so few Republican policymakers take this approach?
I am proud to say that more Republicans than ever before are now on the right side of this issue, with support growing for cannabis reform within the GOP with every passing election. Cannabis reform is a rare public policy area that receives bipartisan support, which is very difficult in the current political climate in the US It took a considerable amount of time for my colleagues to evolve on this issue, and there are many that are still on the wrong side of the issue. However, the situation has improved dramatically and will continue to do so, which makes me very happy given how long I have championed federal cannabis reform.
Should US policymakers be better educated on the scientific background of the medical applications of cannabis? How could this be achieved?
As more states legalise cannabis for medical and/or adult-use, and the sky has not fallen, more lawmakers in the US are taking a serious look at the growing body of scientific evidence regarding cannabis, which is significant. Pubmed.gov houses peer-reviewed scientific studies. A query for the term 'marijuana' returns over 30,000 results, which is likely something that many lawmakers that are on the fence about cannabis reform are unaware of. Cannabis policy should be led by what the science says. Prohibition has clearly failed, and it is time for a more sensible approach. Educating lawmakers takes time. The same is true for their constituents. It is all about educating the masses, which is happening, albeit slower than many would like, including myself.
As the 2020 election approaches, there appears to be a growing number of indications that President Trump may not support the federal legalisation of cannabis, despite expressing support for the now-defunct STATES Act in 2018. Do you think the president will soften his approach to cannabis if he wins a second term?
President Trump is not opposed to cannabis reform, which he made clear when he stated that if a sensible cannabis legalisation bill reached his desk, he would likely sign it. Certain members of his administration may feel a certain way about federal cannabis reform, which is true of any administration. However, the buck stops with the President. The fact of the matter is that the burden really falls on Congress to pass a Bill and send it to the President's desk. I think that when that happens, President Trump will sign the legislation, just as he signed the 2018 Farm Bill that legalised hemp in the US.
Do you want the latest news and updates from Medical Cannabis Network? Click here for your free subscription, and stay connected with us here.