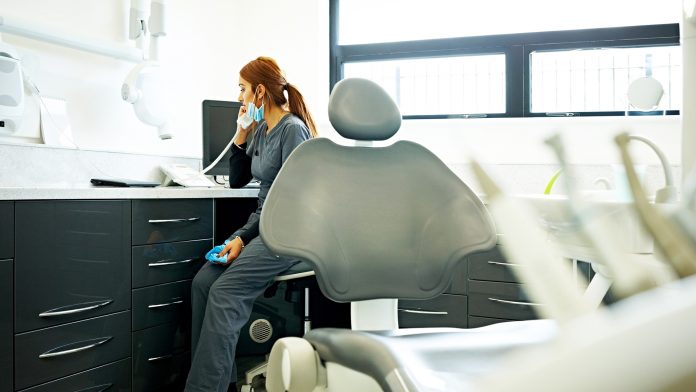 A new report from the University of Manchester highlights that dentists were forced to prescribe unnecessary antibiotics for toothache during the pandemic.
In the UK, the COVID-19 pandemic prevented dentists from providing some face-to-face treatments, requiring them to unnecessarily prescribe antibiotics for toothache and other dental pain. The new research by a University of Manchester team is published in the British Dental journal. 
Toothaches are caused by tooth decay, a dental abscess, a cracked or damaged tooth, a loose or broken filling, an infection and problems with braces. It can be prevented by keeping your teeth as healthy as possible. This means having regular dental check-ups, cutting down on sugary foods and drinks, brushing teeth twice a day and cleaning teeth using floss.  
Prescribing antibiotics for toothache
The results of the study were based on an analysis of NHS dental antibiotic prescribing data in England from before and after the pandemic. They also used data from 159 NHS dentists who completed an online survey in 2021. 
Lead author Dr Wendy Thompson a practising NHS dentist and clinical researcher at The University of Manchester said: "We show that Covid-19 restrictions caused widespread frustration among dentists who know that procedures rather than prescriptions are generally the safest and quickest fix for toothache. 
"Though dental infections can be dangerous, most toothache is not caused by infection, so is not helped by antibiotics at all. Even small infections are best treated without antibiotics." 
Diagnosis and management remotely for dental patients
At the start of the COVID-19 pandemic, there was a lack of high-grade PPE masks forcing dental practices to close. The NHS told dentists to perform diagnosis and management remotely by phone. It was a rare occasion that dentists referred patients for hands-on treatment.  
Half of the dentists surveyed from across England's regions reported that, during the first phase of COVID-19 restrictions from March to June 2020, their referrals to a UDC had been rejected because the patient had not first taken antibiotics. 
One dentist told the research team: "I lied a lot. When patients had pulpitis [toothache caused by inflammation, not infection], I told them to say that I'd prescribed antibiotics as a means of being seen at the Hub. Antibiotics would not have been appropriate." 
Another said: "Patients were refused to be seen at an urgent dental centre for treatment until they'd had antibiotics." 
The study revealed more surprising findings about the state of dental practices and the prescribing of antibiotics for toothaches and other issues: 
Antibiotic prescribing increased by 12.1% in London (the lowest increase) and 29.1% in the East of England (the highest) in the first year of the pandemic. 

 

Less than half of the respondents were confident in diagnosing conditions remotely and a quarter were confident in remotely treating patients with acute dental pain or infection.

 

Over three-quarters reported patients requesting antibiotics for toothache and other pains more often during the first year of the pandemic than the previous year. 

 

Some dentists suggested remote management of patients during the pandemic had a lasting effect on patient expectations about the ability to use antibiotics to avoid dental problems. 

 
Dr Thompson said: "This study highlights that during the pandemic, restricted access to face-to-face dental care was directly linked to much higher antibiotic prescribing than in previous years. 
"That puts people at increased risk from adverse effects of antibiotics, such as upset stomach, severe allergy and of course the development of antibiotic resistance. 
"As the dental profession contributes around 10% of antibiotic prescribing across NHS primary care, dentists are acutely aware of the need to play their part in tackling resistance by prescribing antibiotics only when strictly necessary and appropriate. 
"So being forced to prescribe them when not indicated is intensely frustrating because they know the distress that unresolved severe toothache causes to patients, and they know that dental infections treated only with antibiotics are very likely to return and be harder to treat next time." 
Recommended Related Articles