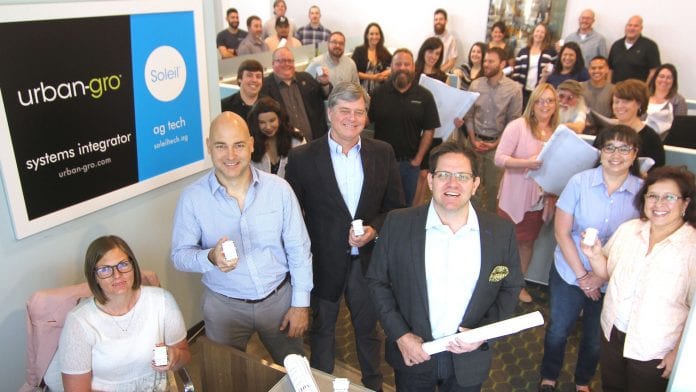 Find out how urban-gro Inc could help make your cultivation facility the perfect place to deliver high-quality cannabis.
US based urban-gro, Inc. is a leading engineering design, equipment integration, and facility optimisation company that has been working with and providing solutions to leading commercial cannabis operators across North and South America for the last five years. We are now bringing this experience to the blossoming European medicinal cannabis market.
Focusing on commercial indoor cultivation facilities and built upon urban-gro's portfolio of experience, including working with over 300 cultivators, urban-gro delivers high-performance cultivation facilities through a full suite of engineering design services including:
Cultivation space programming;
Full building mechanical/electrical/plumbing (MEP); and
Integrated building complete system integration.
We work alongside architects, consultants, contractors, and engineers to design a thoughtfully laid out and compliant facility that is well equipped to compete in a maturing cannabis market—both today and well into the future. Our professionally designed building and cannabis systems ensure optimal performance with total system integration.
As a recognised leader in commercial cannabis facility design, procurement, integration, and commissioning of complex equipment systems, customers turn to urban-gro for proven turnkey solutions which eliminate the 'gap' between the performance of energy efficient building systems and plant-focused cultivation systems.
What separates us from other facility and cultivation systems professionals?
100% focus on the indoor cultivation cannabis market – we are leading experts for indoor facility design, systems integration, and commissioning;
early design engagement – an early conceptual phase ensures a detailed understanding of the owner and manager's design intent, and involvement throughout the entire design and construction process creates a foundation of collaborative engagement with project ownership, construction management, and other trades;
cultivation engineers and design experts – we proactively assist our clients in developing the most efficient, best-in-class cannabis facilities while avoiding design stage mistakes that often result in future inefficiencies; and
cultivation systems optimisation we remain engaged with our customers long after the facility is operational, providing service and support as well as assistance in ongoing facility optimisation.
Based on exclusive relationships with partners and manufacturers that have been vetted as best in class solutions for indoor cultivation, urban-gro brings solutions from leading cannabis and horticulture businesses around the world to meet the complex needs of our customers. By offering advanced technology and product solutions, our customers are on the leading edge of an increasingly competitive marketplace.
The three P's influence and impact design
Maximise your cultivation facility's efficiency to benefit the three P's: people, plants, and products. The three P's are critical factors, central to the success of your business as the layout and design of cultivation space significantly impacts how work is performed: the process flow between people, plants, and products and how they move through the system.
People: special consideration must be paid to how your employees navigate the facility; who goes where, when, and in what order. Often, and particularly in cases of building retrofits, layouts can be awkward, rooms inappropriately sized, or walkways disconnected. In such instances, and even with new ground-up construction, one should engage with a company experienced in commercial growing environments to provide cultivation space programming. Our professionals objectively evaluate conditions and make recommendations to orient a facility that economises the flow of staff throughout the facility, minimising backtracking and mitigating the potential for mistakes and contamination;
Plants: maximising canopy flower space is the single goal to achieve yield targets. A common pitfall of cultivation design is over-sizing ancillary spaces which eats into revenue from growing spaces. For example, flower rooms that have inefficient use of vegetative space—not using rolling benches and not considering racking lead to lower revenues. It is also important to consider harvest scheduling and planning—how much time will plants spend in each area and sequencing plants so no space sits empty and thereby wasted; and
Products: Appropriate product and equipment sizing has a significant impact on facility performance. Under sized or improperly located equipment can create unnecessary inefficiencies that slow down staff. Failing to optimise shipping and receiving spaces, waste allocation, and cultivation support areas are all common pitfalls that can be prevented with professional cultivation space programming.
Focus on mission critical space and systems
Regardless of the size of the cultivation facility and whether it is a renovation or a new build, early engagement with the full design team encourages a collaborative, efficient design process which uncovers and takes advantage of opportunities while avoiding redesign and construction slowdowns. At urban-gro, we focus on two key areas of cultivation practice: income-generating cultivation space and energy consuming systems.
Cultivation Space Programming
Cultivation space programming is one of the foundations of early design. Cultivation space programming defines the project requirements based upon the owner and occupant goals.
By identifying project requirements within the proposed space, one can reduce underutilised support space and commit square footage to revenue-producing departments.
By focusing on the end goals, our team integrates the needs of diverse stakeholders to engineer a design that works from construction through operations and maintenance (O&M). Ultimately O&M in cultivation facilities is incredibly impactful to cost effective, compliant cultivation that reduces the carbon impact while increasing energy efficiency and profitability.
With urban-gro's experience, data, and insight from parallel industries such as horticulture and pharmaceuticals, our clients benefit from proven models that incorporate innovation and optimisation early in the facility design process. Our proprietary models utilise facility information and industry standards from experience with over 300 facilities to predict the overall areas required to facilitate the programmatic spaces into an optimal workflow pattern.
Experienced in designing GMP certified facilities
With over 300 successful completed facilities in North America, urban-gro has worked with large operators including those in Canada who require GMP certification to ensure they can export to the EU. Thus, urban-gro has the necessary experience to properly design pharmaceutical level facilities. Our experience includes designing facilities to strict energy regulations as well as proper chain of command.
Energy consuming systems
A division of urban-gro, Grow2Guys (G2G) is a team of successful mechanical, electrical, and plumbing engineers (MEP) who have been designing high performance cultivation facilities in North America since 2010. For almost a decade, G2G has engineered and designed over 300 cannabis cultivation and extraction facilities.
As the cannabis industry has evolved, G2G has developed industry exclusive relationships with HVAC manufacturers experienced with the stringent environmental control and processes unique to the cannabis industry. Owners, cultivators, engineers, and contractors across North America turn to G2G for proper specification of equipment in the construction of new and renovated facilities.
Expertise in environmental control HVAC solutions for indoor cultivation facilities
HVAC consumes more than 50% of a cultivation facility's energy. G2G engages with the owner to understand the preliminary project budget, cultivation goals, and start the conversation around HVAC opportunities that are best suited for their facility. There are trade-offs to meet the unique goals of most cultivators.
Professional design that combines environmental control HVAC and cultivation systems maximises your investment and construction dollars through proper co-ordination, selection, layout, and optimisation. Thinking broadly as the 'guts of the grow,' these systems are critical to successfully meeting regulatory requirements, successful harvest cycles from one crop to the next, and consistent yields. In our experience working with North American cultivators, the key to successfully delivering projects relies upon:
Early stage engagement: large scale cultivation facilities present a host of complex challenges requiring a specialised approach. With a multitude of success factors and stakeholders to consider, early stage engagement allows urban-gro the opportunity to build consensus and ensure proper sizing of key equipment and systems (for instance, lighting, building controls, and fertigation). This collective decision making helps prevent mistakes and reworking later in the project lifecycle, ultimately saving time and money by successfully bringing the operation online faster;
Systems integration: to run optimally, commercial cultivation facilities rely on disparate highly complex systems working together. Professionally designed layouts for environmental control, benches, fans, lighting, and fertigation systems are the first step to total systems integration and help to maximise yields;
Professional design: urban-gro works alongside architects, engineers and contractors to build comprehensive and compliant facilities that are well equipped to thrive in a competitive cannabis market. Our systems design services, including construction contract documents, are suitable for permit submittal and acquisition and the project-build bidding stages; and
Our proven process: We have an eight step proprietary process for building and cultivation systems design and integration to fully understand the success metrics and achieve the goals of each cultivation facility.
Commissioning for 'living' buildings
urban-gro helps operators and owners to maximise construction dollars with commissioning services that ensure all systems are installed correctly, functioning properly, and ready for operation. Our team has successfully commissioned over five million square feet of cultivation space throughout North America, servicing many multi-State Operators (MSOs) and repeat customers. The success of our team is based on our tested approach to service delivery.
We have a direct understanding of the owner and head grower's design intent because we engage early and maintain involvement throughout the entire design and construction process;
Our technical team brings decades of experience in both the horticulture and cannabis markets. We have seen it all and can help customers avoid costly mistakes, re-work, and change orders; and
Our team is consistently recognised for collaborative, proactive engagement with construction managers and trades. This promotes transparency through communication and regular check-ins.
Commissioning complex systems is essential for successful startup
Indoor cannabis cultivation is an energy-intensive process. Considering the level of systems integration required, unchecked deficiencies in one or more systems can impact overall efficiency and performance, resulting in lower yields, lower margins, and increased energy consumption. Industry sources indicate that, on average, the operating costs of a commissioned building range between 8% and 20% less than that of a non-commissioned building. Professional systems commissioning helps ensure all systems are installed and functioning per the design intent, supporting these benefits:
Better building operations, streamlined maintenance, and simplified regulatory compliance;
Extension of equipment and systems lifespan;
Improved building occupant safety and productivity;
Faster startup;
Flexible scaling potential to meet market and economic requirements;
Lower utility bills;
Improved environmental and health conditions; and
Maximised value for each construction dollar spent and realised through higher yields.
In each facility that we commission, urban-gro completes a comprehensive commissioning report and checklist to provide our clients with peace of mind that all systems are operating as intended. All installed systems are documented, and training is provided for staff so they may effectively manage and operate the entire facility going forward. Once operational, many customers elect to retain the urban-gro team for ongoing systems evaluation and optimisation to maintain a competitive edge.
Cultivator success stories
Cultivation space programming maximises canopy efficiency and production
A Multi-State Operator (MSO) initially reached out to urban-gro for cultivation systems design evaluation. Upon review of the cultivator's proposed layout, our team identified significant potential pitfalls and flaws with the design and worked with stakeholders to perform cultivation space programming. A re-work of the design optimised the space and allowed for improved efficiency and production. As a result, the owner turned over all systems integration and cultivation space programming of their other facilities to urban-gro.
Cultivation facility assessments lead to optimised operations
A cultivator with multiple facilities within a US state determined their legacy facility protocols were not as effective as hoped and looked to make adjustments in order to maintain a competitive advantage. urban-gro's team performed a cultivation facility assessment to understand the conditions and opportunities present before customising a programme to proactively improve the facility's environmental conditions. The outcome exceeded the customer's expectations and prompted them to further engage urban-gro for turnkey design, equipment selection and procurement, and commissioning at a second facility.
MEP systems easily undersized or inefficient without plant knowledge
On multiple occasions G2G has consulted on projects to optimise the path of owners or engineers, identifying either undersized or miss-applied HVAC as it relates to environmental control in the cultivation rooms. For example, G2G convinced owners of two cultivation facilities early in the design process to change from a chilled water system to a far more efficient DX air cooled system, saving on capital cost and what was deemed to be an undersized and inefficient chilled water system.
Plan today for tomorrow's market with advanced experience and service levels
When selecting your design and engineering firm for your cultivation facility, ask about their experience in cannabis facility design, integration and commissioning to ensure you have a trusted, experienced team member that will guide you to project success.
With the European medicinal cannabis market gaining momentum, urban-gro brings critical systems experience to a rapidly developing market. With an office opening anticipated in early 2020 and staffed with facility design experts, urban-gro is ready to work shoulder to shoulder with European clients to design, integrate, and commission high-performance cultivation facilities.
Ready to get started planning your own cultivation facility?
urban-gro will work with you hand-in-hand to deliver a high-performance cultivation facility that is economically competitive today and into the future.
Contact our team by calling +44 2030 148922 or sending an email to: eudesign@urban-gro.com.
Stan Wagner
VP Marketing
Urban-Gro, Inc
+1 720 390 3880
stan.wagner@urban-gro.com
Tweet @urban_gro 
https://urban-gro.com/ 
This article will appear in the first issue of Medical Cannabis Network which will be published in January 2020. Want to receive unrestricted access to our publication? Click here to subscribe.
Recommended Related Articles