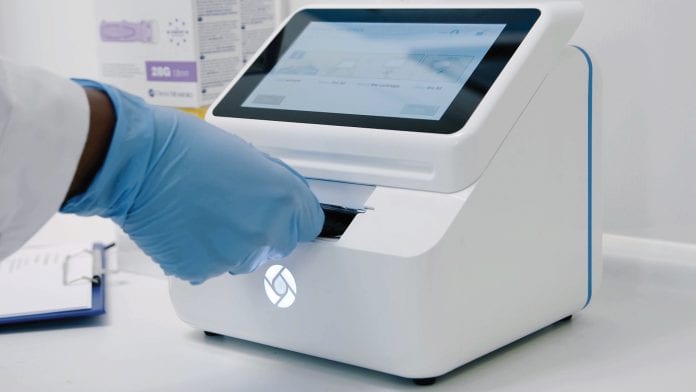 Filippo Bosco, CEO and founder of BluSense Diagnostics, offers a glimpse into groundbreaking tech that helps to diagnose infectious diseases in a matter of minutes.
50 years ago, most people would have drawn a blank if asked about dengue. Now, infectious diseases like dengue are endemic in more than 100 countries, causing more than 20,000 deaths, mostly among children, per year. At first, it might seem like the flu, but then the fever rises, accompanied by headaches, joint pain, nausea and rashes. In its most severe forms, dengue haemorrhagic fever or dengue shock syndrome, it can even cause internal and external bleeding or death.
As dengue is transmitted by the bite of an Aedes mosquito, if precautions are not taken, the virus can be spread to other family members or even the whole village. Considering the fact that vaccines or antiviral drugs are not available for dengue viruses, early detection plays a paramount role in the treatment and prevention of it. In reality, access to results generally requires a well-equipped laboratory and at least a few days' waiting time – not to mention that, due to expensive diagnostics, patients may not even visit a doctor, resulting in underdiagnosis and the spread of the disease.
Lessons learned when dengue outbreaks swept India, Thailand and Vietnam earlier this year are that delays in obtaining the right diagnosis have been a costly barrier to disease control and prevention, linked to hundreds of deaths in these countries. To prevent this from happening, BluSense Diagnostics has developed a versatile point-of-care platform that accurately and affordably diagnoses infectious diseases.
Where three research lines merge
The BluSense system comprises two components:
ViroTrack, single-use cartridges containing reagents and microfluidic channels to automate all assay steps
BluBox, a small, easy-to-use reader processing ViroTrack cartridges.
While there are myriad ways of designing rapid, portable diagnostics, the BluSense system has been developed merging the outcome of three different research lines, associated to the PhD projects of the three main founders: CEO Filippo Bosco, CSO Marco Donolato and COO Robert Burger.
How does it work?
BluBox employs Blu-ray-based optical detection to offer a scalable, user-friendly and low-cost read-out platform. BluSense's patented Immuno Magnetic Assay (IMA) technology, using magnetic nanoparticles, allows rapid detection of analytes with performance similar to conventional laboratory tests.
"BluBox is easy to use. The medical staff can learn to operate it in a matter of minutes. A ViroTrack cartridge requires only one drop of blood and is extremely simple to use, as all blood processing operations are automatically run without the need of any additional tool or equipment," says Bosco.
Bosco believes the novelty of BluBox lies behind the simplicity and scalability of the technology, which does not require any special sensor or sophisticated optics but just off-the-shelf components.
"It sounds simple, but nothing out there on the market can come close to its speed and proficiency. No technology can provide such a high quality and sensitive detection from one drop of blood in less than ten minutes."
Ready to save the world
The fact that dengue fever is spread by mosquitoes makes this virus prevalent in developing and emerging nations, as the insects thrive in areas with poor sanitation. In regions without good access to healthcare, people infected with dengue fever are at greater risk of long recovery periods or even death.
By utilising innovative science and technology, BluSense Diagnostics addresses challenges in the developing world by translating discoveries into affordable products.
"BluBox and ViroTrack can deliver the same diagnostics performances of equipment costing at least €10,000 and requiring skilled operators, laboratory facilities and laboratory equipment," states Bosco.
"Now, at one end of the spectrum there are reliable, but time-consuming, laboratory tests – at the other, rapid testing kits that can be used in the field but vary in their accuracy. In developing countries, clinicians seldom have access to laboratory tests. Instead, they rely on the rapid tests that lack accuracy.
"For us, the prospect of seeing health workers obtaining a diagnosis at a patient's side in a matter of minutes is exciting. We are proud to provide an affordable and high-quality diagnostic in middle-lower-income countries, where some infectious diseases, like dengue or Zika, are a burden," Bosco says.
Applicable to various diseases
Founded in 2014, BluSense has already raised more than €10m in funding which they are eager to translate into tomorrow's products.
"Our technology is compatible with virtually any immunoassay. By engineering the nanoparticles in a different way, we can expand the same technology to various diseases," explains Bosco, who is, together with the other two founders and their international team, constantly scouting for new opportunities.
"A natural first expansion would be towards other mosquito-borne diseases: Zika, chikungunya, yellow fever and West Nile fever. Then we would like to carry on with more ambitious diseases such as dengue haemorrhagic fever or Ebola. We are also considering developing serological assays for respiratory or sexually transmitted diseases," claims Bosco, highlighting that any kind of decisions will be taken also in collaboration with stakeholders such as global health organisations, healthcare providers and key opinion leaders.
Technology of the future
In Bosco's view, keeping pace with technological developments is essential when working with medical diagnostics.
He explains: "We have proven that we can perform not only immune assays but also molecular diagnosis. We also demonstrated the use of different sample matrices such as urine, water and blood, which means that we can use the platform for a wide range of applications."
Global epidemics of infectious diseases are increasing in frequency and severity. Thus, it is worth noting that the company's planned cloud database and wireless connectivity will ensure that every single device is constantly monitored, allowing BluSense to identify when a BluBox is malfunctioning.
"Additionally, embedded connectivity will enable geo-timed reporting of confirmed positive cases, providing governments and non-governmental organisations with statistical data which will come in handy addressing issues, such as the misreporting of positive cases and outbreaks.
"Those are only a handful of features we are planning to implement. We are ambitious because we know that in our hands, we have a great technology and at the same time a serious commitment to translate science into lasting contributions to health," Bosco concludes.
Dr Filippo Bosco
CEO & Founder
BluSense Diagnostics
+45 39 17 97 14
Info@blusense-diagnostics.com
www.blusense-diagnostics.com
Please note, this article will appear in issue 8 of Health Europa Quarterly, which is available to read now.