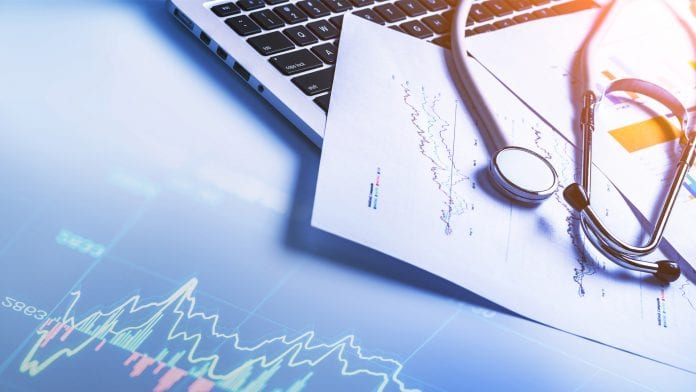 According to a research report by Global Market Insights Inc., the global digital health market is likely to surpass a valuation of $693.4bn (€589.92bn)
by the end of 2026.
The global digital health market is projected to observe significant growth over the coming years as healthcare systems across the world are fighting the outbreak of coronavirus. In order to tackle COVID-19 and the pressure it is putting on the healthcare infrastructure, digital health is likely to play a crucial role. Especially, it allows the efficient storage and transfer of patient data, which helps in better patient treatment.  
Taking April 2020 for instance, Philips launched an online portal in the Netherlands in collaboration with Netherlands' Jeroen Bosch Hospital, Erasmus Medical Center, and the Netherlands Ministry of Health, Welfare, and Sport. This platform would allow Dutch hospitals to easily share coronavirus infected patient data with each other to effectively help optimise the use of the country's healthcare resources. 
Healthcare systems are currently under immense pressure, and as a result healthcare services provided through video consultations is expected to bring forth a significant shift in consumer preferences and positively impel the market outlook over the coming years. Video consultations can fulfil a major role in restricting the spread of COVID-19 infection.
Consequently, this has motivated many governments to modify the regulatory policies that govern their digital health services. Citing an instance, the governments of Australia and the US have authorised the reimbursement of healthcare-related services provided through video consultations. This reimbursement move is likely to bolster the outlook towards digital health and the drive market share through 2026.
Increasing use of telehealthcare technology
With reference to technology, the increasing use of video consultations and telehealth services is projected to push the telehealthcare segment over the coming years. In addition, several market players are currently putting significant efforts towards increasing their capabilities in the field of telemedicine in order to effectively cater to a substantial proportion of consumers, which is further complementing the segment share. Based on these factors, the telehealthcare segment is projected to grow at an impressive CAGR of 26.2% through the forecast timeframe.
Growing demand for digital health devices
The hardware component segment accounted for about 30% industry share in 2019 and is likely to exhibit substantial revenue growth over the coming years. An upsurge in the use of digital health devices like smartphones, tablets, and wearables is the key factor driving the segment share.
Furthermore, the latest technological advancements in data analysis, microelectronics, telecommunication, and sensor manufacturing techniques are positively impelling the hardware segment growth in the overall digital health market.
Major market players are using strategies such as partnerships, investments, and acquisitions to set themselves ahead of the competition in the industry. Taking August 2019 for instance, Philips Healthcare completed the acquisition of Carestream Health's HCIS' (Healthcare Information Systems) business in approximately 26 of the total 38 nations it operates in.