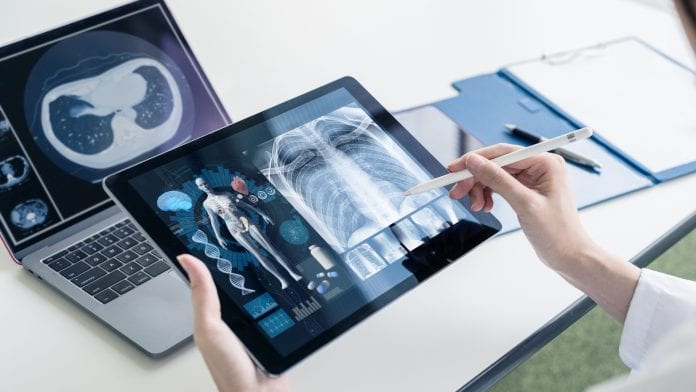 At the recent European Health Forum Gastein, leaders in the field of digital health discussed Europe's route to digital transformation in healthcare and how COVID-19 has catalysed much of the progress made in the past year.
The COVID-19 pandemic has shown that digital health is a vital component of healthcare services and will continue to play a major role in the future to help deliver more effective healthcare for patients.
Featuring EIT Health CEO Jan Phillip-Beck, the Health Forum Gastein panel – 'Digital transformation of healthcare in Europe – now or never?' – discussed how Europe can ensure the sustainability of digital healthcare, showcasing innovations from EIT Health and exploring how Europe can build on the momentum fuelled by the COVID-19 pandemic to help create improved digital healthcare for all.
Digital transformation of healthcare in Europe
Healthcare systems across Europe have been heading towards digital transformation for the last decade but it has been a slow process. The COVID-19 pandemic has now catalysed the adoption of many digital healthcare applications such as telehealth and remote monitoring.
Speaking on the panel, Julia Hagen, Director Regulatory and Politics at Health Innovation Hub, said: "Digital transformation is something that is driving us at the Health Innovation Hub. The centre of our ambition is that we want digital transformation to be experienced by patients in their everyday lives. We want to look at how care delivery, therapeutics, and diagnostics are being transformed by digitalisation, and how health applications can have a positive effect on care by reducing the burden of illness in daily life, reducing visitations, and making sure monitoring is being taken care of via digital means.
"Digital solutions have remained an accessory and not really an important part of care, or of the work of physicians and healthcare professionals, and neither of patients. So, the German Government introduced a new category of care delivery with the Digital Health Care Act, passed at the end of 2019, which introduced digital health applications as a means of providing care and of treating patients, and as an instrument for physicians and psychotherapists."
New health applications for patients and physicians
Hagen highlighted the variety of medical applications that can be used across the board to improve delivery of care, including applications intended to be used by patients, facilitating the interaction between patient and physicians but not acting as a decision support system, and medical devices that have a variety of functions, ranging from diagnostics to therapeutic functionalities.
"This opens up a broad range of possibilities to prescribe these kinds of diagnostic or therapeutic tools to patients," said Hagen. "We want to make sure these digital applications have a positive effect on care, not only as an improvement of quality of life and to reduce mortality for example, but we also want to acknowledge the effect of digital tools on structure and procedures that are relevant for patients, such as a companion for a diabetes Type 1 patient that helps to track parameters and gives advice on how to manage their personal health situation.
"These digital health applications can be seen to have a positive effect on care because they improve adherence and improve health literacy or help to coordinate the care between complex networks of different healthcare professionals. Or, they may just be a way to reduce the burden of illness in daily life, to make sure a chronically ill person doesn't have to drive to a healthcare professional once a week but monitoring that needs to take place is taken care of via digital means.
"There is a broad range of different tools which have no limits, they could be software and hardware applications – for example, a Parkinson's patient could wear a sensor that detects if walking has become worse and needs treating which would be hard to detect by physicians. Digital mental health is another aspect – we need to close the gap between hospitals and the way back into the ambulant care system.
"Because of the COVID-19 pandemic, this is a window of opportunity to push for more digitalisation in hospitals."
Data protection and interoperability in a digital world
As healthcare systems are undertaking rapid adoption of these new digital tools in light of the pandemic, it is vital the tools and applications comply with data security policy and regulations, such as GDPR, in order to protect patients' rights. They also need to achieve interoperability in order to provide adequate healthcare services.
Hagen said: "It is difficult to move forward without interoperability – for example in Germany in primary care, we have physicians and psychotherapists using 160 different software products, which, of course, is a huge issue.
"Also, with a personal healthcare record at centre of transformation, the idea is that software in hospitals and primary care need to use standardised APIs so they can communicate – Germany is still very much at the beginning of this. There have been many regulatory and legislative changes in the past years which forces software to open up to use standards and be compliant with standards and tools that have been defined."
By Stephanie Price