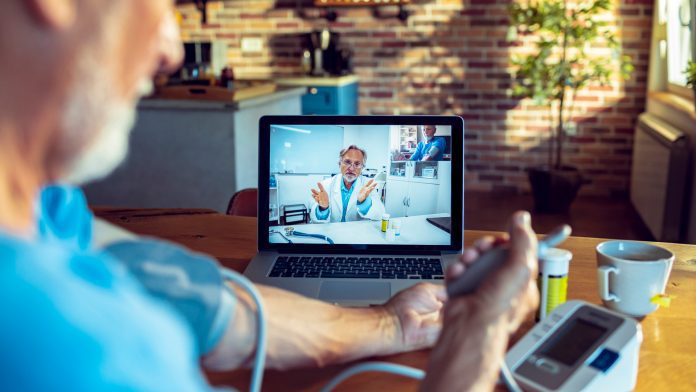 Badri Wadawadigi discusses how current and emerging digital healthcare technologies are being optimised to improve care delivery and the importance of tailoring solutions to meet patients' needs.
It has arguably never been more important to harness the power of digital healthcare technology to help mitigate backlogs in care and empower patients to take an active role in their healthcare journey. As part of its new data strategy for health and social care, the UK Government plans to invest £25 million to support the rapid digitisation of social care, aiming for 80% of providers to have digital healthcare records implemented by March 2024. By facilitating secure data environments, enabling patients to access and control their data and driving innovation in care delivery, the government hopes its strategy will improve patients' trust in the healthcare system while also enhancing efficiencies across the whole spectrum of care, from disease prevention to treatment.
To discuss some of the trends in the adoption of digital healthcare technology and how these can be harnessed to promote sustainable behavioural change and positive patient engagement, Health Europa Quarterly spoke to the chief digital officer of Pharmanovia, Badri Wadawadigi.
What are some emerging technologies that are helping to optimise healthcare delivery and tackle the current care backlog?
Digital healthcare technology solutions that are currently making the biggest impact within healthcare are not exclusively new or emerging technologies, but also existing technologies that are now being utilised better. There is a huge amount of innovation in other technology sectors, therefore in many cases, the challenge is re-formulating consumer and industrial technology developments in the most compliant way to be used within a medical context. This can encompass actual devices themselves, or the underlying technology and algorithms becoming re-packaged in a user-friendly format.
Another emerging trend is the increase in cross-referencing of different data sets, which previously was not done systematically within the healthcare sector. By cross-referencing data sets at scale, you begin to see trends and patterns which will ultimately result in an uptick in value back to the patient.
Localisation and the shrinking of diagnostic technologies are also becoming more commonplace. In recent history, detection and diagnosis of conditions have required specialist clinics and scanning centres. What we are now witnessing is that many medical devices and specialist forms of equipment are being shrunk, alongside developments in terms of preserving bio samples even through postal delivery meaning patients can be tested without coming into a clinical setting.
This was hugely accelerated throughout the COVID-19 pandemic for obvious reasons, but not only have we started to learn how to test at home or closer to communities, but testing has also become more optimal in terms of our ability to determine trends and benefits of treatments over some time. The pandemic increased the familiarity with home testing and diagnostics, which will continue to aid adoption. Backlogs can often be concentrated within hospitals and specialist clinics, and governments around the world are identifying this and trying to push care either into GP and community centres or closer to patients at home, where suitable, to free up capacity in larger hospitals.
How can digital healthcare technology be employed to stimulate behavioural change in patients and provide them with information about how they can best manage their condition(s)?
This is something that fundamentally needs to change in terms of how the healthcare system addresses the patient. Patients today have access to materials such as leaflets and public information sources (such as Google) to learn about their conditions, but stimulating change is about engaging with patients as equal partners in their disease management.
There is a growing body of evidence around improved outcomes in the management of diseases if patients are more involved in self-care, not just in terms of medication adherence. Data allows us to become very granular, creating and providing patients with tailored tools to better navigate and understand their journey on a very personalised basis.
Once behavioural change has been initially triggered, how can we ensure it has a continuous effect?
It is essential to view the patient experience not as one-off interaction, but as a journey. If we consider technological innovation in apps or gaming for example, which people return to again and again, behavioural change is about habit-forming. Positive engagement centers around helping patients to perform healthy habits through providing knowledge and education about why certain behavioural changes are important to an individual with a specific condition. This can prove difficult with the extent of information available and daily lifestyle issues we experience within society, as we are all creatures of inertia and habit.
There are positive psychological benefits of reassuring patients that they are not alone, for example, connecting patients with others from their disease cohort that are likely experiencing similar things throughout their journey. Overwhelming patients with information, however, is not helpful as often cognitive abilities decrease in patients (well documented in, for example, cancer patients) due to having to navigate their disease while also managing the effect of the disease on every other aspect of life, such as work and family relationships. Patients should not be expected to read and digest extensive information, instead, it is better to encourage regular bite-sized learning via a digital tool. Harnessing data to generate a feedback loop of what a particular patient is going through at a particular moment in time, which can alter daily, and tailoring digital healthcare technology solutions to a patient's evolving needs throughout their journey will make the biggest positive impact.
What are the main obstacles facing patients and healthcare providers in the uptake of digital healthcare solutions? How could these barriers be mitigated?
As a collective set of stakeholders (health systems, pharmaceutical companies, academia, and research institutions) we are all looking at ways to attack the same diseases – but we tend to work in siloes and are not so good at working effectively together. Pulling stakeholders together should not be ground-breaking. Notable obstacles that exist are historical and stem from distrust around the motivations of different organisations, alongside overcoming regulatory barriers. Patient experience is holistic, the medicine pack, the doctor and the clinic are all part of the same disease journey from their perspective, so the patient experience suffers from this fracturing.
COVID-19 has accelerated the changes currently happening around digitalisation within healthcare regulation and innovation. The EU now has a working group dedicated to accelerating digital healthcare regulatory pathways, and Germany is introducing the DiGA framework designed to enable more rapid market access for digital health applications.
Reimbursement is another obstacle to consider. Digital healthcare technology solutions will involve interactions with multiple applications and health providers, requiring better coordination of reimbursement pathways. From a patient experience perspective, it does not matter whether the intervention was financed from a drug budget or a service budget. We are starting to see increasing openness from regulators and authorities to discuss solutions and not get stuck on bureaucracy so we can determine how to reimburse solutions most efficiently across all organisations that are involved in the patient journey.
While there are legitimate concerns about data security, there are several innovations – such as data trusts – being established whereby different organisations can interact with a particular data set in a compliant way and a patient has better control over how this data is used. Using data can be done in a way that still protects the patient, but the healthcare sector must have the right legal and technological frameworks in place to do so, which are currently evolving and improving.
Badri Wadawadigi
Chief Digital Officer
Pharmanovia 
This article is from issue 22 of Health Europa Quarterly. Click here to get your free subscription today.
Recommended Related Articles