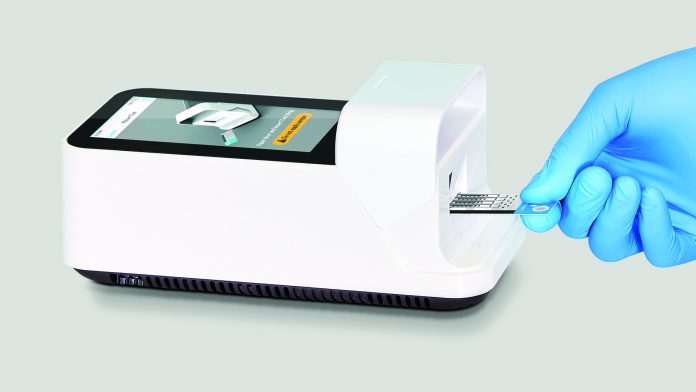 In this special report, LumiraDx, a next generation point-of-care diagnostics platform, explores how point-of-care testing can support change in community-based healthcare, and alleviate the burden faced by GPs.
England's National Health Service (NHS) is facing unprecedented challenges that it has seldom seen before. Staff shortages, increased workloads, and ever-growing care backlogs are placing unsustainable pressures on health systems and highlighting the urgent need for a long-term solution such as point-of-care diagnostics.
Committed to supporting clinical decision-making and optimising the delivery of care for both clinician and patient, LumiraDx is driving change in community-based healthcare through the development of industry-leading point-of-care diagnostics. It recently published its annual survey, 'Point of Care Diagnostics: A Clinician's View 2022', to better understand perceptions and concerns around point-of-care laboratory diagnostics among clinicians based in the UK.
Lorna Rothery spoke to the company's medical director, Dr Matthew Fay, about some of the report's key findings and how next-generation point-of-care platforms could support the expansion of care outside of GP practices and into the community.
What do GPs consider to be the main benefits of point-of-care diagnostics?
It is clear from our recent survey on clinicians' expectations and experiences with diagnostics that quality of care is high on their priority list. At the same time, many clinicians are also concerned with the carbon footprint associated with repeated visits to GP practices. Point-of-care diagnostics can help to reduce carbon emissions across the NHS because everything is carried out in one single contact, which is not only more effective for the patient, but more efficient for the GP too. Overall, this can improve both patient care and care planning.
What is holding GPs back from using point-of-care tests as standard?
One thing that came across in the survey is the concern around cost. The way that GPs are paid for their pathology means that it is not a personal cost to them or their practice, but usually comes out of a block contract with a local lab. Clinicians are concerned about the cost of the device and the associated costs of laboratory testing and how it would work. This is also compounded at the moment as funding is tight and the global sum coming into general practice has not greatly increased.
There is also fear of the unknown and if this would equate to more work in general practice. Something you hear GPs talk about a lot is the secondary primary shift – the move of hospital work into primary care – but when you talk to early adopters of point-of-care diagnostics about the whole-system solutions, they find that these diagnostics can be more effective and efficient for the practice.
The survey found that over 80% of GPs advocated point-of-care testing as a way to cut carbon emissions. Did that surprise you?
There are a great number of GPs who are concerned about planetary health, but at the same time, they are experiencing a lot of pressure within general practice right now. Overwhelmed NHS hospitals mean a lot of work tends to fall back to general practice, so I was quite surprised that GPs were voicing their concerns about carbon emissions within the survey and saw point-of-care testing as a way to reduce this issue.
Do GPs want to move diagnostics from the hospital into the community?
There are very few who want to see point-of-care diagnostics staying in the hospital, only 4% of clinicians wanted testing to increase in the hospital setting. One of the comments from our focus group pointed to the efficiency of having the test with the patient; if you are dealing with a patient who lives in a hard-to-reach community, sending them away for a test, and then hoping that they will come back to you is just not reliable. We need to make sure that we maximise our contact with the patient, for their clinical benefit. Equally, this might be the only time we see a patient in a year so that means the test needs to be with the patient, outside of the hospital, whether that is in the GP practice or a community hub.
We are hearing a lot more about diagnostic centres where patients can receive a set of diagnostic tests in one sitting. For this to be viable, we need to make sure tests are of high quality and easy to use; we need to see laboratory-level tests like Lumira's available in the community.
Were there any other key insights from the survey that you wanted to mention?
One thing we learned from the COVID-19 pandemic is that we need to consider our care and nursing homes as part of the hospital infrastructure and our virtual wards. Vulnerable older adults who require diagnostic tests should receive joint care from hospital specialists and GPs outside of the hospital, where the risk of infection is lower. It is breaking away from the idea of the monolithic hospital as the supreme place of care. Point-of-care testing facilities could be housed in nursing homes or taken to patients' own homes, thus extending the high-quality care found in hospitals.
The NHS is changing, and we are going to see patient care expanding out into the community; it will no longer simply be the hospital and the GP but the hospital and a whole range of clinical practitioners in the community who are going to be supplying healthcare.
Special Report Contact Details