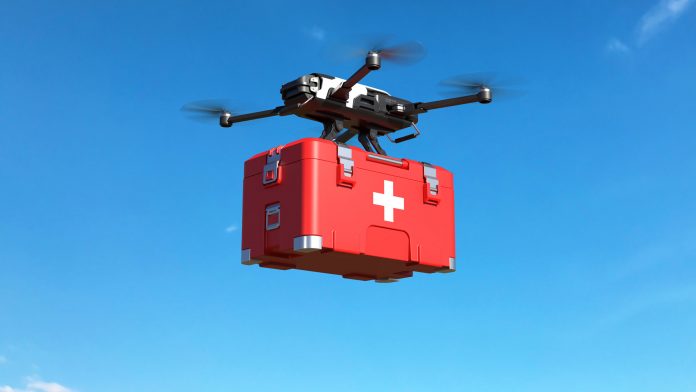 Paul Kostek, IEEE senior member and systems engineer with Air Direct Solutions explores the revolutionary role of drones in improving the delivery of essential medical supplies.
In recent years, a number of global changes have significantly impacted infrastructure and society as a whole. The ongoing pandemic and urbanisation are just a couple of factors that contribute to this. Therefore, it is expected that disruptive technology and innovations will play a huge role in a variety of industries in 2022 and beyond including healthcare and the medical supplies industry.
Unsurprisingly, within the healthcare sector, the last two years have focused greatly on how technology can be utilised to streamline procedures both for patients and healthcare workers. One example of this can be seen with the use of drones, which have been rolled out in several countries, such as India and the US, to rapidly deliver pharmaceuticals, blood, and other small medical supplies and devices.
The room for potential
The use of drones to deliver medical supplies means other costly transportation methods such as helicopters, would not be necessary, and health professionals would not face the challenge of heavy road traffic causing delays. Up until now, drones have not been used for the transportation of medical supplies, this is therefore a huge step forward and revelation for the industry; particularly for developing countries with more rural communities and islands, as they have not had the same access to medical opportunities and equipment as others.
As well as being able to transport important supplies, drones can swiftly deliver diagnostic tests from patients to labs. As many of these tests are often both time and temperature-sensitive, samples usually have to be transported to labs within as little as a couple of hours. In addition, many hospitals, pharmacies, and clinics do not have the same diagnostic tests readily available, so it can be common for couriers to travel back and forth between these healthcare structures and campuses. Drones have the potential to change this whole process indefinitely, which will significantly reduce the number of logistical issues healthcare professionals face.
Another innovative use of drones within the healthcare sector can be seen with organ transfers. Unsurprisingly, moving organs from a donor to a patient needs to be done within a specific timeframe, depending on the organ type. Often, transportation methods, such as private jets or helicopters, are used for this, as they are typically the fastest form of air travel. In many cases drones will be used to cover the so-called last mile, getting the organ from the airport to the hospital or from hospital to hospital in the same city. Despite drones being able to make the delivery of organs safer, faster, and more cost-effective, it may be a few years before they are fully implemented for this on a global scale.
That being said, in September 2021, the University Health Network hospitals and Québec-based Unither Bioélectronique coordinated the drone transportation of a pair of human lungs. The lungs travelled in a purpose-built drone from Toronto Western Hospital to Toronto General Hospital, with the trip taking around six minutes in total. This was a game-changing moment for the healthcare industry, and many other drones and biotechnology companies have been inspired to establish faster deliveries of these fragile and temperature-sensitive organs. The success of this was also a prime example of how the automation within drones results in fewer logistical issues, with no need for pilots or airports.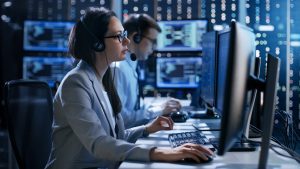 The challenges with delivering medical supplies
Like any new innovation, it is likely that there will be some setbacks and challenges before drones are fully embraced. For example, drone operators need to make sure they are familiar with the difference between controlled and uncontrolled airspace, which is essentially where drones are legally allowed to fly. Controlled airspace is usually found around airports and at certain altitudes where air traffic controllers are actively communicating with, directing, and separating all air traffic. Other airspace is considered uncontrolled, as air traffic controllers are not directing air traffic within this area. The goal of using drones for delivery will require the definition of operational areas in the National Airspace by regulatory agencies, such as the Federal Aviation Administration (FAA) in the US and the European Union Aviation Safety Agency (EASA) in Europe, which will need to include altitude and delivery areas.
Currently, airlines, helicopters, and private aviation are authorised to fly in controlled airspace. However, with the introduction and ongoing popularity of drones, it is likely that this space will need to be shared. Therefore, regulators and drone organisations need to thoroughly assess how to carry this out as safely as possible. It is expected that drone manufacturers will need to prove that they can fly safely by being able to automatically avoid obstacles. In addition, they will need to make sure they can be trusted to know all about the airspace in which the drones will fly. Essentially, all regulators will need to take a very cautious approach to how and where drones fly, and drone companies will have to prove that they can operate in accordance with high safety standards before flying over residential areas.
The delivery of medical supplies by drones is a new concept, meaning regulations are still in the development stage. The way in which the regulatory bodies will come together going forward with drones is rapidly evolving, but this has already been established when it comes to carrying medical supplies on helicopters or planes, so it is likely that there are currently plans in place for how this is goi­ng to work.
Throughout the next 10 years, many countries will likely see a surge in the use of drones. This will be an interesting and exciting time for the healthcare industry, as greater safety, capabilities, payloads, and more medical supplies are delivered.
Paul Kostek
IEEE Senior Member and Systems Engineer
Air Direct Solutions
https://www.linkedin.com/in/paulkostek/#experience
This article is from issue 21 of Health Europa Quarterly. Click here to get your free subscription today.
Recommended Related Articles