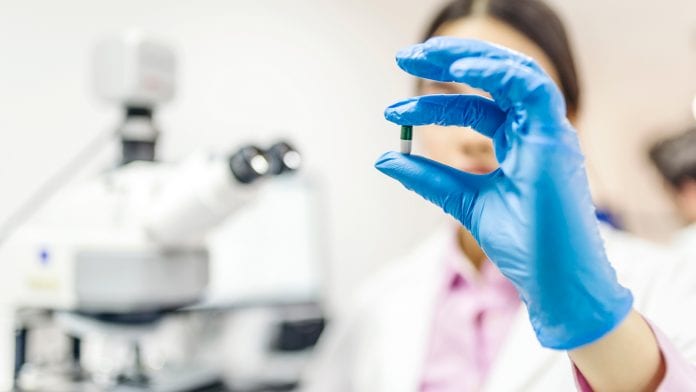 Preclinical proof of concept of PPP003 – a synthetic cannabinoid drug – has been put forward as potential therapy in the battle against COVID-19 through managing cytokine release syndrome.
Tetra Bio-Pharma Inc., experts in cannabinoid-derived drug discovery and development, has announced it is adding a new indication in the development of PPP003. The new candidate could offer potential therapy for managing cytokine release syndrome.
The active molecule in PPP003 can reduce inflammation and dampen pro-inflammatory cytokine release, making it an ideal examination candidate for reducing symptoms of lung regulation and immune system dysregulation.
COVID-19
Acute Respiratory Distress Syndrome (ARDS) is observed in approximately 10-15% of patients with COVID-19.
It is triggered by massive cytokine release termed cytokine release syndrome (CRS) or cytokine storm. Drugs that can prevent or decrease the severity of ARDS may potentially result in an improved clinical outcome of this group of patients with the highest mortality. In fact, early CRS treatment might be able to avoid severe courses of COVID-19 such as ARDS.
The CB2R receptor
Panag Pharma's (Panag), a subsidiary of Tetra, PPP003 is a synthetic cannabinoid drug that selectively acts at the type 2 cannabinoid receptor (CB2R).
Tetra's CSO, Dr Melanie Kelly, stated: "Panag's scientific team and academic collaborators have been studying the role of the CB2R in acute immune responses for over a decade. The active molecule in PPP003 can reduce inflammation and dampen pro-inflammatory cytokine release, therefore, PPP003 should be carefully examined as a candidate drug to help reduce symptoms of acute lung inflammation and immune system dysregulation in those SARS-CoV-2 patients at risk."
Guy Chamberland, CEO & CRO of Tetra said: "It is a time for all pharmaceutical companies to contribute to the management of COVID-19 patients. We agree with our Canadian political leaders this is a time of national emergency. Our Panag team has been performing research on the prevention and management of severe systemic immune dysregulation such as sepsis since the early 2000s.
"One of their founders, Dr Christian Lehmann, has published multiple articles on the CB2R and its role in cytokine storm related to sepsis as well as the role of agonists of CB2R as potential treatment. These articles appear in peer reviewed scientific journals. This research also focused on the active molecule of Tetra's drug known as PPP003."
Panag has already completed preclinical efficacy and proof of concept studies in sepsis and taking this new drug into human trials only requires finishing the IND-enabling toxicology studies.
Tetra has already initiated several programmes to develop PPP003 as a prescription drug. This active molecule is already fabricated under sterile cGMP conditions for its ophthalmic veterinary and human drug development programmes.
The entire, ongoing, nonclinical safety programme and Phase 1 human safety trial for PPP003 is part of its 2020 budget for the ophthalmic programme.