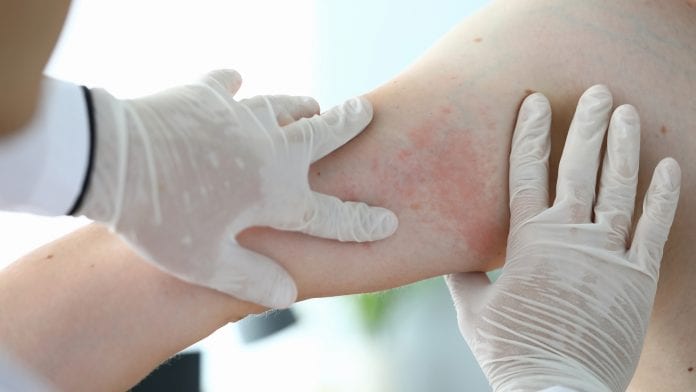 A novel drug has shown promise for patients after almost entirely clearing moderate to severe psoriasis in over 60% of clinical trial participants.
The trials exploring the efficacy of Bimekizumab for the treatment of psoriasis have been carried out by The University of Manchester and Salford Royal NHS Foundation Trust. The drug, which has been developed by UCB Pharma, which funded the trials, could be available to patients in as little as 12 months.
The results from the BE RADIANT trial and the BE SURE trial have been published in the New England Journal of Medicine.
Successful clinical trial results
In patients with psoriasis, block Interleukin 17A and Interleukin 17F are overexpressed in psoriasis. The drug Bimekizumab is a monoclonal antibody – and is the first drug to be shown to successfully block both of these special proteins called cytokines, which regulate the immune system. Other psoriasis drugs have only been able to block 17A.
The patients took part in two Phase III clinical trials in which they were given the drug as an injection under the skin.
In the BE RADIANT trial, the drug was compared with Secukinumab, an IL17 A blocker, and in the BE SURE trial Bimekizumab was compared with Adalimumab. In both studies Bimekizumab was given every four weeks for 16 weeks, followed by two maintenance schedules which were to either continue at every four weeks or change to an eight-week schedule.
The efficacy of the treatments was assessed using the Psoriasis Area Severity Index (PASI) with PASI 100 indicating clear skin.
At week 16 in the BE RADIANT trial, 61.7% patients on Bimekizumab reached complete skin clearance (PASI 100) whereas only 48.9% on Secukinumab achieved the same result.
At week 16 in the BE SURE trial, 86.2% of the patients on Bimekizumab achieved a PASI score of 90, with only 47.2% of the patients on Adalimumab having the same result.
The trials found that after approximately a year, there was no difference in outcomes for patients receiving Bimekizumab every four or eight weeks, and side effects were found to be rare. Oral candidiasis occurred in some patients, is an easily treatable mouth infection.
Professor Richard Warren from The University of Manchester, and Consultant Dermatologist at Salford Royal NHS Foundation Trust who has been leading some parts of the Bimekizumab development programme over the last five years as well as working with others on the design of the Phase III programmes, said: "These trials show that Bimekizumab offers much hope to patients with moderate to severe psoriasis. The higher rates of skin clearance under Bimekizumab compared with Secukinumab and Adalimumab were very impressive.
"This drug sets a new bar for psoriasis treatment and we are hopeful that trials in treating other diseases triggered by overactive Interleukin 17A and Interleukin 17F will also lead to improvements in patient care."