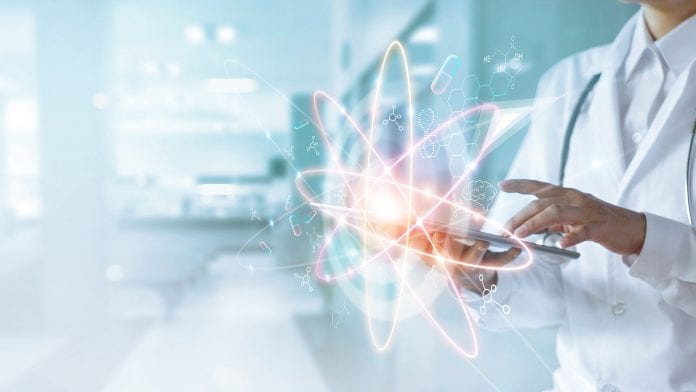 On 8 December, innovation network EIT Health announced the results of its flagship Catapult competition, which recognises pioneering innovation within the spheres of digital health, biotech and medical technology.
Catapult, now in its fifth year, is one of EIT's 23 accelerator initiatives aimed at encouraging and rewarding innovation from new and emerging startups; more than €1m in funding was distributed among the competition's winners, including:
Methinks AI, which uses imaging technology to reduce time to treatment for stroke patients;
New Born Solutions, which has developed a solution to improve the detection of infectious diseases such as meningitis in newborn infants; and
UVera, which aims to deliver 'natural, safe, potent, stable and eco-friendly' UV protection – in addition to being awarded first place in the biotech category, UVera received the Alex Casta Audience Award, as the result of a live vote by the EIT Health Catapult audience.
We spoke with Kurt Höller, Director of Business Creation at EIT Health, about the Catapult initiative and the role of startups in driving innovation in healthcare.
Can you tell me a bit about the EIT Health Catapult competition – what are the main aims of the competition? How have previous entrants or winners benefited?
EIT Health Catapult is a well-established training and competition programme for promising biotech, medtech and digital health startups in Europe. The programme recognises and awards the very best business concepts, fast-tracking startups to become part of the EIT Health Community of world-leading companies.
This competition spotlights startups that offer best value to users and customers. Throughout the process, startups receive intensive training as they build their credibility and visibility through pan-European exposure. Finalists are showcased at the EIT Health Summit as they go head-to-head for their share of the prize fund, with the Audience Award winner displayed on the New York Times Square Nasdaq Tower.
A key part of the programme is the exposure the teams get to potential customers, strategic partners, leading experts and investors – in Europe there can often be challenges for startups in navigating the landscape. Firstly, finding investment can be challenging for startups as investors without experience in healthcare can see health as risky. At EIT Health, we bring together leading investors who are well versed in the healthcare field and introduce these 'right investors' to startups so that their investor relations can be optimised. Startups also have a challenge in navigating the requirements in Europe to get their product or service to market – particularly around regulation and reimbursement. We offer training and exposure to relevant experts as part of Catapult to help prime startups to be attractive to healthcare providers so that their launch timelines can be accelerated. Not only that, but by joining EIT Health, they have access to our vast network across Europe and beyond, which is really invaluable for startups.
Catapult is often a crucial stepping stone for previous winners: it is not only about the prize money for them, but rather the huge exposure they receive and the valuable connections help them to establish themselves. Previous winners have gone on to gain further investment both within and outside of the EIT Health network such as Sparing Vision who raised €44.5m in investment to further its gene therapy for chronic ocular diseases in October of this year. Those who have taken part in the programme tell us that the business model and pitch training is really very valuable; that it helps them to go on to convince investors to invest, and it helps investors see that these startups have been 'de-risked' by a credible organisation such as EIT Health.
Applications for 2021 are open now, and ambitious startups working in any of our three categories should visit our website to see how they can apply: https://eithealth.eu/catapult/.
What were some of the more novel innovations showcased at this year's Catapult event?
We had many novel solutions this year; and this is what makes the programme so exciting. Not only is it supporting business in Europe to grow, but it is delivering real value to citizens in finding new and better solutions to some of our biggest health challenges.
Take New Born Solutions, for example, which won first place in our medtech category. New Born Solutions is developing non-invasive technology for screening and monitoring of deadly infections in infants such as meningitis. At the moment, a lumbar puncture is performed on infants with so much as a fever due to the urgency around diagnosing meningitis early. This process can be quite traumatic for families as well as costly as specialist healthcare professionals are required to complete the procedures. The New Born Solutions device is a sophisticated precision-engineering system using high-frequency ultrasound to non-invasively count white blood cell in the cerebrospinal fluid below the infant fontanel, the region of the head where the bones are not yet closed – it is as simple as holding it close to the baby's head. It will revolutionise the way that infant meningitis is diagnosed.
Another example is UVera, which won both our biotech first place award and the audience award for its novel approach to sun protection. Skin cancer affects millions of people every year; and existing sunscreens, while very much advisable, do have their downsides. The vast majority of effective sunscreens contain chemicals which can not only pose medical risks such as hormone disruption, but also act as a threat to biodiversity: as we have seen in the news a great deal, these damaging chemical compounds can impair the growth of coral and bleach it, as well as impacting the fertility of fish. UVera is developing a novel next generation of sun protection using cyanobacteria, which is 100% natural and eco-friendly while offering full protection against the full range of harmful UV rays. Not only is this solution important for people's health, but also for the environment; and since receiving support from EIT Health UVera has also secured EU funding as part of the European Green Deal.
Finally, in our digital health category, Methinks AI took first place with its Artificial Intelligence solution to significantly cut the time to treatment for those who have suffered a stroke, by using the software to diagnose stroke directly from a CT scan and avoid the need for further investigation such as a contrast CT.
What impact has the COVID-19 pandemic had on startups in the field of health tech? Are investors more cautious about forming relationships with new or unproven producers?
COVID-19 led to uncertainty for many healthcare-related companies, however the startup community is much more at risk relative to larger companies due to the size and limited cash flow available to them. Many of our startups have faced significant interruptions to their business operations. Some, however, have experienced growth during the pandemic as opportunities arose for companies to diversify or refocus their efforts in response to the pandemic, which presented an immediate niche growth area (especially in digital solutions such as telemedicine). While investors have been initially cautious to close rounds of investment (which is why we launched a number of activities to limit the threat to European startups such as our Startup Rescue Instrument), I think that overall it will have a positive effect. Investors are now seeing healthcare as a more resilient sector.
How can healthcare providers and policymakers ensure prompt and widespread adoption of technology and digital solutions?
Providing a more conducive regulatory and reimbursement framework to support novel technology would be a huge step forward.
In healthcare, it is simple, if regulators and payors do not back a product or service, it is not going anywhere, and so the frameworks are really 'make or break'. The challenges we see are twofold:
Difficulty for health innovators in navigating the regulatory requirements (particularly those from small companies such as startups) – it takes a lot of resource and budget to prepare a regulatory submission, get certified and continue to comply afterwards. Secondly, the evidence that is needed for regulatory submission is a challenge, particularly in digital health. Large scale clinical trials are the current gold standard; however, this is not always compatible with technology where iterative development is required and co-creation and system integration is crucial. Piloting programmes may be much more effective in such cases, and we have seen this happen in relation to COVID-19 where regulatory requirements were reduced and evidence was collected as solutions were in use. The problem we have is the speed at which innovation and technology can be developed is always faster than the speed at which regulation can be developed, formalised and implemented – we need a new way of looking at how novel solutions are regulated, perhaps a future where the old ways are completely reimagined when it comes to technology.
Reimbursement is also a challenge as there is no central EU reimbursement route, it is very fragmented. Innovators are required to negotiate with payers on a national, or even local or individual hospital level, to get their solutions into healthcare systems and be paid. This again requires a huge amount of resource, but also the necessary connections, knowledge and networks. Linked to this, different reimbursement frameworks are in place, so the value proposition an innovator needs to make for Spain may not be the same for France. Also, a digital solution's value is often different to traditional medicines whereby it is clear that X drug may reduce Y patient's disease impact by Z%; and so payers apply a volume-based payment agreement based on that. Many digital solutions are systematic or supportive, and while the full benefit may not be evidenced within clinical trials, the value to the system in the long term can be significant.
Kurt Höller
Director of Business Creation
EIT Health
https://eithealth.eu/
Recommended Related Articles