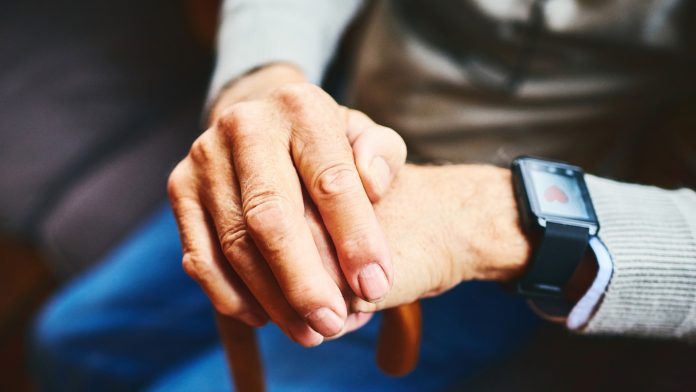 A new smartwatch for Parkinson's disease will allow doctors to remotely assess their patient's condition in a revolutionary development from the NHS.
In a new pioneering project from the NHS, a smartwatch for Parkinson's disease will be available to around 120,000 people who have the condition. Containing cutting-edge technology, including sensors known as a Parkinson's Kinetigraph (PKG), the device will monitor the patient's movements at home.
This revolutionary smartwatch for Parkinson's patients will collect data to allow doctors to make informed decisions on medication, quality of life improvements or whether other interventions such as physiotherapy could be necessary. The device will also buzz to remind patients to take medication, which they can confirm with a swipe.
NHS chief executive Amanda Pritchard said: "Parkinson's is an incurable illness that has a significant impact on peoples' lives and this small watch will dramatically improve their quality of life – providing a thorough review of their health and ensuring they get the care they need from the comfort of their own homes."
Smartwatch for Parkinson's
The NHS smartwatch for Parkinson's patients delivers doctors vital information over a week with statistics such as excessive movement, immobility, and sleep disturbance available. However, patients are still required to fill out questionnaires for their doctors, such as to explain possible causes of night-time disturbances that cannot be accounted for by the watch.
Patients will be given a phone number and email to contact directly for support, and their clinician will see the patient within 10 days, with around four in five of these appointments taking place over a video call.
This new smartwatch for Parkinson's will allow patients to be monitored and treated from their homes and was developed by the NHS in Plymouth with support from the University of Plymouth and University Hospitals Plymouth Trust.
Revolutionising NHS care
A funding boost of £500k will be available to integrate this for Parkinson's patients. This integration will also include their data and the ability to contact their clinician and this data will be added to the patient's electronic records over the next year.
The project to create a smartwatch for Parkinson's disease to allow home-based monitoring of patients is led by Dr Camille Carroll, an associate professor in Neurology at the University of Plymouth and an Honorary Consultant Neurologist at University Hospitals Plymouth NHS Trust.
The project is one of 40 that has just been backed by NHS Transformation's Digital Health Partnership Award.
Dr Carroll concluded: "We have worked directly with Parkinson's patients to develop the best care possible, including the use of life-changing monitors, known as the Parkinson's Kinetigraph, which can be worn by patients around the clock to monitor their symptoms.
"This helps to provide reassurance for patients and also means that NHS staff can provide a comprehensive six-monthly review, while also allowing hard-working staff to free up clinical capacity for those who need face-to-face appointments."
Recommended Related Articles