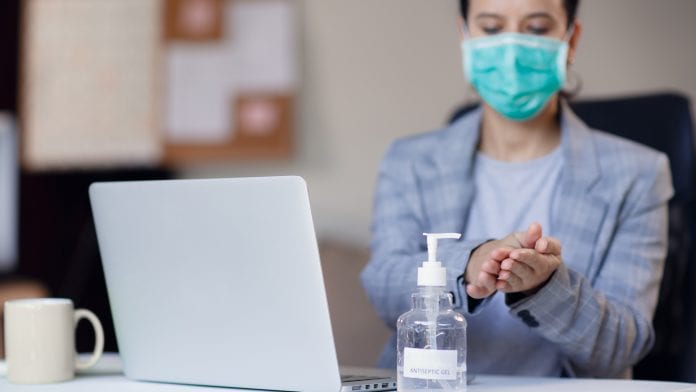 Employees are likely to continue following workplace COVID-19 infection control practices outside of work, new research has found.
A study carried out by Washington State University discovered that workplace cultures that adopted COVID-19 infection control practices, such as daily health checks and encouraging sick workers to stay home, resulted in less "sickness presenteeism" or travelling when feeling ill. The effect was found both inside and outside of work – meaning fewer employees with COVID-19 symptoms showed up to work and other public places like grocery stores, gyms, and restaurants.
The same applied for attitudes towards the COVID-19 infection prevention measures recommended by the Centers for Disease Control and Prevention, such as mask wearing and social distancing. The research showed that employees working for companies with strong COVID-19 infection prevention measures were more likely to have positive attitudes toward the CDC guidelines.
Tahira Probst, Psychology Professor at Washington State University and lead author of the study published in the Journal of Occupational and Environmental Medicine, said: "The workplace COVID-19 climate had a direct effect on shaping employee attitudes towards the personal, preventative health actions that the CDC recommends.
"Public health officials and employers should be aware of the impact that organisations and workplaces can have on stemming the tide of the pandemic. It's not just that employers have an impact on transmission that occurs within the workplace, but they are also influencing those same employees' attitudes and behaviours outside of the workplace."
For the study, the researchers surveyed more than 300 working adults in the US in three waves during the pandemic holiday surge. They first surveyed the workers in October 2020 to assess the COVID-19 climate of their workplaces, then in December 2020, about their attitudes toward the CDC infection prevention guidelines, and finally in February 2021, about their work and non-work behaviours when sick or exposed to COVID-19.
The study found a significant link between the workplace COVID-19 climate, employee attitudes towards the infection control practices, and whether they attended work or other public places while feeling ill with COVID-19 symptoms or following known exposure to the virus.
Impact of workplace infection control practices on employee absenteeism
During the survey period, around half of the respondents were working onsite and half remotely. The study found that even the remote workers were influenced by their employers' COVID-19 workplace climate. Remote workers were less likely to frequent public spaces after exposure to the virus or while ill when working for a company with strong prevention measures in place.
The researchers noted that the many US organisations have longstanding cultures stigmatising sick leave and encouraging sickness presenteeism, and the pandemic has forced many organisations to examine these.
Recommended Related Articles