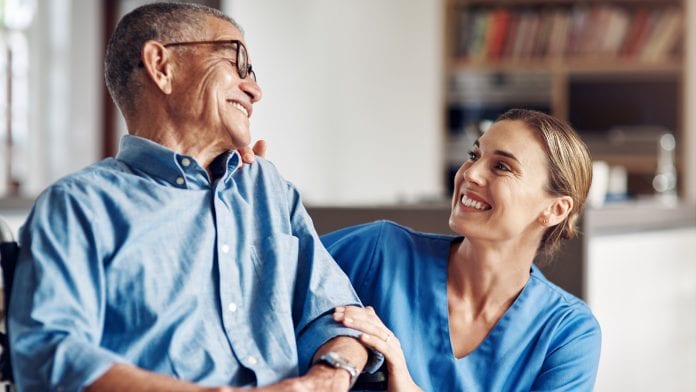 HealthNet Homecare are enhancing patient care and clinical outcomes through bespoke homecare services that are technologically innovative, collaborative, and efficient.
For many patients, particularly those who are well managed in chronic diseases, waiting for deliveries can have impacts on lifestyle. Worse still, a missed delivery could lead to a patient needing hospital treatment, resulting in avoidable harm.
Although it should be a given, getting the required medication on time is only part of the solution in clinical homecare, and the market has struggled to evolve at the same pace as the needs of patients, the NHS, and the pharmaceutical industry.
HealthNet Homecare are on a mission to change this. They recognise that the core services of dispensing and delivery are a means to better engage with patients. They are utilising their technology and people to create a full suite of support programmes designed to drive adherence, reduce wastage, and gather assessment data to help improve clinical outcomes.
Their core services are reliable and simple; they offer convenience in their delivery services by providing delivery direct to the patient (or any of their additional approved delivery points), to hospitals, or to retail pharmacies. However, the technology-focused company goes beyond flexible, reliable delivery, by using digital solutions to provide a range of services tailored to patients' individual needs.
Support for all
HealthNet have combined a dedicated team with over 100 years' expertise in design, development, and delivery of homecare services to create a single, simple, streamlined approach to patient-centred homecare. This is achieved by:
Supporting patients by providing personalised care that promotes understanding and positive outcomes;
Supporting the NHS by alerting it to patient visits and providing and sharing timely bespoke data; and
Supporting pharmaceutical companies by providing rich data and innovative programmes that drive continued usage.
HealthNet currently provide services for tens of thousands of patients across the UK and Northern Ireland with chronic, acute, and rare disease, each of whom have varying clinical needs. Their end-to-end programme management is focused on ensuring all patients receive appropriate and measured levels of support, utilising digital, telephone and face-to-face clinical contact that is personalised to meet their individual needs, including flexible delivery options, through:
Utilising innovative technology to streamline processes;
Service transparency through direct data access;
Offering service flexibility and reliability in line with existing consumer models and consumer expectations;
Virtual clinical support services (personalised support programmes based on established clinical pathways); and
Face-to-face nurse training and support.
Tailored solutions to drive adherence and outcomes
HealthNet have a fundamental belief that every patient should be treated as an individual and, as such, should receive a tailored service that supports their needs to provide the best possible experience and health outcomes. They provide:
A dedicated nursing service;
Storage and dispensing of medication;
Distribution of medication direct to patient, pharmacy, or hospital;
Governance – PV, ADR & AE reporting;
Patient registration and activity coordination;
Dedicated cold chain and ambient logistics;
Pre-wholesale, wholesale and pharmacy solutions; and
Supply chain management.
A typical inquiry and request for medication would follow these steps:
Fast on-boarding service using existing SLAs;
Patient registered on HealthNet Clinician Portal, saving time and preventing errors; prescription is received at HealthNet;
The customer care team welcome, consent and arrange first delivery within one day of receiving the prescription;
The pharmacy dispense, check and pack the products for quick dispatch;
Delivery reminders are sent to ensure successful deliveries and distribution; products are delivered within two to three days of receipt of the prescription. Crucially, HealthNet deliver to any UK postcode, every working day; and
Patient support programme service elements, such as a visit from a nurse, are scheduled with the patient to commence within five days of product delivery.
Patients can manage deliveries and access expert health support when and where they need it, and all patients are contacted post-appointment to optimise treatment success and patient experience.
Putting patients first
Patients and families affected by disease often struggle to access services that meet their needs in a timely manner. HealthNet's mission is to make patients' lives easier, ensuring they get the right drug at the right time, with the right level of support.
If you were to ask a patient where they would prefer to be treated, how many of them would choose to be treated at home? HealthNet work with patients and hospitals to enable treatment to occur in an environment that makes the patient feel most comfortable. Their customer support team manage patient treatment and work alongside clinical teams to ensure a smooth supply of repeat prescriptions and deliveries to the patient's chosen address at a convenient time for them.
They will contact the patient using the method that best suits them and support them in the correct use and storage of their medicines, talk through any concerns they may have and arrange for collection of any medical waste.
Additionally, their well-designed Patient Support Programme decreases administrative and capacity pressures for the NHS and enables brands to address adherence issues. It also helps to collect real-world evidence to support better clinical outcomes and improved patient experiences.
Maintaining excellence in nursing standards
The HealthNet Nursing Service aims to be the most professional, dedicated, experienced, and caring provision available in the clinical homecare marketplace.
They have extensive experience of designing, implementing, and delivering enhanced Patient Service Programmes and are the most experienced provider of this in the homecare market. Their programmes, designed in partnership with clients, incorporate disease-specific assessments, patient activation measures, motivational interviewing, as well as confidence and competence assessments.
They offer a wide range of nursing solutions including bespoke options that can be provided at short notice, all of which are driven and delivered by their highly skilled and experienced nursing team via their unique Clinical Nursing Platform.
Augmenting existing NHS provision
HealthNet work closely with the NHS to build a homecare service that removes the stress of dealing with treatment for both patients and carers, and ensure it is convenient and comfortable for them, no matter where they are. Nurse support is provided either face-to-face, by phone or through their approved Virtual Nursing platform; the method being dictated by individual patient need and clinical appropriateness.
By providing services that are easy for the NHS to implement and monitor, they act as a vital support and extension service to NHS clinical teams and provide nursing solutions for vulnerable patients across many therapies that are concerned with driving awareness, ensuring competency, and overall promoting adherence.
Their fully configurable Clinical Nursing Platform has a proven capability for providing first in class reporting of standard nursing and, importantly for the NHS, provides valuable and detailed data directly to the referring hospital of all nurse visits that are conducted with patients, ensuring that clinicians are always aware of the detail of their patient's treatment.
Driving efficacy
Around the world, and particularly in the UK and Europe, there is an increasing expectation in the industry to see compelling evidence to support efficacy. It is vital that clinical studies are designed so they are able to show each drug's value proposition. Reimbursement – as much as registration – needs to be the ultimate goal. By collecting real-world data, HealthNet aim to support the pharmaceutical industry to drive efficacy, as well as offer differentiation and added value.
Furthermore, they support pharmaceutical manufacturers in achieving various pre-launch objectives, by opening additional channels through a number of support activities, including trial endpoint validation to the fine-tuning of product value proposition, identification of value drivers that impact pricing strategy, and pressure-testing of the overall HTA implementation plan. Their advisory boards, which are organised in accordance with ABPI guidelines, engage with a network of NHS stakeholders (including payers, key opinion leaders and Patient Advocacy groups) to generate meaningful insight and help facilitate alignment between clients' commercial considerations and their research and development strategies.
Innovative programmes driving rich data
HealthNet differentiates itself through technological innovations to provide solutions based on patients' needs. They have created a set of portal systems that create a level of convenience, transparency and flexibility that has never before been available in the UK homecare market, and which are unique to HealthNet, providing a system that can be tailored to complement the market's evolving needs:
The clinician portal is used to aid the swift referral of patients, and electronic transmission of prescriptions. This reduces the workload for clinical staff, improves convenience and lowers costs. It significantly enhances patient safety through the reduction in manual transcribing errors and lost/mislaid prescriptions through the postal system. It also provides a level of transparency and information that is unavailable through any other system in the homecare market;
The patient portal allows patients to choose their method, location, and time of delivery of medication to suit their particular or evolving needs. The portal allows HealthNet to place clinical centre or pharmaceutical company therapy-based training videos, or patient-specific information, online for patients and their families to access as they see fit. The portal offers the patient the ability to confirm their delivery, make changes to it up to the point of dispensing and gives them the ability to track their medication through the HealthNet process to the point of delivery. The portal is used by over 70% of the patients supported by HealthNet and the average patient satisfaction score is 93.7%; and
The nursing platform allows every interaction with patients to be tailored to digitally capture all aspects of the transaction. This affords HealthNet the opportunity to build services that go beyond basic training and can capture essential activity around adherence and disease tracking, that is both personalised for and dependent on individual patient needs. The system is used by nurses and equally by approved nursing subcontractors on the rare occasion where they are needed, so not only does every patient enjoy the same experience, but the platform also provides valid mineable nursing activity and patient data. Importantly, not only is every interaction tailorable, but every output is too. The basic Clinical Evaluation Form (CEF) can have product specific data included, but if for example one of the visits was an audit, that visit would have an audit-related form that could be forwarded to the patient's HCP; each form is generated and sent digitally and automatically to the HCP as the nurses complete their visits.
In addition, HealthNet have also developed a customer/partner portal that ensures that the brand team and their pharmaceutical company colleagues have access to all relevant service governance and reporting information in a transparent manner. It will show supply chain stock levels and give the supply chain professionals a real-time level of visibility of their products/sales, as well as nursing activity.
HealthNet works collaboratively with its sister company, Healthcare Anywhere, who have created the first NHS approved app that is specific to pharmaceutical products and patient care. The app has considerable implications for ongoing self-led patient support (education), and drives adherence, records disease awareness, and evidence outcomes.
The HealthNet team: Built for growth
The Directors of HealthNet have a wealth of knowledge and experience that can only be achieved by working for years in the sector. This has helped facilitate significant growth in the last three years, including an expansion of their product pipeline as well as growth in their homecare patients, processed orders, and nursing visits.
In 2019 they bolstered their infrastructure too, acquiring 17,000 square feet of additional capacity in Derbyshire to complement the Featherstone Head Office. This has given HealthNet three times more space and the ability to expand to meet the growth they have seen so far, as well as what they expect to see in the next three years.
They operate a hub and spoke distribution model utilising depots across the country, all of which are MHRA, GPhC, and NHS England approved. The network is regularly and successfully audited by the NHS and Pharmaceutical companies.
Special Report Contact Details