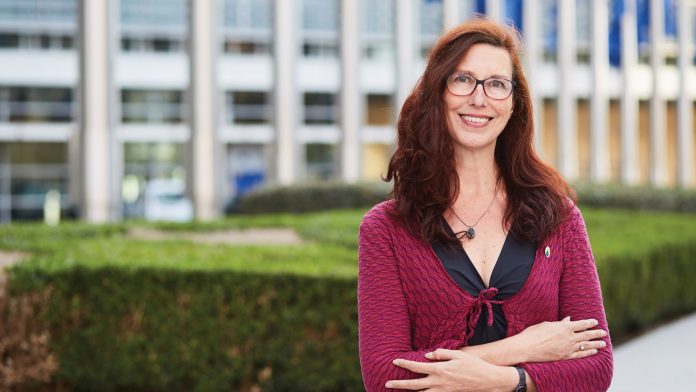 Génon K Jensen, the founder and executive director of the Health and Environment Alliance (HEAL), reflects on the countless ways in which our physical environment impacts our health and how the EU has – and hasn't – responded.
Our health is affected in countless ways by the environment we live in. In some cases this is more obvious – for example when we look at sooty air pollution – in others less so, like with endocrine-disrupting (EDCs) and other toxic chemicals which are used in many consumer products in our daily lives.
The vision of HEAL
Our vision at HEAL is – inspired by the WHO and the UN Sustainable Development Goals – a world offering a clean environment that allows us to enjoy long and healthy lives, right now and in generations to come. That means concretely that we have goals most people could agree on: we want surroundings that are free of health-harming chemicals; we want to breathe air and eat food that is good for us; we want our economy to be non-toxic, decarbonised and sustainable; and we want to protect those most vulnerable to pollution. The core of our work is to ensure that health evidence and health voices are heard by politicians and policymakers in Europe and beyond.
The good news is that, in comparison to the rest of the world, the EU has created global benchmark standards on many of these areas with legislation such as REACH in 2007, to reduce the harm on health caused by chemicals; pesticides legislation of 2009 to ensure that in the future we would ban pesticides that are cancer-causing, toxic to reproduction, harmful to DNA or endocrine-disrupting; the 2008 Ambient Air Quality Directive, which sets pollution limits for the air that we breathe; and the 2009 Climate and Energy Package (20% renewable energy, 20% cut of greenhouse gas emissions and 20% more energy efficiency) that was the first of its kind on the planet.
Following through on ambitious plans
The big BUT is the question of willingness to follow through on ambitious plans and provide adequate resources to implement and enforce them at national level. With REACH we have a very good framework for chemicals regulation but not enough resources or political willingness to tackle all chemicals that are harmful. The ambient air quality limits have helped to cut down on pollution, but unfortunately some standards are still way above what the World Health Organization recommends. In addition, breaches of EU standards are rampant, which leads to the majority of people in Europe's cities breathing in air that is harmful to our health. And when it comes to pesticides, now, almost eight years after the legislation was agreed, we still haven't got the final measures for implementation and identification of EDCs.
The EU has the potential to be a real frontrunner for public health, to meaningfully reduce cases of cancer, lung and heart disease, allergies and asthma, diabetes, obesity, Alzheimer's and Parkinson's disease, autism and ADHD, genital birth defects, premature puberty and infertility – all of which have links with environmental pollution. But, for a variety of reasons, it hasn't always delivered on its promises or has shown lack of ambition in its rules.
Yet delayed action has real consequence. In the EU alone, pollution causes more than 400,000 deaths, which represents 7.8% of all deaths. Most of these deaths are due to non-communicable diseases caused by pollution such as heart disease, stroke or lung cancer. Not only can we save lives and avoid diseases, we can also save money. A recent study calculated that our exposure to preventable environmental chemicals is resulting in health costs of 10% of global GDP.
In 2018, as a unique interface between environmental and health advocacy, HEAL will be stepping up its work to create a healthy planet for healthy people, and here are some of the ways in which we will do it. We will work with members of the European Respiratory Society, the European Lung Foundation and the European Federation of Allergy and Airways Diseases Patients' Associations, and with doctors and health professionals on the Unmask My City campaign for better air quality.
Moving forward
We will push for healthy energy without coal power, swift decarbonisation for health, and the stopping of subsidies for fossil fuels in the run-up to COP24 climate negotiations and beyond. We will partner with members, health groups and Buildings 2030 to advance healthy buildings for all. We will work with health groups such as the European Cancer Leagues and the International Federation of Gynaecology and Obstetrics on minimising the impact of chemicals on our unborn children's health – as well as on our own – and with public interest advocacy, consumer and trade groups from all over Europe on minimising people's exposure to EDCs and other toxic chemicals.
I began by pointing out the countless ways in which our physical environment impacts our health, and this gives us a tremendous, imminent and immediate responsibility for primary prevention of ill health through environmental policy and, equally, offers many opportunities to reap health co-benefits for Europe's citizens.
This article will appear in issue four of Health Europa Quarterly, which will be published in February.