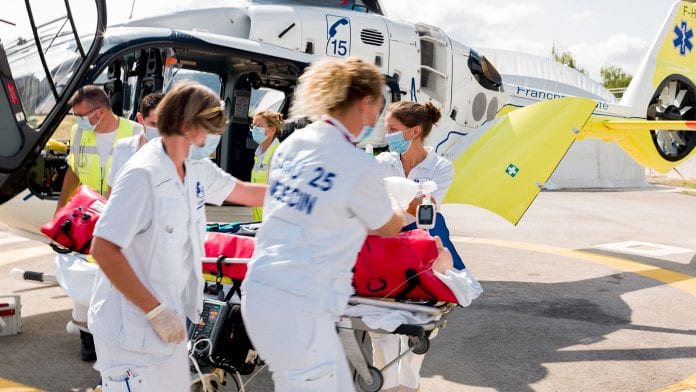 Artificial intelligence to the rescue of cardiopulmonary arrest patients.
Archeon takes its name from the Acheron river, a tributary of the legendary Styx, which, in Greek mythology separates the world of the living from the world of the dead. In January 2018, Archeon was set up by Alban De Luca, a biomedical technology engineer, and Pierre-Edouard Saillard, an embedded electronic system engineer. The ambition of the two founders is to make Archeon a leader in the development of medical devices based on Artificial Intelligence (AI) and dedicated to addressing vital emergencies.
The current projects of the French company are focused on improving ventilation quality in pre-hospital care and emergency medical services. Few innovations are made for first aid workers, even though they are the first link in the chain of survival. The stressful conditions of emergency care are even making patient care more difficult and caregivers involved in pre-hospital care might have widely varying levels of training on life support, which is not helping to improve the chance of survival.
"We position ourselves as one of the first companies in the world to implement innovations based on Artificial Intelligence to improve first aid practice through early assessment of the profile of the patient encountered and real-time assistance to guide rescue teams in their patient care practice," says De Luca. "With the current crisis that we are going through, this positioning meets a real need."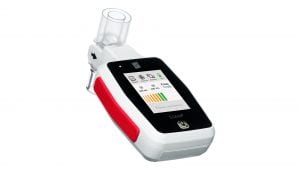 Cardiac arrest is still the leading cause of death worldwide and survival rates remain below 5%. One of the main challenges facing first aid teams is providing patients with enough oxygen while avoiding hyperventilation, which occurs in almost 80% of cases.
Hyperventilation can result in severe aftereffects on the body including barotrauma, pulmonary lesions and infections, reduction of the effectiveness of chest compression, and increased neurological sequalae. Devices to control patient ventilation, especially in cardiopulmonary resuscitation, are reserved for a few first aid experts who can interpret the patient's ventilation parameters and know how to act accordingly. This requires very advanced training in respiratory physiology.
To meet this need, Archeon has developed EOlife, a smart system that measures ventilation parameters and provides real-time feedback on the quality of manual ventilation based on the patient's profile. The medical device is designed to manage adult patients in cardiopulmonary or respiratory arrest improving manual ventilation efficacy by over 70%.1
After two and a half years of hard teamwork, Archeon has reached two milestones. EOlife was CE marked in September, a technical and technological challenge for the entire team. EOlife's effectiveness has been proved with numerous demonstration and test sessions allowing Archeon to obtain ISO 13485 certification for its quality management system. The validation of these different steps allowed the first use of EOlife by partners including Lariboisière Hospital, the French Red Cross, Brest University Hospital, firefighters in the UK and Bologna.
Daniel Jost, Head of Scientific Section of Paris Fire Brigade, comments: "EOlife fills an important gap in the management of cardiopulmonary arrest."
The French firefighter centre of Champagne-Ardenne is among the first users of EOlife in France. Commander Jean-Charles Ramu, Chief Medical Officer, noted: "Regularly, first-aid workers and even seasoned professionals tend to ventilate too quickly and, depending on the patient, too much or too little, so the idea is to find the right balance."
During the first wave of the COVID-19 pandemic, Archeon has been able to modify EOlife algorithms to monitor mechanically ventilated patients in intensive care units, when no intensive care ventilator was available. A specific market authorisation was delivered in April 2020 by the French Ministry of Health; and EOlife was recognised as one of the best innovations to fight against COVID-19.
In June, Archeon was awarded EU funding in the category of 'treatment for coronavirus patients' to deploy an advanced monitoring solution for mechanical ventilation of acute respiratory failure. Selected from among 1,400 projects, Archeon is one of the four French companies out of 36 winners to be financed by European Commission. The €1m grant will enable Archeon to accelerate its development, and to use its expertise in ventilation to go even further. The company's stated ambition is to design a new range of products specifically dedicated to the advanced monitoring of mechanical ventilation in the intensive care units, as the current pandemic has revealed dramatic failures and shortages of healthcare equipment in many parts of the world.
The health crisis is having a major impact on the organisation of care in France and around the world. Many hospitals have faced a shortage of intensive care ventilators and experienced medical staff. Ventilation in intensive care is a critical procedure and is one of the most difficult skills to acquire, even for highly trained physicians. When a patient is suffering from acute respiratory failure, as is the case for coronavirus patients, an error in ventilator settings or a malfunction can lead to a rapid deterioration in the state of health to the point of death. Each patient requires a specific type of ventilation in view of his or her pulmonary characteristics (thoracic compliance, airway resistance). This parameter alone would considerably increase mortality in intensive care, from 19.6% to 34.1% according to a recent study carried out on 1,705 patients.2
"The EOlife solution proposed by Archeon could have several interests in the COVID-19 crisis to equip low-end fans that do not have a monitoring solution," explains Professor Erwan L'Her, Head of the Intensive Care Medicine department of Brest University Hospital. "The solution would make it possible to respond to a massive influx of patients in the intensive care units and to adjust and accurately monitor the volumes of air received by each of them. EOlife offers a reliable tool to measure and adjust the air delivered to each patient."
Professor L'Her was able to test the reliability of EOlife's ventilation parameters, measured in clinical trials, in a real-world continuation of its own research.
EOlife is currently commercialised in France, Hong Kong, Italy, Macau, Switzerland, the United Arab Emirates and the UK. In 2021, Archeon intends to enter the German, Spanish, Canadian and American markets with the prospect of saving many lives thanks to new resuscitation technologies.
References
Khoury A, De Luca A, Sall FS, Pazart L, Capellier G. Ventilation feedback device for manual ventilation in simulated respiratory arrest a crossover manikin study Scand J Trauma Resusc Emerg Med. 2019 Oct 22;27(1):93
Fuller BM et al. Lung-Protective Ventilation Initiated in the Emergency Department (LOV-ED): A quasi-experimental, before-after trial. Ann Emerg Med. 2017;70(3): 406-418
Anaëlle Bailliet
Marketing & Communication Manager
ARCHEON
+33 (0)3 81 66 23 80
a.bailliet@archeon-medical.com
www.archeon-medical.com
This article is from issue 16 of Health Europa. Click here to get your free subscription today.