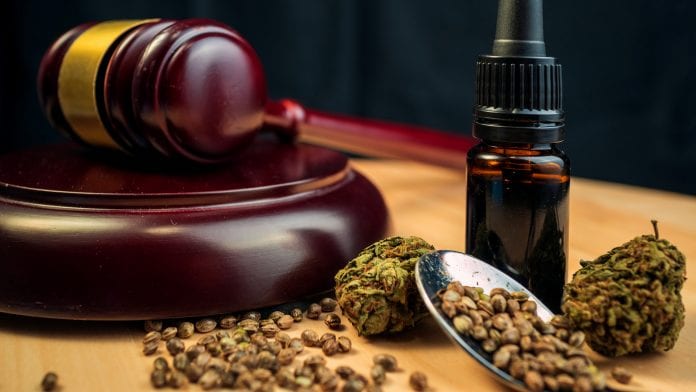 In a landmark move the Court of Justice of the European Union (CJEU) has ruled the cannabinoid CBD is 'not a narcotic', as it 'does not appear to have any psychotropic effect or any harmful effect on human health'.
The ruling is a boost to the CBD sector in Europe after the EU decision to potentially classify CBD as a narcotic. The court stated that: 'A Member State may not prohibit the marketing of cannabidiol (CBD) lawfully produced in another Member State when it is extracted from the Cannabis sativa plant in its entirety and not solely from its fibre and seeds.' And that: 'the provisions on the free movement of goods within the European Union (Articles 34 and 36 TFEU) are applicable, since the CBD at issue in the main proceedings cannot be regarded as a 'narcotic drug'.'
It also stated: 'CBD, extracted from the Cannabis sativa plant in its entirety, cannot be regarded as an agricultural product, unlike, for example, raw hemp.'
The ruling follows the KanaVape court case that commenced in 2014 and is welcome news for the industry, as the decision will advance CBD regulations in Europe, laying a clearer route to regulatory compliance for CBD companies.
CBD not a narcotic
The Court states that in order to define the terms 'drug' or 'narcotic drug' the EU law makes reference to two United Nations (UN) conventions: the Convention on Psychotropic Substances and the Single Convention on Narcotic Drugs.
'CBD, however, is not mentioned in the former and, while it is true that a literal interpretation of the latter might lead to its being classified as a drug, in so far as it is a cannabis extract, such an interpretation would be contrary to the general spirit of that convention and to its objective of protecting 'the health and welfare of mankind',' the court stated.
It also highlighted that CBD does not have psychotropic effects, unlike the cannabinoid THC, and no harmful effect on human health. It does state, however, that legislation on the prohibition of marketing CBD can be 'justified on one of the grounds of public interest laid down in Article 36 TFEU, such as the objective of protecting public health invoked by the French Republic, provided that that legislation is appropriate for securing the attainment of that objective and does not go beyond what is necessary in order to attain it.'
Positive news for the sector
The 2014 Kannavape case saw the company prosecuted for contravening French law by selling vapourisers that contained CBD oil extracted from the whole plant, which French law prohibits. However, Kannavape legally extracted the CBD from the whole plant in the Czech Republic where this is permitted, leading to the overruling of the initial judgement in a 2018 appeal as it went against the principle of free movement of goods within the EU.
"This is clearly an important decision for the European CBD industry," said Adela Williams, Partner at Arnold & Porter, Association for the Cannabinoid Industry's (ACI) legal counsel. "The EU's highest court has decided that EU member states may not prohibit the marketing of CBD products lawfully supplied in other member states unless a real risk to public health has been demonstrated. Furthermore, the European Court has confirmed that CBD should not be classified as a narcotic under the 1961 UN Convention on narcotics, removing an obstacle to the continued assessment of Novel Food applications relating to CBD products."