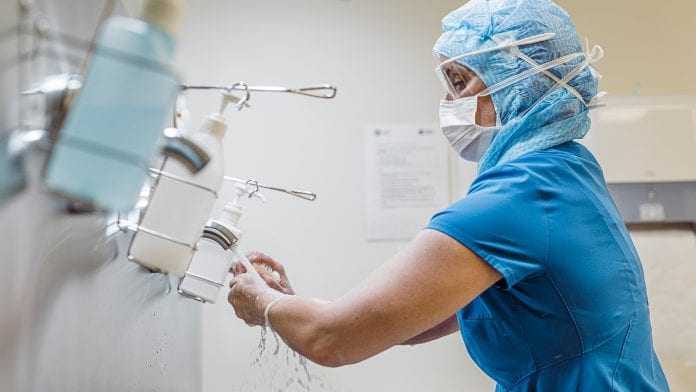 European Institute for Gender Equality Director Carlien Scheele tells HEQ about the gendered impacts of COVID-19.
The European Institute for Gender Equality (EIGE) is an EU agency working to end sex discrimination and promote gender equality in the development of policy, by collating and disseminating data on key issues surrounding equality and gender bias. Carlien Scheele, Director of the EIGE, tells HEQ about the gendered aspects of the COVID-19 pandemic.
Has the COVID-19 outbreak disproportionately impacted women, whether professionally or in their family lives?
The COVID-19 outbreak is affecting us all but women are likely to bear the brunt of the consequences. At the frontline of this coronavirus pandemic are the healthcare workers – and most of them are women. They are working around the clock, under very stressful conditions, potentially putting themselves and their families at risk to care for patients.
Women are also heavily involved in other forms of essential care work, both paid and unpaid – yet it continues to be an undervalued function in our society. With the closure of schools and workplaces, and older relatives possibly getting sick, women's unpaid care workload is also likely to increase. The situation for single parents, of whom the majority are women, can be even more difficult, especially when having to juggle working from home with childcare.
These times of social isolation can also increase the risk of domestic abuse. Women in violent relationships are stuck at home and exposed to their abuser for longer periods of time. This makes it very difficult for them to call helplines as the perpetrator is always around. It can also be harder for women to leave their abuser once the crisis is over, due to the financial insecurity that might follow.
The majority of nurses and healthcare workers in Europe are women, but most personal protective equipment (PPE) is sized primarily for men. What are the key risks this poses to female medical professionals?
This is an example of gender blindness in the health sector, which could well lead to increased challenges for the occupational health and well-being of women medical professionals who are in direct contact with coronavirus patients. This shows why it's so important to consult women, and make sure that their needs are recognised and integrated in response measures to a crisis. It's also why we need to have more gender balance in health governance and decision-making. While women may be well represented among medical students and doctors, they are less represented among senior doctors and professors, or in executive health sector positions overall.
Given concerns over PPE sizing, as well as a growing body of evidence which suggests men are substantially more likely to die of COVID-19 than women, should researchers pay closer attention to sex-disaggregated data to gain a more accurate picture of the direct and indirect effects of the virus?
Sex-disaggregated data is essential to fully understand the challenges faced by women and men during pandemics and the gender inequalities that arise. Not only for infection rates, but also for other concerns, such as the economic impacts, the distribution of care work and the extent of domestic violence. Understanding the different consequences of a health emergency on individuals and communities will allow for more effective measures and policies that can improve health interventions and promote gender equality in the long run.
The available data indicates a rise in incidents of domestic and gender-based violence during the pandemic. How could law enforcement and policymakers act to manage and, ideally, mitigate this increased risk?
State responses and policies to address the impact of COVID-19 must keep the issue of gender-based violence as a priority during lockdown. In addition, the police, justice, social and health sectors need to ensure a highly coordinated response to efficiently manage the increased risk of gender-based violence. Data collection on violence against women would benefit from harmonisation between member states to ensure the phenomenon can be adequately measured and addressed. This would help identify changing patterns of violence in times of crisis.
How could policymakers better address the different needs of women and men? How important is female representation at a policy level?
The response from policymakers must consider the different experiences and needs faced by women and men during a pandemic to ensure that everyone gets the help they most need. It is crucial to consult women and have gender balance in decision making during crisis situations. During this coronavirus pandemic, we mostly see men making all the important decisions. This imbalance of decision making power means that women are left out from shaping the important decisions that affect their own lives.
Carlien Scheele
Director
European Institute for Gender Equality
https://eige.europa.eu/
This article is from issue 13 of Health Europa. Click here to get your free subscription today.