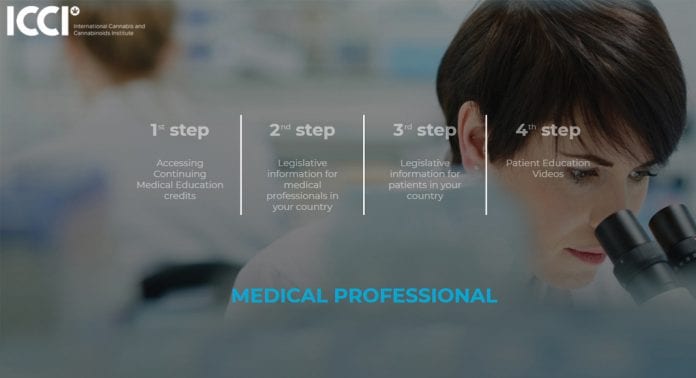 Did you know that medical professionals and patients now have access to evidence-based cannabis education?
Accredited education helps ensure that medical professionals are equipped to confidently address their patients' questions and are able to provide effective and safe healthcare to medical cannabis patients – and now evidence-based cannabis education is now a click away.
ICCI – International Cannabis and Cannabinoids Institute, the first Centre of Excellence in the cannabis field, is an organisation that combines various institutions (universities, high-tech companies, associations) which consequently provide services to a broad array of entities around the world interested in the development of cannabis and cannabinoids as medicine.
ICCI's primary mission is to research the various uses of medical cannabis, and it has all the right preconditions for doing so. The team of specialists is comprised of both physicians and experts in healthcare systems, as well as leading experts with direct experience with the scientific teams of the United Nations organisation, government bodies, and organisations. This is all supported by strong liaisons with patient organisations.
ICCI has identified TheAnswerPage.com high quality, accredited Continuing Medical Education (CME) medical cannabis courses as an excellent educational resource. TheAnswerPage.com has been a trusted provider of continuing education for the medical community for over 20 years.
The medical use of cannabis and cannabinoids is now a reality or is on the political and medical horizon of many countries around the world. Historically, however, education on medical cannabis has not been part of international medical curricula, and is only rarely being added to curricula today. Patients and medical professionals could be exposed to the internet and other resources full of myths and erroneous information. ICCI and TheAnswerPage.com fill this educational gap by providing medical professionals with both country-specific legislative information to navigate local requirements for prescribing cannabis to their patients, as well as CME courses with scientific content on an array of medical cannabis topics.
TheAnswerPage.com editorial team members are recipients of numerous awards including the Medical Professional of the Year Award presented by the Americans for Safe Access (ASA) and the Special Award for Major Contributions to the Re-introduction of Cannabis as a Medicine bestowed by the International Association of Cannabinoid Medicine (IACM).
Cannabis education platform for medical professionals
''TheAnswerPage is the resource that I recommend for accredited education on the endocannabinoid system, medical cannabis, opioid prescribing and pain medicine.''- Professor Raphael Mechoulam, PhD, Faculty of Medicine, The Hebrew University of Jerusalem, Member Israel Academy of Science.
ICCI recognises the importance of providing doctors and other healthcare providers with up to date legislative information and scientific, peer-reviewed educational content. Medical cannabis education will help ensure that healthcare providers are making the best healthcare decisions related to the endocannabinoid system and medical cannabis, and that they are comfortable with addressing their patients' questions.
The Comprehensive Medical Marijuana Course, created by The Answer Page, introduces medical professionals to the endocannabinoid system and its interaction with the components of the cannabis plant, and addresses administration, therapeutic use, drug metabolism, physiological and cognitive effects, potential risks, and drug interactions.
The use of medical cannabis in obstetric patients, paediatric patients, adolescent patients and elderly patients is addressed in detail. In addition, the health effects of cannabis and cannabinoids in epilepsy are reviewed. Important considerations for patients with ischemic heart disease, hepatic disease, psychotic illness, and those with a history of drug dependence are provided, as well.
The content and its presentation are designed to be of educational value and interest for those new to medical cannabis, as well as for those with years of experience in this area of clinical practice.
Furthermore, ICCI provides registrants with access to several significant resources:
In an effort to help healthcare providers navigate the evolving legal landscape, the ICCI has compiled country-specific legislative information: Content is updated every six months.
Country-specific information will initially be available for Czech Republic, Canada, Denmark, Germany, Ireland, Netherlands, Portugal and the United Kingdom.
Information is provided in English and applicable native languages.
Country-specific legislative information addresses:

Country-specific laws governing medical cannabis.
Who can authorise the use of cannabis for medical purposes?
Which diagnoses are eligible for recommending medical cannabis?
How an authorised healthcare practitioner can recommend medical cannabis.
Cannabis self-study and information for patients
The CCC Patient and Caregiver Education Programme also provides unbiased, quality education to individuals who are considering medical cannabis treatment as part of their healthcare regime.
The programme provides guidance for patients, family members, caregivers, and anyone else interested in exploring medical cannabis. It includes two hours of educational videos which provide information on the cannabis plant and the endocannabinoid system, dose-finding, understanding labels, transporting medical cannabis safely, and more.
After registration you can access country-specific information on medical cannabis legislation in the Czech Republic, Canada, Denmark, Germany, Ireland, the Netherlands, Portugal and the United Kingdom. Legislative information on additional countries will be added soon.
ICCI – International Cannabis and Cannabinoids Institute
info@icci.science
www.icci.science
https://education.icci.science/auth/
This article will appear in Health Europa Quarterly Issue 11, which is available to read now.