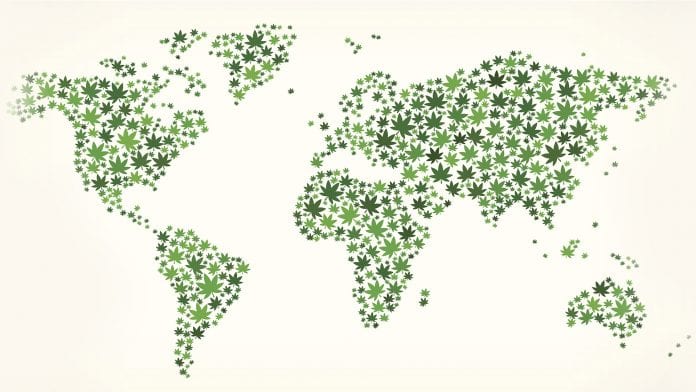 Luc Springinsfeld of leading investment bank Bryan, Garnier & Co explores the European medical cannabis market and the rise of medical cannabis investment in Europe.
Since the beginning of 2019, there have been a dozen mergers and acquisitions or private placement deals with values above €5m involving companies focused on medical cannabis in Europe. In total, north of €100m of new money has been invested in medical cannabis-focused companies across Europe over the past 18 months. While this represents a sharp increase compared with the period before 2019, we are still far from the levels experienced in North America, where more than $3bn was invested in the medical cannabis market through more than 450 deals in 2019.
In the early days of the industry, most investments were from high net worth individuals (HNWIs) and family offices, or from exclusively cannabis-focused funds. However, the past 12 months have seen increasing interest from traditional venture capital (VC) firms. While many remain barred from investing in cannabis-related companies by the constraints of their limited partnership agreements, we expect more dedicated funds and a wider base of investors to emerge, attracted by the high growth potential of the cannabis market.
A strong focus on Germany
In Europe, 80% of deals concerned Germany-based companies, all of which are active in the distribution of medical cannabis products within the country.
One notable example is the €20m fundraising by Sanity Group, which saw the US-based cannabis-focused VC firm Casa Verde invest in the company alongside more traditional VCs such as Holtzbrinck, Cherry and TQ Venture. This round had a first close announced in August 2019 and a second close in February 2020.
Pioneering medical product distributor Cannamedical also recently announced a capital increase of €12m, funded by US-based traditional healthcare investor Steve Wiggins, which brought the total amount invested in the company to EUR27m. The deal was closed in April 2020, in the midst of Germany's government-imposed lockdown, demonstrating the continued appetite of investors for the space despite the Covid-19 crisis. CanPharma, another leading German medical cannabis supplier, is also currently raising a double-digit million-euro round. Other companies involved in the German cannabis sector and likely to raise additional funds in the coming months include Emmac Lifesciences, Foliumed and Wundr/iuvo.
Recent deals have naturally raised much attention from the investment community. Many players have contacted us to understand why there is a sudden spike in cannabis-related deal activity and why it is focused on Germany.
The European medical cannabis market is at an inflection point
The mounting evidence attesting to the therapeutic value of cannabis in treating a variety of diseases and conditions has been critical for developing support for medical cannabis legalisation.
Public sentiment in most of North America and Europe has now shifted towards supporting some degree of cannabis legalisation. Polls in the US have shown that 93% of adults agree that there should be some form of legal cannabis. In the UK, support for legalisation has hit a high of 77%. Support in continental Europe is also growing. In Germany about half of the population considers medical cannabis as a good alternative to traditional medicines and is likely to take medical cannabis as a treatment.
Western Europe boasts some of the world's fastest evolving and most significant opportunities in medical cannabis, with countries reassessing their restrictions as public support for legalisation grows and commercial and social benefits become apparent.
Germany: the largest market in Europe
We estimate that the Western European medical cannabis market is currently (as of 2019) worth between €230m and €280m at retail prices, of which between €150m and €175m is in Germany. While the German cannabis industry is still in its infancy, it is the third largest market globally behind the US and Canada.
Germany amended its regulations on the therapeutic use of cannabis products in March 2017. Since then, the population of patients receiving medical cannabis products has increased from roughly 1,000 people to more than 60,000 in 2019. This still represents less than 0.1% of the population. In comparison, in the USA and in Canada, the proportion of medical cannabis patients is estimated at 1.5% to 2% of the population, which would equate a potential for two million patients in Germany.
More than half of the market value comes from medical cannabis flowers, distributed by several competing companies that have been granted a narcotics licence. The remainder of the market is composed of extracts (3%), finished drug products (such as Sativex produced by GW Pharma) and Dronabinol, a synthetically produced THC, marketed by C3, a subsidiary of the Canadian licensed producer Canopy Growth.
Significant growth despite numerous limiting factors and constraints
In Germany, medical cannabis products are sold exclusively in pharmacies and are only prescribed by doctors as a last resort medicine, if the patient has exhausted all other avenues of treatment. There were 267,348 prescriptions in 2019.
Despite a continuously growing demand, the market remains highly constrained. Firstly, only a limited number of doctors (roughly 2,000 to 3,000, less than 5% of the German total) prescribe medical cannabis products. The vast majority of doctors are not yet comfortable or educated enough in the subject to do so.
Secondly, supply of the medicines is still insufficient. At present, only around 10% of the 20,000 pharmacies in Germany sell medical cannabis products. Also, 2019 was characterised by several interruptions in the supply chain, when quality issues temporarily took brands like Aurora off the shelves. Prescriptions are for specific brands and if the brand is not available, the patient must return to the doctor for another prescription. Currently Germany depends 100% on imports, with cannabis flowers being supplied from Canada, the Netherlands and marginally from Portugal. There are around 10 EU GMP (Good Manufacturing Practice) certified cultivators allowed to export their products to Germany, limiting the sources of supply. In the coming few months, the situation will evolve as more cultivators are expected to be granted authorisation to sell into Germany.
However, the education of doctors and patients, improvements in stability and efficacy of products, enhancements in the supply chain and sales setups are likely to foster demand. We estimate that the German market will grow to €1.5bn by 2025. We expect that the sharp increase in the patient population will be partially offset by a decrease in price induced by an increase in supply sources and pressure from health insurers, which currently reimburse two thirds of medical cannabis prescriptions.
There are currently more than 40 companies allowed to distribute medical cannabis products to pharmacies in Germany. Distributors must hold a narcotics licence, as well as a specific licence for each product reference distributed. Of the companies that hold the required licences, only a dozen are active. One group of distributors are subsidiaries of Canadian licensed producers (including Tilray, Aurora, Canopy Growth and Aphria); and another are independent European producers and distributors (such as CanPharma, Demecan or Sanity Group) distributing flowers from Bedrocan and other EU-GMP certified cultivators. This second group will likely attract continuing investment and interest.
Who will be the likely winners?
Distributing medical cannabis flowers in Germany is currently relatively straightforward, as demand exceeds supply. The main challenge for distributors is to secure high quality medical cannabis. However, as the market grows, the main success factor will be the ability to reach all key stakeholders. Distributors will need to have large dedicated sales teams on the ground to target the country's 70,000 doctors and 20,000 pharmacies.
As the market matures, it will converge towards more traditional pharmaceutical standards. Winners will be the companies with experience from the pharma world, capable of securing deals with insurance companies; offering a flawless supply chain and logistics setup; and a portfolio of products tailored to patients' needs. From a product perspective, we expect to see improvements in the galenical formulation and the product consistency, stability and above all efficiency.
We predict that the winning companies will be first movers that are able to:
Secure stable, long-term and high quality supply via solid offtake agreements, ensuring that their own brand products are constantly on the shelves of pharmacies;
Have an established nationwide sales team to address the full depth of the market so their products are prescribed and distributed in progressive cities like Berlin or Hamburg, as well as in the small towns of rural Germany;
Target all stakeholders: patients, doctors, pharmacies and health insurers;
Offer a full range of quality products tailored to the various needs of patients; and
Educate prescribers.
We anticipate that leading medical cannabis players in Germany will be well positioned to capture a significant share of the markets in France, Spain or Poland when these markets open up.
Luc Springinsfeld
Director, Investment Banking, Germany
+49 89 242 262 11
lspringinsfeld@bryangarnier.com
Tweet @co_garnier
LinkedIn
This article is for issue 3 of Medical Cannabis Network. Click here to get your free subscription today.