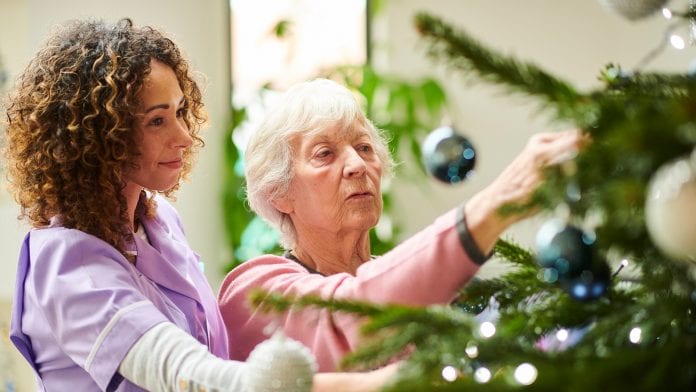 A million new COVID-19 tests are to be sent out to care providers over the next month, which will allow for families to be reunited with their loved ones in care homes by Christmas.
New guidance issued by the UK Government will allow for families and friends to see care home residents in all tiers in safe, indoor settings, thanks to COVID-19 testing, with visits to begin in the first homes tomorrow, Wednesday, 2 December.
This huge increase in testing capacity and the use of new testing technology will enable visits for those who test negative for COVID-19, and will allow care homes to keep a balance between strong infection control protocols and the vital need for residents to see and interact with their families.
Relief for UK families
The news will come as a great relief for families who have been struggling to see their loved ones in care homes due to strict infection control protocols implemented to help limit the spread of COVID-19 in vulnerable communities. More than a million lateral flow COVID-19 testing kits will be provided to allow up to two visitors per resident, visiting twice a week.
Visitors will have to wear PPE for the visits and 46 million PPE items will be sent to CQC-registered care home providers to accommodate this.
Health and Social Care Secretary Matt Hancock said: "I know how difficult it has been for people in care homes and their families to be apart for so long. The separation has been painful but has protected residents and staff from this deadly virus. I'm so pleased we are now able to help reunite families and more safely allow people to have meaningful contact with their loved ones by Christmas. This news has been made possible by the unprecedented strides made in testing technology and capacity, as well as extra PPE supplies."
Coming home for Christmas
Some residents under the age of 65 will be able to visit their families outside of the care homes subject to an individual risk assessment, a negative test, and a period of self-isolation on return. The Government has published new guidance to help inform this, which highlights that they may only form a bubble with one other household and should not form a three-household Christmas bubble at any point as per current guidelines for the rest of the country.
Professor Martin Green OBE, Chief Executive, Care England, said: "As the largest representative body for independent providers of adult social care, Care England is pleased that the government has responded to the needs of the sector. In order for these promising plans to land successfully, the sector must now be adequately supported by the government. Care England has always supported meaningful contact between families and residents, whilst recognising that the balance between freedom and safety needs to be explored at the most granular level possible.
"We appreciate the continued risks associated with visits, but this represents a positive step forward. The most important relationships in most people's lives are with their families or other people, where love and trust are shared."