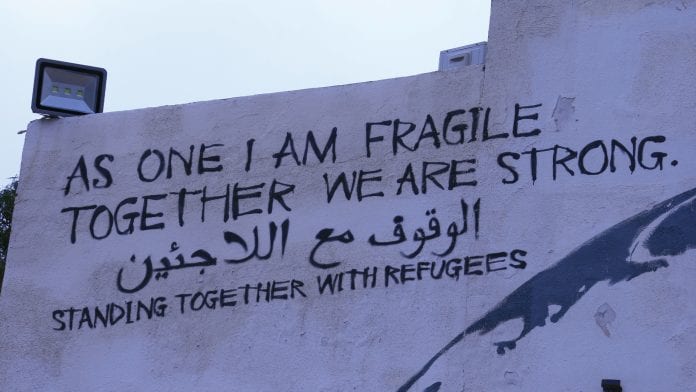 Fill That Gap is a small organisation with a big vision: to ensure qualified and experienced healthcare professionals are accessible to all.
Several years ago, I stood with a colleague at the only junction of a tiny foothill village. I needed to hitchhike up a mountain to start working in a remote clinic I hadn't visited before. I was so close to my destination after several days of travelling and, just as I realised how excited I was to be there, heavy rain set in. My optimism didn't waver, but as I started formulating a plan B I thought about our predicament. The organisation, Fill That Gap, running the clinic I was heading to hadn't given me any advice on how to actually get there. Given the long journey on unpredictable buses, pickups and hikes, they only had a vague idea of when I would even arrive. As the rain started to soak through my pack I realised that the extreme, yet somehow far too common, nature of my situation meant that far too few people would undertake this kind of trip. Far too few would have this kind of experience. Quite understandably, they would expect much more support.
The hurdles to healthcare for all
A variety of organisations (large, small, internationally or nationally led) in Asia, Africa and Latin America have given me the chance to collaborate with them and grow both personally and professionally as a result of these experiences. Nevertheless, what is striking is the degree to which such organisations are overstretched, underfunded and understaffed. The persistent, pervasive lack of human resources they face is predictable, and yet no sustainable solution exists to address this.
How can foreign aid organisations offer consistent, continuous, coherent care for the long-term when their project managers must understandably focus their attention on solving very immediate, often life-threatening, problems? This lack of dedicated human resources support can have far-reaching consequences. Local communities, sometimes spread over wide areas, can lose trust in their clinic if they arrive and there is no medic to meet them.
Treatment of chronic or severe illnesses can be compromised. More pressure is placed on remaining staff – increasing the risk of burnouts and further absences. The growing #MeToo and #AidToo movements stand testament to the dangers of poor personnel management, especially in challenging workplaces.
Meanwhile, there are few opportunities for medics who want to maintain a career at home and also work abroad for short periods. Clinics needing to fill short-term gaps have too few medics they can rely on to make an effective contribution at short notice. Patients who need and deserve continuity of care and universal access have too few chances to see the doctors they require. Working in low-resource settings can and must be made easier for many more medics. If we can make it so, everyone will benefit.
Who are Fill That Gap?
Fill That Gap is a small organisation with a big vision: to ensure qualified and experienced healthcare professionals are accessible to all. We work as much for the clinics who face staffing gaps as we do for the medics who may fill them. Many NGO-run clinics in low-resource settings are working to the limits of their capacity and depend on both national and expatriate staff. The latter are often specialised and experienced, and it can be difficult to find replacements, be they national or expatriate, who are not already committed to other work. Staffing gaps, particularly among expatriates, can occur for several reasons:
Changing family circumstances or emergencies can necessitate a return home
Intensive and stressful working environments far from support networks can lead to burnout
A more traditional career path in their own country can become more attractive.
Sometimes the gaps are predictable, sometimes not. Too often they are not proactively managed or mitigated. This problem is not easily solved. Our prospective partners always sum this up most clearly when they ask: 'Can you collaborate with us on our human resources for health to help us guarantee our services?'
Fill That Gap's solution is to work with both medics and clinics to ensure all patients can access the medical care they need. We are developing a network of NGO-run partner clinics that originate from within the communities they serve yet depend in part on expatriate medics. We work with this network to strengthen their human resources approach and to help them foresee and prepare for staffing gaps. That's not all. Fill That Gap is also building a global database of medics who want to undertake short-term missions to low-resource settings as a complement to their work at home. If, and when, a gap arises in a partner clinic we match the gap with a medic to provide the cover that is needed. We then facilitate the agreement of the work programme and activities between the two parties.
Despite the frequent pressure to do so, Fill That Gap will not put a square peg in a round hole. We offer medics a mission that is challenging yet within their capacities and competencies. Likewise, we offer our partners a reliable replacement. To both we offer the neutrality of a third party to navigate and support successful completion of every mission. To achieve all this, Fill That Gap undertakes detailed evaluations of both the clinics and medics we work with to ensure that we make effective matches and bring a real added value to the work of both parties. Our volunteers come from all over the world and we were thrilled to recently complete our first South to South mission.
This is Fill That Gap's mission – to make qualified and experienced healthcare professionals available wherever and whenever they are needed. Ours is a vision in which better medical outcomes are secured through continuous access to healthcare for all. We try to do this by providing a service that has ripple benefits for everyone. Patients in low-resource settings suffer fewer clinic closures due to staff shortages. Expatriate medics can develop their personal knowledge and skills in new and challenging environments. Medical NGOs can enhance their capacity to address complex human resource challenges and reinforce their effectiveness. Donors can provide a back-up plan for the NGOs they fund by using Fill That Gap to ensure continuity of care. Ultimately, our objective for each of our partners is to find local solutions to their staffing problems, thereby ensuring that healthcare is accessible, sustainable and less reliant on external aid.
The positive ripple effects of Fill That Gap's work
This is a huge challenge and, as yet, Fill That Gap is a small organisation. We are now coming towards the end of our third year of work and we have partner clinics in India, Bangladesh, Guatemala, Jordan and Lebanon. We have undertaken three evaluation missions and paired medics and clinics to work together on seven medical missions. Over three years we have proven the value of and need for our work and the benefits it can bring. One of our partnerships has already ended after two volunteer missions through which the partner found local solutions to their chronic lack of medical personnel.
Now that Fill That Gap is eligible for funding from larger donors, we need support to continue expanding our services to fill more gaps and provide more opportunities to medics and clinics alike. Our next priority partner is developing a major new project ensuring access to healthcare for vulnerable children in Lebanon and Jordan, many of whom have fled violence in neighbouring countries and face a precarious future.
Here at Fill That Gap we know that universal health access for all requires a universal effort by all. We are always looking for new partners, volunteers and donors to help us grow. Will you join us?
To find out more and support us, contact us at info@fillthatgap.org
Mandana Mehta
Executive Director
Fill that Gap
+32 (0)498 973 110
mandana@fillthatgap.org
http://www.fillthatgap.org
This article will appear in issue 7 of Health Europa Quarterly, which will be published in November 2018.