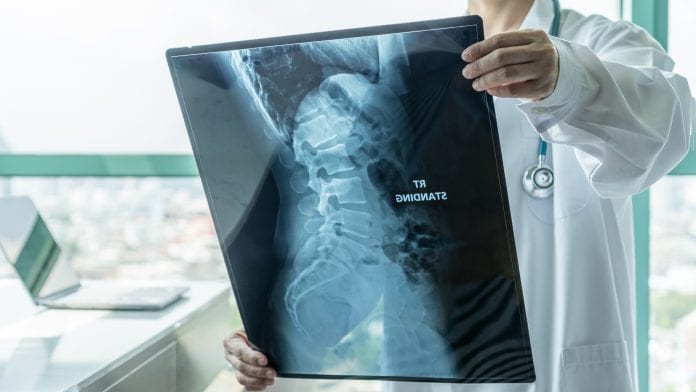 The first at-home, orally administered treatment for spinal muscular atrophy has been approved by the US Food and Drug Administration (FDA).
The treatment – Evrysdi (risdiplam) – has shown improvements in motor function and obtainment of developmental milestones across two trials in patients age two months and above and across all levels of disease severity, including types 1, 2, and 3 spinal muscular atrophy.
In the trials, infants achieved key motor milestones not normally seen in the natural course of the disease, such as the ability to sit without support. Evrysdi also preserved vital functions and improved survival at 12 months, and in particular, without permanent ventilation.
Risdiplam is the first approved therapy discovered and developed from PTC Therapeutics' proprietary splicing platform. Stuart Peltz, Chief Executive Officer at PTC Therapeutics, said: "We are proud that the first oral treatment for spinal muscular atrophy patients was discovered through our splicing platform. I believe that this is one of the most innovative products in the pharmaceutical industry and we are gratified to have played a key role in its discovery and development."
Safety profile
The robust clinical trial programme looked at 450 patients and subjects from two months to adults aged 60 with a range of symptoms and motor function, including patients with scoliosis or joint contractures and patients previously treated for spinal muscular atrophy with other medications.
Evrysdi demonstrated a favourable efficacy and safety profile, with the most common adverse reactions being fever, diarrhea, and rash in later-onset spinal muscular atrophy. In infantile-onset spinal muscular atrophy the most common adverse events were similar and included upper respiratory tract infection, pneumonia, constipation, and vomiting. There were no treatment-related safety findings leading to withdrawal from any study.
Accessing the medicine
Evrysdi will be available in the United States within two weeks for direct delivery to patients' homes through Accredo Health Group Inc., an Express Scripts specialty pharmacy. The Marketing Authorization Application submission for Evrysdi to the European Medicines Agency is pending, says PTC Therapeutics.
Evrysdi will be marketed in the United States by Genentech, a member of the Roche Group, and received an orphan drug designation from FDA in 2017. Outside the United States, Roche holds global commercialisation rights to risdiplam, and the European Medicines Agency (EMA) previously granted PRIME (Priority Medicines) designation to risdiplam in 2018 for the treatment of people with SMA and an orphan drug designation in 2019.
At this time, Roche has submitted applications for approval in Brazil, Chile, China, Indonesia, Russia, South Korea, and Taiwan.