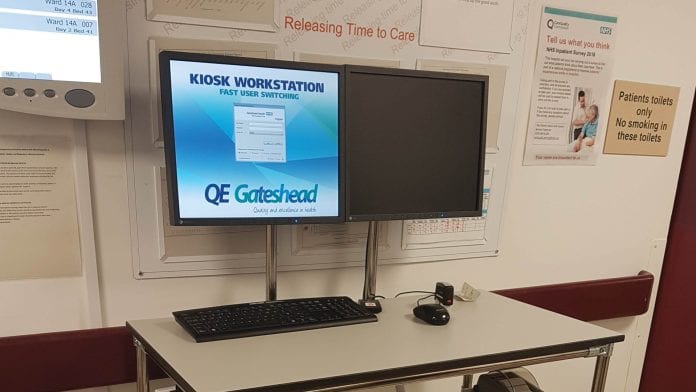 FlowStore Systems Ltd explain how they were able to customise a solution for Queen Elizabeth Hospital, Gateshead and how their creation could be rolled to other NHS trusts.
Queen Elizabeth Hospital, Gateshead is a leading UK hospital for digital care. When healthcare providers introduce electronic patient records systems, the most emphasis tends to be placed on the software platforms; this is sensible since making sure that software is intuitive for all levels of IT users is an important part of achieving safe, efficient care. At Gateshead Health NHS Foundation Trust the application of lean methods to analyse complete value streams identified a further component for success that is often overlooked – usability of the workstations that the software and hardware sit on – i.e. the computer on wheels (COWs) carts.
As the digital rollout continued at Queen Elizabeth Hospital, feedback from clinicians consistently reported that the COWs used on the wards were not fit for purpose, and despite being poorly designed for their intended use, the commercial suppliers were very expensive. This was confirmed by internal stakeholder surveys that showed poor access to computers in the right locations was a significant limiting factor to the goal of achieving fully digital care.
Revolutionising computer on wheels carts
This led to the digital healthcare Gateshead team responsible for the digital rollout to evaluate how COWs were being used and what was available from suppliers that would meet their needs. Feedback from clinicians, the end-users of the COWs, that features such as the ability to work without being plugged into a power socket were not especially useful.
What the clinicians wanted was to find a solution to improve their day to day working activities such as the capability to print labels for blood tests, print A4 paper documents for prescriptions and copy letters for patients as these would improve the level of care given and improve the time taken to update patients medical records. Space for having dual monitors to assist handling of the complex data required on a ward round was also highlighted as a requirement.
One of the most important requirements highlighted was the ability to maintain patient care during unexpected events when a ward must be evacuated, which current solutions were not optimised for, especially when it came to movement.
"As a result of this investigation and the value-stream mapping events carried about the team, it was clear that the team needed to take a fresh approach to the digital rollout across all activities on the ward" summarised Dr Robert Allcock, Chief Clinical Information Officer, Queen Elizabeth Hospital, Gateshead
The working team wrote out their COW specification and looked at their supply chain to see if there was a readily available solution, but it became clear that they wouldn't be able to source what they needed within their budget. It was during a visit to study the Toyota Production System in Japan, one of the Queen Elizabeth Hospital's consultants saw the tube racking systems in use in the workplace. This system enabled equipment and shelving to be created to whatever size was needed. Using a specialist resistant coating on stainless steel tubes, they are well suited to a clinical environment as they would be easy to clean and inherently resistant to bacterial colonisation.
Gateshead clinical computer carts
Following discussions with FlowStore about the requirements for the COWs, FlowTube was selected for its tube and joint approach to constructing any carts, which allowed a modular system that could easily be adapted for other departments or slightly different usages.
FlowTube stainless steel tubes and joints were selected to comply with hygiene requirements and the design process of the Gateshead Clinical Computer carts began. The ease of working with the FlowTube products allowed the team at Queen Elizabeth Hospital to design and build their solution on site. With the help of FlowStore, the finished design was rendered in CAD to standardise the design and produce the bill of materials.
Once the final CAD drawings were approved, the FlowTube kit could be ordered according to a bill of materials and the CAD drawing followed to complete the build. During the build, it was highlighted how easy it was to build with FlowTube and make further changes to tailor each cart to each department's requirements using the base cart design. Following testing for real-world usage and cleaning, the Gateshead Clinical Computer Cart was signed off as a new piece of equipment that will be rolled out across the wards.
The feedback from Dr Allcock was hugely positive stating "the Gateshead Clinical Computer Cart has been approved by the clinicians who will be using it every day, the maintenance team for its ease of cleaning, and more importantly, it fits in our budget for new equipment saving us around £2,000 per cart versus sourcing from our supply chain. It was vital that we created a solution that would deliver our requirements and within budget. We are delighted with the support we received from FlowStore and the FlowTube product itself."
Austen Jonas, Managing Director of FlowStore, added "At FlowStore we are delighted to have been involved with this project, and so impressed with the skill and ingenuity of the team at Queen Elizabeth Hospital to design what we believe is a huge game-changer for the NHS. The Gateshead Clinical Computer Cart delivers on functionality to support real-world day to day activities, but more importantly, the cost-saving shows that the NHS can have a solution that will meet their budget requirements."
Delighted with the result of the new COW, Dr Allcock added "We strongly believe in the benefits of this cart and it would be helpful to other hospitals to have the opportunity to buy ready assembled carts, or even just pre-packaged kits, as a way to get started. We are keen to share our experience across the wider NHS, and we will be doing that via a 'blue-printing' sharing process within the Global Digital Exemplar programme."
The Gateshead Clinical Computer Cart, designed by Gateshead Health NHS Foundation Trust, is now available from FlowStore. You can purchase a standard dimension version or to discuss customising your solution please contact us.
Parj Sangha
FlowStore Systems Ltd
+44 (0)20 8581 5555
sales@flowstore.co.uk
Tweet @FlowTubeSystem
http://www.flowstore.co.uk/
This article will appear in Health Europa Quarterly Issue 11, which is available to read now.