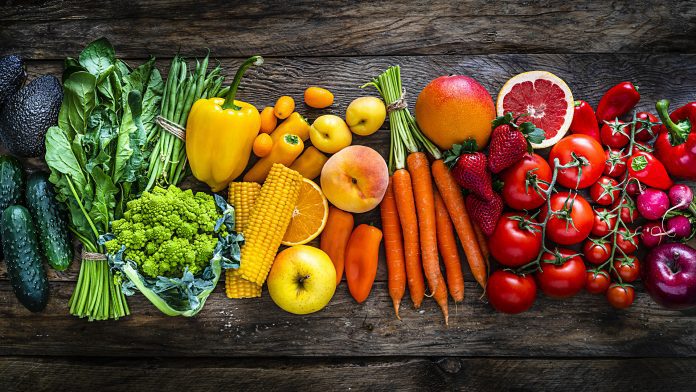 New evidence suggests that eating foods high in polyphenols may prevent inflammation and chronic diseases in older people.
A study has identified that polyphenols-rich foods can help reduce inflammation among older people by altering the intestinal microbiota and triggering the production of the indole 3-propionic acid (IPA), a metabolite derived from the degradation of tryptophan due to intestinal bacteria. The findings may inform future dietary implementations to help people live healthier and longer.
The research was performed by the Research Group on Biomarkers and Nutritional & Food Metabolomics of the Faculty of Pharmacy and Food Sciences of the University of Barcelona and the CIBER on Fragility and Healthy Ageing (CIBERFES) and is published in the journal Molecular Nutrition and Food Research.
What are polyphenols?
Polyphenols are natural compounds that we consume predominantly through fruits and vegetables and are considered probiotics. A range of dietary polyphenols are understood to possess antioxidant and anti-inflammatory qualities and can interact with gut bacteria to elicit postbiotics, such as IPA, which increases its positive health effects.
A catalogue of evidence suggests that consuming foods high in polyphenols can contribute to healthy ageing. This is especially true if they are implemented within a healthy diet, such as the Mediterranean diet, and practising healthy habits, such as regularly exercising and avoiding smoking and alcohol.
Reducing inflammation and chronic diseases
The team's novel investigation identified that the interaction between polyphenols and gut microbiota triggers the proliferation of bacteria that synthesises beneficial metabolites like IPA, a postbiotic with antioxidant, anti-inflammatory and neuroprotective properties that improve the intestinal wall's health. This means that the compound may help to prevent some age-related diseases.
Tomás Meroño, the co-first signatory of the study from the Department of Nutrition, Food Sciences and Gastronomy of the UB and CIBERFES, said: "If we consider the beneficial effects of IPA on the gut microbiota and health in general, it is important to find reliable strategies to promote the production of this metabolite."
The researchers performed a multi-omic analysis to examine IPA levels in the serum of 51 volunteers who were aged 65 and above and also analysed the composition of their gut microbiota from faecal samples. For eight weeks, the participant's diets contained foods high in polyphenols, such as green tea, bitter chocolate, and fruits including apples, pomegranate and blueberries.
The results signified that eating foods high in polyphenols significantly increased blood IPA levels, reduced inflammation levels, and changed the gut microbiota. However, the same effects were not observed in volunteers with kidney diseases, which may be explained due to the altered composition of their gut microbiota. These participants displayed lower IPA levels at the start of the study compared to those with normal kidney function.
Professor Cristina Andrés-Lacueva, the leader of the research from the Faculty of Pharmacy and Food Sciences of the UB, said: "These results could be clinically relevant since the low IPA levels have been associated with a rapid decline of kidney function and a chronic kidney disease."
Ultimately, the findings confirm that consuming a polyphenol-rich diet including probiotic foods such as green tea, dark chocolate, and fruits can increase IPA levels through changes in gut microbiota composition. Elevating levels of IPA in the elderly may be a possible way of delaying or preventing the onset of chronic diseases that impact their quality of life.
Recommended Related Articles