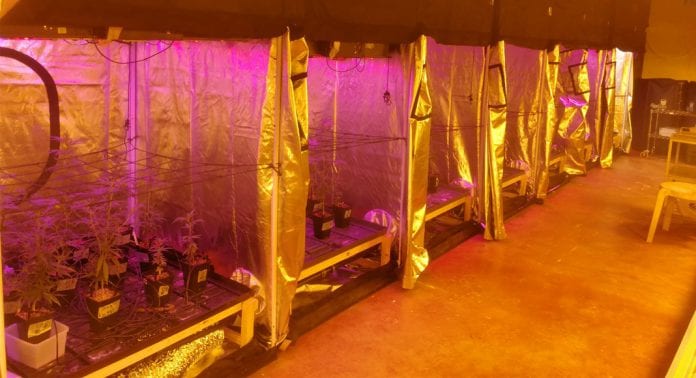 How can Israeli startup Fotonica's lighting solutions help you to optimise your grow?
Fotonica ™ is an innovative company from the 'startup nation' of Israel. The company was established in 2014 by two talented co-founders: Menachem Schwartz a VLSI specialist, serial entrepreneur, Co-Founder & Senior Executive in several leading technology companies like Galileo, and Gennadiy Berinsky Inventor, entrepreneur & founder of cutting edge ventures in the robotics & artificial vision domains with 25 patents in optics, robotics and vision systems.
The two collaborated, contributing their knowledge, experience and outside of the box thinking to revolutionise the field of biological illumination – agricultural lighting.
The company's vision is to revolutionise the agricultural world by providing the best lighting technology through groundbreaking bio lighting systems and analytics that increase crop quality and quantity while dramatically increasing profitability.
The above fundamentals of Fotonica are driven by its mission statement:
Research – deepening our expertise on plant physiology and light biological effects in order to create solid ground data driven by our clients (Big Data, cloud based) and our own research to direct the technology developments;
Development – exploring new revolutionary technologies in the field of Artificial Intelligence, image analysis, electronic engineering, optics and remote control to support the plant's biological needs; and
Solutions – striving to provide the best cost-effective solutions ever seen, combining our knowhow on plant biology and out of the box thinking creativity, to increase cultivator profitability.
Fotonica's guiding principles are our clients main goals:
Profitability – creating greater yields at lower costs;
Confidence – guaranteed optimal growth; and
Control – making the right decisions.
Profitability is the essence of any cultivation operation. Fotonica harnesses years of research and development to engineer the best solution a grower can get. A glimpse of our technology's latest achievements forges a solid confidence in its superiority over whatever already exists out there.
During the course of 2019, Fotonica engaged with several leading cannabis cultivation facilities in North America in order to demonstrate its EVA3™ indoor light fixture's superiority in comparison to other lighting fixtures LED or bulb based (MH/HPS). Our technology resulted in higher biomass with 41.6 – 44.6% less intensity compared with the other fixtures. This demonstrated higher photon efficacy supports the claim of better light spectrum with the EVA3 (Ontario, Canada, 2019). That means less money for electricity and more money as return on yield. The same results were demonstrated at another location where four cannabis varieties were inspected: higher dry flower biomass by 5 – 21%, higher THC levels by 13 – 16% and higher terpenes levels by 8.25 – 21.7% (Washington State, USA, 2019). That means more money on both biomass yield, cannabinoid and terpene yield.
The above are the result of repeated trials conducted back in 2016 with the Laboratory of Cancer Biology and Cannabinoid Research, Faculty of biology, Technion – Israel Institute of Technology in collaboration with Prof. David (Dedi) Meiri. Results showed cannabinoid concentration levels of 20-50% higher (THC, CBG respectively) in comparison to traditional HPS bulbs that were used as control (Hasharon region, Israel, 2016). The result: higher profitability.
The above is leaning on Fotonica's philosophy that light is a major plant input and as such, it should be treated like any other input. In this respect plants at different phenological stage and with variations of biomass should not receive the same light input as what exits with irrigation and fertilisation. Light effects the plant in different ways: light intensity = biomass; light spectrum = morphology & productivity; Light duration (photoperiod) = flowering.
This perspective requires a different approach. While most lighting producers choose the easiest way, they misfit and ignore the plant's needs. In order to follow this approach Fotonica has embedded the plant's biological needs in every step of its solutions development.
The product development has passed three generations to its almost final design, known today as the EVA3™ for indoor cultivation. During this process dozens of units from leading manufacturers were collected from the market and analysed in all means: engineering, design, performance etc. The outcome was the perfected device of EVA3 that has considered all design and operation malfunctions of the competition as follows.
Light efficacy
Flexibility: adjustable spectral curve for spectrum optimisation per plant genetic variation; growth cycle; cultivation target (biomass/area, biomass/watt, AI level etc.);
Spectrum: fully integrated spectrum with 11 controlled bands in and out of the PAR with some unique bands like: UVB, UVA, FR and IR;
Intensity: with its 1,000 W supply delivering >1,400 µmol from 1.5 m high, more than 1,080 PPFD;
Distribution: uniformity achieved with optics through special designed lenses (<25% fading on a narrow frame of few cm) narrowing the light distribution to the growing bed (4'X4');
Utility light: provision of non-interfering light for working environment (green wavelength);
Light modulation: full control over all light parameters to power up plant metabolism; and
Synchronised room wide modulation: from single to an endless number of units.
Ambient impact
Bar design: for better thermal convection no induced microclimate, no stale air means better plant respiration conditions avoiding being a physical obstacle;
Active cooling: completely sealed bars with thins and fans occupied with convertible filters to capture all flowing particles and avoid system clogging; and
Operation height – avoiding any change in the room design and air flow by hanging is at 1.5m over the canopy and/or 0.4-0.5 m for vertical (different lenses).
Maintenance
Preemptive maintenance: system alerts based on sensors, identifying changes in the electrical current to alert on burned diode or filters needed replacement;
Smooth surfaces – dust and water free, easily wiped clean between cycles (disinfection);
Versatile electrical design that can operate with either residential or industrial voltages (110, 200 – 277 V);
Convertible fan filters; and
Easy installations and replacement.
Management
Connectivity – each device is occupied with BT and wireless for communication between units and the cloud (community and data centre);
Command and control software: central dashboard at lamp, room, enterprise levels;
Remote access & operations by cultivator and/or consultants;
Light protocols – complete software driven light recipes over the entire light parameters such as spectral curve, modulation, cycle etc; and
Mobile app – in development.
Monitoring
Two integrated, multi-spectral camera analyses with selective wavelengths: induced luminescence and zoom into suspicious areas operating on demand or on defined cycle;
Machine/fuzzy learning: data accumulation via the cloud community and own research. Expertly structuring documents regarding every plant throughout lifecycle, crop growing protocols embedded; and
Image analysis; through the images provided by the cameras we can provide early & accurate detection of plant anomalies such as:
Early detection of pathogens through fungicide use;
The plant's heat map (irrigation use); and
Identification of plant's nutrient deficiencies through fertilisation use.
EVA3 is the most advanced, innovative, and sophisticated lighting system in existence today, outperforming any other lighting systems on the market.
Fotonica is always on the move and just recently finalised a lengthy process of rebranding that included visual and textual changes as part of its 'go to market' plan. We determined the slogans 'unleashing plants potential,' DLED™ for its Dynamic Light Emitting Diode solution and 'bio illumination.' Marketing and PR programmes were launched in order to increase market awareness and gain market recognition with distribution in the US structured accordingly in anticipation of the production of the second batch.
It continues its demonstration trials with clients around the east and west coasts of the USA and Canada and inclusive tests that will soon be conducted with one of the big five leading cannabis industry players.
Fotonica research and development (R&D) in Israel continues with the reinforcement of collaborative R&D with esteemed leading Canadian cannabis cultivation company and the support of Dr Jeremy Friedberg of our professional advisory board (Ex. MedReleaf Head of R&D).
A patent for one of our unique technologies was recently granted in the US, EU and is anticipated very soon in Canada. Fotonica opened its office in Montreal, Canada providing better customer services and better promotion of its technology.
Fotonica's philosophy can be summed up with the term 'Bio illumination™.' We aim to revolutionise the lighting market by leaning on our profound knowledge of electronics, optics communication and IT technologies, combined with a thorough understanding of plant biology. If you aim to squeeze much more from your plant then don't compromise on less – unleash your plant's potential. Maximise your profitability, join our movement the Fotonica revolution.
Eyal Ronen
VP Sales Marketing & Business Development
Fotonica
+972 54 231 6508
info@Fotonica.io
eyal@Fotonica.io
Tweet @Fotonica12
www.Fotonica.io
This article will appear in the first issue of Medical Cannabis Network which will be out in January. Click here to subscribe.
Agro Grow Technology: a hydroponic revolution with the Rotary Garden