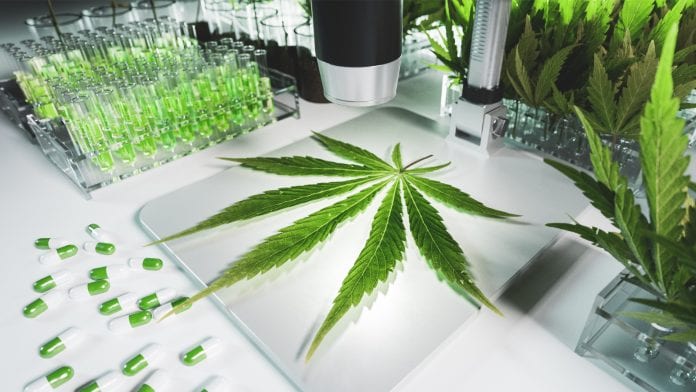 A former Colorado State University alumna has gifted the institution to help with cannabinoid research.
Leslie Buttorff's long connection to her alma mater and the success of her woman-led, Colorado-based business, Panacea Life Sciences, has inspired a $1.5 million gift to Colorado State University that will create a unique partnership in the College of Natural Sciences.
Panacea Life Sciences is focussed on producing medically relevant, THC-free CBD products for humans and pets. Buttorff, who graduated from CSU in 1979 with a B.S. in statistics, gave her gift to support cannabis research on cannabinoids, a class of chemical compounds found in the cannabis plant.
Cannabinoid research
The gift will provide funding for research, operating expenses and instrumentation for a cannabinoid research centre, located in the chemistry building, focussed on key challenges in cannabinoid research including separation efficiencies, formulation of cannabinoids, efficacy testing and the development of standard analysis practices.
Jan Nerger, dean of the College of Natural Sciences, said: "Partnering with Panacea will propel us to the forefront of cannabinoid research and provide unprecedented opportunities for CSU faculty and students."
"This analytical research facility is unique in the region and Ms. Buttorff's extraordinary gift places CSU in an unparalleled position to advance research in this burgeoning area."
The newly established centre will allow faculty and students to develop different cannabinoid and terpine profiles with the goal of advancing cannabinoid efficacy to treat human and animal ailments. Along with Panacea Life Sciences, CSU researchers will focus on investigating a large range of cannabinoids, including cannabigerol (CBG), cannabinol (CBN), cannabichromine (CBC) and tetrahydrocannabivarin (THCV).
Buttorff, founder and CEO of Panacea Life Sciences, said: "We are very excited about this partnership with CSU.
"CSU offers expertise in the complete cannabinoid value chain, including botany, chemistry, biology, psychology, agricultural sciences, statistics and veterinary research.  Panacea's focus in developing scientifically driven and medically focused products will be further advanced with our partnership with CSU."
Deep connections to CSU
This is not the first time Buttorff, who was named a College of Natural Sciences Distinguished Alumna in 2014, has generously supported CSU. In 2012 she established the Leslie Cavarra Buttorff Scholarship in Statistics, which has provided full-ride scholarships to numerous students pursuing their undergraduate degree in statistics.
Buttorff and her family have long been connected to CSU. Her father's cousin, Robert Cavarra, established the pipe organ program in the School of Music, Theater and Dance, and he led the efforts to acquire CSU's one-of-a-kind Casavant pipe organ now housed in the University Center for the Arts. Her uncle, Perry Lynn; her brother, Nick, who is vice president of sales and marketing at Panacea Life Sciences; sister, Jennifer; and nephew, Tyler, all graduated from CSU.
Research leader
The gift agreement will establish CSU as a leader in cannabinoid research. CBD, short for cannabidiol – one of over 100 known cannabinoids – currently has more than a dozen proven medical applications, including pain relief, nausea relief, seizure reduction and cancer treatments, and it is anticipated that many more uses in humans and pets will be discovered as research expands.
Melissa Reynolds, professor of chemistry and associate dean for research in the College of Natural Sciences, said that individual faculty on campus have been doing some cannabinoid research but added that the Buttorff gift will focus research and maximize efforts by faculty.
CSU is renovating space in the chemistry building for the research facility and plans to begin work on the project this spring. Students – both undergraduate and those in graduate programmes – will be involved in the research.
"This research is absolutely exciting," said Reynolds, who will serve as the initial director of the cannabinoid research centre. "Cannabinoids have already been proven effective in a number of clinical applications, and there are more than 100 other compounds that have been identified in hemp that could have an impact in other areas. Honestly, the possibilities are limitless – we can explore all types of research that were never available before.
"We are incredibly grateful to Leslie for this gift."