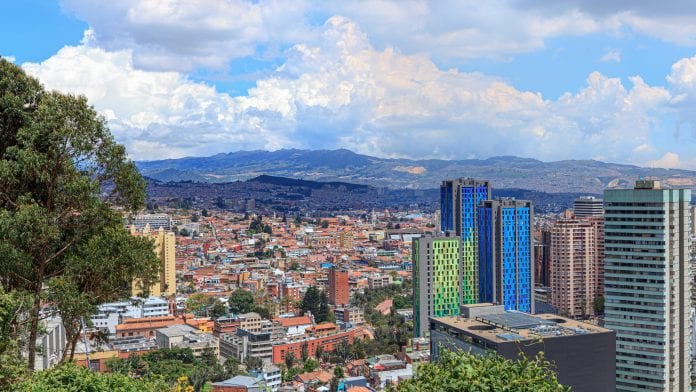 At the 2020 GCI Summit, Daniel Herrera and Sebastian Palazio discussed intercontinental trade partnerships
The November 2020 Global Cannabis Intelligence (GCI) summit brought together stakeholders and experts from throughout the field of cannabis to share knowledge, promote collaboration and advance the global cannabis industry.
At the summit's 'Building a partnership between South America and Europe' event, Daniel Herrera, Chief Corporate Development Officer of MedColCanna, and Greenstein CFO Sebastian Palazio discussed the partnership between their companies and the holistic benefits of operating in Latin America.
What are the core advantages of basing your operations in Colombia?
DH: A lot of products need to get into various supply chains and various verticals, at the lowest cost possible, while maintaining increasingly stringent quality metrics and requirements depending on the verticals that that company wants to participate in. The ultimate advantage is that, leaving aside issues of regulation and port alignment, the tropics are the best place to grow cannabis. It is where we grow most of our other agricultural products, so why would cannabis be any different? From a mathematical and economical perspective, it just made sense to go to Colombia – on top of the whole climate advantage, the low-cost labour at a fairly high living standard in Colombia makes it an ideal place to invest for a low-cost supplier. We also found that the regulatory markets were particularly regionally and locally responsive to consumer needs, taking into account where the products would be in the next two to three years and then where they are going to be in five to 10 years, because those investments need to be made now to compete in those markets.
SP: The regulatory framework in Colombia is very holistic, and very well thought out in terms of creating a thriving industry. Some of the regulations or legislation in other countries break up the vertical chain into different segments, such as seed production and purchase, cultivation, extraction and export; then they break up regional distribution and limit how many players can be involved. There are not restrictive limits on how many dispensaries you can operate or how many acres you can farm in Colombia; they have allowed for vertical integration, which enables businesses to scale further, and that in turn enables more knowledge to be created and shared. The Colombian cannabis sector is going to reach a critical mass of knowledge, continue to drive innovation, and develop into a strong, vital industry.
DH: The protectionist environment in the Canadian market seems on the face of it to be helping, but quite a few vocal operators have highlighted that it is actually stifling innovation, preventing cost reduction, and closing a major developed market off from other producers which could bring in products and reduce prices for consumers, which is what we all want at the end of the day. By comparison, Colombia has a very favourable regulatory environment, because it can participate in all aspects of the of the value chain, from cultivation to production to export – but it does still have its challenges. We are lobbying the government for the ability to export flower directly and to control more closely where we set up manufacturing operations, in order to integrate better globally.
Colombia is situated in a fairly advantageous region both locally and globally: it sits right next to Brazil, which has a very unfavourable regulatory environment for Brazilian operators, who can be only net importers of products they can cultivate. Mexico is also very restricted compared to Colombia, so even just from a regional perspective, Colombia can be a powerhouse when it comes to production.
Aside from the obvious market in Germany, are there other European countries you would like to focus your attention on?
DH: Germany is the elephant in the room here, quite rightfully: it has a very favourable regulatory environment in terms of both importation and access to the product. We are seeing similarly favourable environments, while they are still very new, in Denmark and Ireland. The UK is a bit of a mixed bag legislatively, but it has the potential to be a big market and we are trying to be responsive.
The Polish cannabis sector is beginning to emerge: it's not usually a place where there are highly capitalised companies, the focus is usually more on farming; so bringing in good capital with strong sales, distribution, and sales development will make for good partnerships from that perspective. Switzerland is starting to make moves in this sector; Malta is becoming a big centre for extraction services. It is just a matter of time before all the regulatory environments align and develop: it is a big market.
SP: One of the challenges that we have in the European markets is that regulation is essentially patchwork across the entire continent. In some jurisdictions, regulation varies by region or by canton – we will have to be very cognisant that the regulatory environment, especially given the size of the industry, is going to be constantly changing; and we have to be completely on top of that to make sure we meet all the requirements and obligations.
You mentioned that basing your operations in Colombia has afforded you the opportunity to operate across many parts of the world and in many of the verticals within cannabis. What aspects of the supply chain will not be under your control? How are you expecting to manage that?
SP: The big catch in Colombia is that exporting commercial cannabis flower is prohibited. That is the key challenge for us right now: most of the cannabis consumption in Germany, where we plan to do a lot of trade, is principally either oils or flower; so we need to find a credible supplier for flower.
DH: We have been lobbying the government on this front and we have been able to work with other operators in other Latin American states where export of flower is permitted. The market is focused primarily on flower right now, but it looks as though in the future it will migrate towards cannabis derivatives and innovative products which are more standardised. Along with that will come a lot of education for both physicians and patients on correct usage and dosing, so that users can be safe.
SP: Doctors commonly don't get more than an hour of education on cannabis as part of their medical training. I think we have a responsibility to have a profound, complete knowledge, not only of our product, but of the scientific profile of cannabis – what it treats and how – because we have to educate doctors, regulators, and patients, so that people can understand what cannabis is, how it can be helpful and why it is important.
What are the critical success factors for operating within the Latin American and European environments?
SP: It is essential to be on top of the regulatory environment. Cannabis regulation is a patchwork, it is constantly changing; you have to know exactly what is going on. You also have to know your products well enough to teach your products. You need a good supply chain: you need to know that your product is a quality product; that your suppliers know that they are producing something that's going to be consumed by people.
It is very important to realise that even if you're a big player in the cannabis industry, you should be modest. We are going up against some of the giants in the pharmaceutical industry, and they will crush us in an instant, so we have to be careful. We have seen industry players who were not careful with their capital, and they are now former players.
DH: We recognise that having a very strong partner – not only one who is well capitalised, but with a finger on the pulse of where the regulatory markets will be, and the potential to influence them in a positive direction – is very helpful. Operating in Colombia has kept our costs low, which provides us that flexibility to be more responsive. We are able to adapt and change our direction very quickly to meet market demands. I think that further alliances and consolidations across Latin America and Europe are going to come: this kind of alliance is particularly effective and efficient at responding to the markets, as well as being flexible on the operational side to meet the product demands of the consumer.
Daniel Herrera
Chief Corporate Development Officer
MedColCanna
Sebastian Palazio
CFO
Greenstein
https://summit.gcintelligence.com/
This article is from issue 16 of Health Europa. Click here to get your free subscription today.
Recommended Related Articles