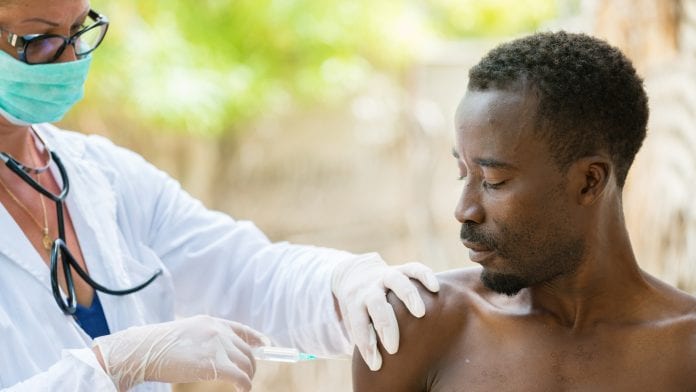 A global stockpile of Ebola vaccines has now been established by four of the leading health and humanitarian organisations.
Led by the International Coordinating Group (ICG) on Vaccine Provision, which includes the World Health Organization (WHO), UNICEF, the International Federation of Red Cross and Red Crescent Societies (IFRC), and Médecins Sans Frontières (MSF), and with financial support from Gavi, the Vaccine Alliance, the effort to make the vaccines available will now allow countries to contain future Ebola outbreaks by ensuring timely access to vaccines.
The Ebola vaccine is licensed by the European Medicines Agency, the US Food and Drug Administration, as well as in eight African countries, and is now prequalified by the WHO.
Preventing outbreaks
The vaccine, which is recommended by the Strategic Advisory Group of Experts (SAGE) on Immunization for use in Ebola outbreaks, protects against the Zaire ebolavirus species which is most commonly known to cause outbreaks. UNICEF manages the stockpile on behalf of the ICG and it is stored in Switzerland, ready to be shipped to countries for emergency response. The decision to allocate the vaccine will be made within 48 hours of receiving a request from a country and vaccines will be made available together with ultra-cold chain packaging, provided by the manufacturer for shipment.
The targeted overall delivery time from the stockpile to countries is seven days.
Dr Tedros Adhanom Ghebreyesus, WHO Director-General said: "The COVID-19 pandemic is reminding us of the incredible power of vaccines to save lives from deadly viruses. Ebola vaccines have made one of the most feared diseases on earth preventable. This new stockpile is an excellent example of solidarity, science and cooperation between international organisations and the private sector to save lives."
"This is an important milestone. Over the past decade alone we have seen Ebola devastate communities in West and Central Africa, always hitting the poorest and most vulnerable the hardest," said IFRC Secretary General, Jagan Chapagain. "Through each outbreak, our volunteers have risked their lives to save lives. With this stockpile, it is my hope that the impact of this terrible disease will be dramatically reduced."
An initial 6890 doses are now available for outbreak response with further quantities to be delivered into the stockpile this month and throughout 2021 and beyond.