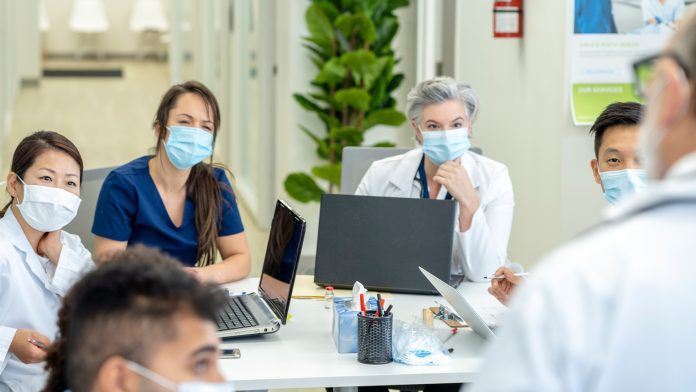 Trainee doctors received a high standard of training over the last year despite the COVID-19 pandemic, according to a General Medical Council survey.
The GMC's National Training Survey 2021, published on 27th July, provides an insight into the experiences of over 63,000 trainee doctors and trainers across the UK. Whilst the results showed that a high standard of training continued over the last year, they did also reveal worrying figures of burnout rates amongst trainee doctors.
High-quality training
The survey results showed that, in spite of the pressures relating to the COVID-19 pandemic, most trainees reported satisfactory levels of training. Overall, 76% of trainees rated the quality of teaching as good or very good and almost nine in ten trainees (88%) described their clinical supervision as 'good' or 'very good'.
Trainers themselves also gave a significantly positive overall response to the training experience, with 91% saying they enjoyed it. However, while 47% of trainers said they were always able to use time allocated to them to train, 29% said this was not the case.
Charlie Massey, Chief Executive and Registrar at GMC, said: "This year's results tell us that, during a time of extraordinary challenge, high-quality training has continued thanks to the dedication and commitment of trainers, trainees, and education organisations.
"We're pleased to see positive responses to questions on teaching, supervision, and overall training experience. These remain at pre-pandemic levels, across all specialties, regions, and countries of the UK. However, it's clear the pandemic and ongoing recovery are taking a toll on the wellbeing of the healthcare workforce, including trainees and trainers."
High rates of burnout
In 2018, the survey introduced a set of questions to monitor trainee and trainer burnout. The 2021 survey returned the most negative set of responses to these questions since their introduction.
In 2021, over 40,000 doctors chose to answer the voluntary set of questions. A third of trainees who responded (33%) said they feel burnt out to a high/very high degree because of their work – compared to around a quarter in previous years. Three in five trainees said they always or often feel worn out at the end of the working day, and 44% said they feel their work is emotionally exhausting to a high/very high degree. Trainers also gave more negative answers to the burnout questions than in previous years. A quarter (25%) of secondary care trainers said they feel burnt out to a high/very high degree because of their work. However, this is even more marked in general practice, with 22% of GP trainers reporting feeling burnt out to a high/very high degree. Seven in ten GP trainers and almost half of secondary care trainers (49%) said they always or often feel worn out at the end of the day.
Massey added: "As we look to the challenging period ahead, support for staff is key. It must be central to service and training recovery plans at both local and national levels. Without this concerted focus, it will be increasingly difficult to retain doctors, enable progression, and ultimately develop a more sustainable workforce to meet current and future patient needs. Working and training environments must be supportive, fair, and inclusive. Too many doctors still face discrimination and disadvantage in education, training and beyond. We're redoubling our work with partners across the system to eliminate these inequalities."
Recovery
The results from the 2021 survey indicate that training, in part due to the new ways of working implemented in response to the pandemic, has bounced back.
In the GMC's 2020 survey, results highlighted substantial disruption to training as a result of COVID-19 restrictions. Three quarters of trainees and trainers said that training had been disrupted. Temporary changes to the ARCP process were introduced in early 2020. This allowed trainees to progress to the next level of their programme, but with a requirement to catch up with missed competencies during this current training year (2020/21).
In 2021, three quarters of trainees (74%) said that virtual learning environments are being used effectively to support training. Just over half of trainees (55%) expect to acquire enough training opportunities to prepare them for their next relevant professional exam, although a fifth disagreed with this. More positively, eight in ten trainees said they are on course to meet their curriculum competencies/outcomes for this year. However, one in ten felt they weren't on track – which still represents a substantial number of doctors concerned about their progression. Most trainees (73%) had been able to participate in the expected number of workplace-based (or local) assessments. Many trainees' assessments were adapted to avoid direct patient contact and/or meet remote working arrangements.
Massey continued: "It's also clear that training must become more flexible to adapt to future pressures and changing demands. We've already seen this in action, in the changes we and our partners made to support service delivery and trainee progression during the pandemic. We're now working with all those involved in medical training to embed positive changes that have emerged over the past 18 months. This includes improving doctors' preparedness for training and encouraging more diverse leadership."
Recommended Related Articles