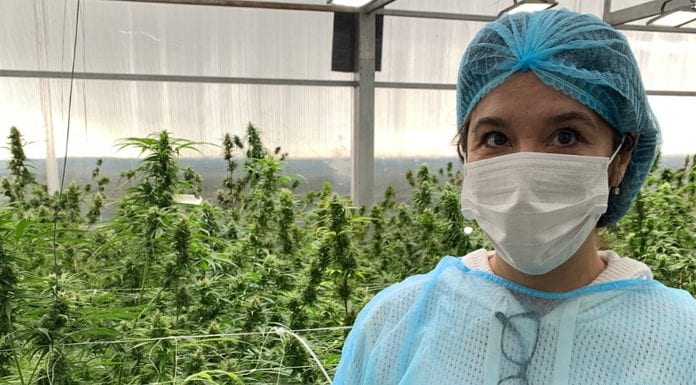 CEO of Sovereignport, Sarah Roberts Yetman, stresses the importance of safe shipping within the cannabis industry.
In a market dominated by men, Sarah Roberts Yetman, a Native American woman business owner takes the spotlight. Her ideas on cannabis shipping have brought a much needed change to the game.
"We get your cannabis products through customs internationally. From origin to destination they are safe and insured." Says Yetman, CEO of Sovereignport, when asked to sit down for an interview. "That's the entire story" she warmly added.
Sovereignport is a customs clearance and 3PL shipping group that is focussed on the canna-industry. "It's difficult" says Yetman, "if a farmer can't tell the difference between an illegal and legal cannabis crop without testing, it's impossible for customs to visibly know the difference." Yetman explains that when it comes to her strategy to successfully provide safe shipping, "it's all in proper education and policy setting." Without a doubt she has proved her ideas work.
'Sarah is a pioneer in this new fledgling industry' – a remark added on LinkedIn by Jorge de Tuya with Interport Logistics. "It's humbling to see giants in the industry giving you recognition for things that you assume go unseen." replied Yetman while pointing at the newly posted comment.
Getting to know the local process
Her shipping and FTZ partners aren't the only groups that see this as a key service in the canna industry. Sovereignport is already the go-to for shipping and receiving for many publicly-traded canna companies, a list growing weekly. Out of all of the canna materials moving internationally, Sovereignport has yet to have a package held or confiscated. How does she do this? By getting a head of the market.
"This industry is not easy to navigate – regulations, tariffs and even shipping codes seem to change daily when dealing with hundreds of countries," she says. "We updated our internal list less than two weeks ago and it's already changed drastically."
She stresses that it's mandatory to play by the rules. Many times, the rules haven't even been written yet: "If the rules are not yet defined, you help define them." she explains. This, however, can delay shipments. Yetman usually has a handle on timelines to ship into different regions but gives the caveat that it always takes the longest on the first shipment.
"Clients want things done yesterday", she laughs, "which is easy with regular logistics. The challenge is that we are dealing with a new product, new laws, new company, new destinations, new testing procedures and sometimes new freight forwarders."
To make things work she takes her time to know the local process and the people that are involved in the handling of the shipments. "Our methods, yet slow at first, keep our clients' interests safe and secure with a guaranteed result – delivery". The education, however, is laborious, costly and ongoing. With dozens of new countries coming online, and several government groups to work with inside of each country, it takes a huge commitment to make the logistics work while increasing revenues for the participating farmers and countries.
In various US states, South America, Central American and parts of Africa, Yetman has sat down with country and community leaders to establish shipping requirements and create a policy that promotes growth through importing and exporting canna-products from raw to finished form.
"I love sitting in a room with policy makers, industry leaders and various decision makers to find ways to put together a strong and independent program that will promote growth in the Industrial Hemp and cannabis space" says Yetman.
"Tackling logistics issues immediately allows local companies to begin writing new policies for legally transporting everything from seed to finished product. Otherwise an illegal system forms and creates an industry that is not regulated or taxed."
The challenge
Since 2016, cannabis (specifically CBD) has begun to infiltrate the market. More and more countries are lining up to grow and offer this low-to-no THC product on a national level. 48 countries have come online with new CBD legislation, with another nine expected in 2020. With the canna-business projected to hit $41bn (~€36.7bn) globally by 2022, supply chain has now become the bottle-neck in any canna production. It is clear that CBD and other cannabis products are here to stay. However, staying in one place could kill many distribution opportunities.
Before 2015, very few countries had legal framework supporting the growth of a canna plant and the demand gave farmers several options when it came to selling their crop at the time of harvest. The game began to slowly change as more countries saw the economic and health advantages of legally offering CBD and other canna-based products. Once the US came online in time for the 2019 harvest, markets drastically changed.
The US produced more product than initially expected. Pre-harvest pricing was set at $3-$4 per point per pound. Now the pricing is around $1, with 12% of CBD crops selling for $10 per pound across the West coast. The US went from needing product to having an excess amount.
US market distribution
In December 2018, Congress passed the Farm Bill which legalised hemp. In the Farm Bill, hemp is defined as cannabis and cannabis derivatives with very low concentrations (less than 0.3%) of THC. THC is the chemical compound in cannabis responsible for causing inebriation. The Farm Bill allows hemp cultivation broadly, and explicitly allows the transfer of hemp-derived products across state lines for commercial or other purposes.
Currently 47 of the 50 US states allow the growth, production and sale of CBD products. This has created thousands of new companies in the US trying to fill their space. This, in addition to the countless other companies from every corner of the world that are looking for their market.
Strategically, companies find their niche', unfortunately strategy rarely involves global logistics. To survive in this market, they must include global logistics. Sovereignport is one company that offers real solutions to this problem. The ability to move product depending on market availability is critical when dealing with a commodity. Having a fluid plan is the only way to capitalise from new industries. In this industry, pre-planning definitely pays.
Emerging markets
It's not just the US that has disrupted the market. Israel is considered a world leader in cannabis and agriculture in general.
"We are making life-saving genetics in addition to raising the crops in Israel, we are working with smart investors and trying to attract more that promote the evolution of our product" says Gil Sulimany of Growningfarms.co.
"To get to our goals, we realise the importance of setting up a strong logistics network in order to supply any market. That's why we have contacted Sarah with Sovereignport" he added.
South Africa has also gone full force. Kristy Limon with Uncanni in Cape Town is currently purchasing distillates from a farm in the US. "Clearing customs is the only thing that can slow down our production, it's extremely important to keep the supply chain going smoothly". Uncanni and Big Dog Hemp based in Vermont are both clients with Sovereignport to get product legally into South Africa.
Moreover, a huge market is opening in Asia. "We are opening the Japanese and Korean market in March of 2020" said Yetman. "We are seeing a lot of demand for clean product in Asia. They are pushing for the lead in international CBD cosmetics. I'm actually very excited to see more cosmetics in the industry" said Yetman.
"Canna is antibacterial and antimicrobial – so using CBD products in skincare could eliminate acne and other skin irritant issues."
However, the challenge here is that Japan and South Korea have a very strict zero THC expectation for their imports. Education and precise testing will play a huge role in keeping products safe and in quick supply.
"My biggest joy, outside of my family, is meeting and helping farmers internationally. Industrial Hemp, CBD and Cannabis will change our world markets. It's extremely important to me that these farmers and emerging businesses get the support they need to profit from their endeavours as well as grow and bring income to their communities. These farms are harvesting every week depending on the region, we have to be diligent at all times."
In this global economy, there are continual harvests being prepared. As long as there is product being produced across the world, there will be varied rates based on availability. That creates the need for transportation and customs clearance programs.
Solutions
Sovereignport was created in the need for secure shipping of CBD products in the United States before the Farm Bill was passed in December 2018. Now, with US customs clearance set with their program inside the United States, they are opening markets globally for ease of market flow.
Sovereignport assists small – medium size companies with their CBD international and national shipments. For companies with a larger budget, Sovereignport can assist groups in pre-clearance and international logistics solutions so they are able to handle most of the process in-house.
Sovereignport also consults for governments in CBD transportation and supply chain policy setting. "Regardless of region," says Yetman "Sovereignport can get you there if you're compliant and ready to work the due-diligence."
Sarah Roberts Yetman
Chief of CBD Delivery
Sovereignport LLC
sarah@sovereignport.com
sovereignport.com
This article appeared in the first issue of Medical Cannabis Network which was out in January. Click here to subscribe.