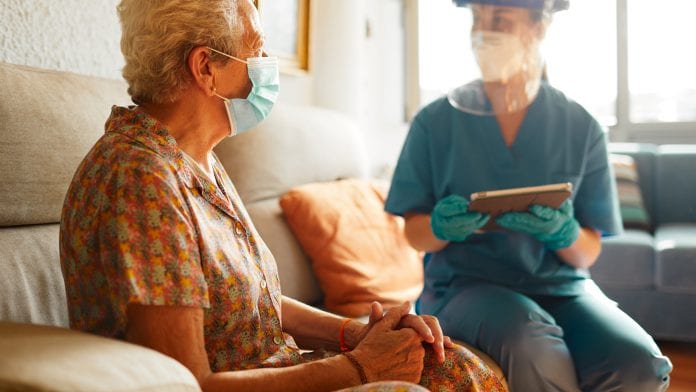 The UK Government has announced a new adult social care winter plan that aims to stop the spread of COVID-19 infections across care homes throughout the winter period.
The winter plan for social care will see the appointment of a Chief Nurse for Adult Social Care, free PPE for workers in the sector to help curb the spread of COVID-19 infections, and a new 'dashboard' monitor for care home infections to help with quicker response times.
The plan requires all local providers to restrict all except essential movement of staff between settings to reduce transmission. This will be supported by an extra £546m for the Infection Control Fund and will help care providers pay staff full wages and enable them to work in only one care home.
Health and Social Care Secretary, Matt Hancock, said: "We are entering a critical phase in our fight against coronavirus with winter on the horizon. Our priority over the next six months is to make sure we protect those most vulnerable receiving care and our incredibly hard-working workforce by limiting the spread of the virus and preventing a second spike.
"This winter plan gives providers the certainty they need when it comes to PPE and provides additional support to help care homes to limit the movement of staff, stop the spread of coronavirus and save lives. We will be monitoring the implementation of this carefully and will be swift in our actions to protect residents and colleagues across the country."
Improvements for winter
The government is prepared to ask care homes to act if needed such as restriction of staff movement and service operations, issuing warning notices, or placing conditions on provider's registrations.
The new Chief Nurse for Adult Social Care role will provide clinical and professional leadership while upholding and raising standards among the care workforce.
To improve understanding of where infections are taking place in care homes, the new dashboard will help to improve understanding of where infections are coming from and will be introduced as a single point of information for local, regional, and national government to monitor outbreaks and measures being implemented to reduce it.
Commenting on the announcement, James Bullion, President of the Association of Directors of Adult Social Services (ADASS) said: "Those of us who need care and support, carers, and those who work in adult social care face arguably the most difficult winter ever. The Winter Plan contains welcome announcements regarding the Infection Control Fund, free PPE, the strong emphasis on quality and safety of services, and the recognition of the work being done between local authorities and our partners locally. These measures will help ensure that we feel safer and more protected over the winter months.
"It is good to see the contribution of the 1.5 million people who provide care and support to older and disabled people being recognised. It is vital that they are also rewarded and that money which is being given to providers makes its way into the pay packets of care staff and acts as an incentive for them to stay with us over the winter and beyond.
"The plan is a welcome start, but there is much more to do. The focus on safety and wellbeing in care homes is right, but a significant majority of people receive care and support in their own home. The next step must be to increase care at home and to ensure that they are similarly protected. This will require significant additional funding to enable people to live good lives and to not merely survive the pandemic.
"Many felt that social care was not sufficiently prioritised at the start of the current pandemic.  The winter plan must not be another short-term, partial fix, it must be followed by meaningful reform proposals that creates a better future and provides more of the care we all want for ourselves and our families."
Find out more about warewashing and decontamination for infection control.