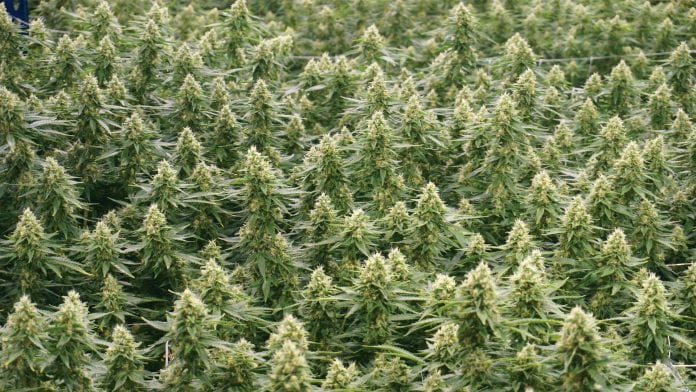 Becoming a leading multi-state operator of cannabis cultivation and production assets across the United States and Canada through the eyes of Citation Growth Corp.
Citation Growth Corp (Citation), a publicly traded company with trading symbols (CSE: CGRO; OTCQX: CGOTF), is a licensed cannabis cultivation and processing company with six brands, which has invested in both the medical and recreational cannabis sectors since 2014. Citation, cleverly named after the American Triple Crown-winning thoroughbred racehorse, is a multi-state operator; with production facilities located in Nevada, a dispensary in California, properties in Washington and buildings currently under construction in British Columbia, Canada. Citation is one of the largest licence holders for cannabis cultivation in the state of Nevada, where it operates out of Pahrump and North Las Vegas.
In line with its overarching corporate growth strategy, on 6 August 2019, Citation completed the acquisition of Nevada-based American Cannabis Cultivators Group of Companies (ACC), an award-winning group licensed for cannabis cultivation in the state of Nevada. President and Director of Citation Rahim Mohamed said: "The acquisition of ACC provides the fuel required to accelerate Citation's movement to large-scale cannabis cultivation and production. Pairing complimentary cultivation and seed genetics assets provided by ACC with Citation's Nevada production facility and advanced propagation techniques gives the Company the resources necessary to rapidly expand throughout the legal cannabis market in the State of Nevada and beyond."
Howard Misle, former CEO of ACC and now CEO and Director of Citation, added: "ACC has been pleased to observe the significant traction and rapid growth achieved by the Citation team since its entrance into the Nevada cannabis market, while also noting its reputation quickly becoming synonymous with success, innovation, and high-quality production. In electing to partner with Citation and its experienced management team, ACC believes it will gain the expanded platform and capital markets support network necessary to leverage our collective success, allowing for an eye toward future growth outside of the State of Nevada."
Cannabis became legal for medical use in Nevada in 2001 and for recreational use in 2017, having previously been subject to a full ban in the state since 1923. In 2018, the first full year of legalised recreational cannabis in the state, Nevada's cannabis market was worth a total of $580m (€530.38m).
Following the ACC acquisition, Citation now holds a consolidated licensed footprint in Nevada for its combined entity with an estimated size of up to 569,600 square feet. Citation has expanded its operating portfolio rapidly, acquiring locations in key states where the growth and sale of cannabis are legal; and continues to seek opportunities for expansion around the world.
Founded in 2014 in Canada and currently focusing its business growth in Nevada, Citation has plans for future cannabis cultivation and production centres in California's Desert Hot Springs in Coachella Valley, where the Green Leaf Wellness Dispensary carries a range of Citation products; and a future cultivation centre in Washington state, where Citation owns 13.8 acres of property zoned for cannabis cultivation.
Citation holds property on two sites in British Columbia, Canada: in the village of Chase, where Citation has been issued a licence as part of a joint venture partnership to construct cultivation and production facilities over a minimum 486,000 square feet, with a maximum size of one million square feet; and in the town of Celista, where it has 40 acres of agricultural land reserve property with plans to build cultivation facilities spanning a total of 100,000 square feet. The Celista facility is nearing completion, with two buildings completed to lock up.
Health Europa talks to Citation Growth Corp's CEO and Director Howard Misle about the acquisition of ACC, Citation's plans for future growth; and the corporation's ultimate goal: to become a leading multi-state operator of cannabis cultivation and production assets across the United States and Canada.
Citation recently acquired ACC: what opportunities and advantages does this create?
The merger with ACC has allowed us to become a Nevada-focused operation and put us on a clear pathway to become vertically integrated. ACC has top tier cultivation assets which, when combined with our existing extraction assets in North Las Vegas, will allow us to take our annual revenue from $8m (€7.32m) to $22m (€20.12m): an increase of 275%. This creates a unique valuation proposition in the market, as this would mean we are trading at a fraction of the value relative to our peers.
The opportunity we have in front of us is quite simple: we have the capacity and the ambition to become a focused operator in the cannabis sector. We have set our sights on the dual goals of attaining profitability and growth, which we think are factors which may have been missed among the multi-state operators in the greater industry as a whole.
What range of products and brands can Citation offer and how do you anticipate this will evolve as the company grows? What effect will the recent acquisition have on the available range?
Citation is focused on building on the success of ACC's product offering – we have an extensive brand portfolio, including Gardens of WeEden, which uses a genetic programme to create high quality, low cost cannabis product; flower rolls and lifestyle brand Blunt Box; high end exclusive flower cultivation startup Superior; Diamante, a premium brand of concentrated cannabis Diamonds and Live Resin derived from our triple organic certified FIORE flower and FIORE Triple Organic Certified: Nevada's first and only triple organic certified cannabis product, which has received Clean Green, Certified Kind and EnvirOrganic certifications.
We have also invested in a complimentary hemp-based skincare line, PureCloud 9: its products, which include skin serums, body oils and exfoliant body scrubs, are organic, affordable and made with botanical and exotic essential oils, as well as cold-pressed hemp seed oil, which is great for the skin. All the skincare products offered by PureCloud 9 are all-natural and cruelty-free, meaning the company does not test its products on animals.
We use environmentally conscious methods of operation, from developing and cultivating strains through to our methods of production; and our production process is certified organic – all our products are free of chemicals, hormones or fertilisers. The purity which occurs as a result of this ethos means we can maximise the quality and potency of our product.
We are triple organic certified in Nevada: we hold EnvirOrganic Farm Certification, which verifies our cultivation is eco-friendly, with all companies holding the certification required to uphold the standards and complete annual inspections and sampling; we are Certified Kind, a qualification which holds cultivators, processors and distributors accountable for high industry standards and which confirms our use of organic farming procedures to give consumers highest grade natural products; and we are certified under the Clean Green nationwide regulation which certifies the production and cultivation of organic legal cannabis using sustainable, organic-based operations.
We aim to set a new industry standard for cannabis quality, product cost and profit margin by delivering high quality products which consumers can enjoy.
Citation has distributed our brands to 47 dispensaries across the state of Nevada, clearly demonstrating the consumers increased demand for our premium product. With the combination of Citation and ACC's assets, we will now be able to focus on adding concentrates and extracts to our brand suite. This will allow us to grow our current and potential revenue and profitability through ownership of the entire product value chain, which in turn will mean we are better able to control costs; meanwhile consumers can trust that cannabis brands produced under the Citation name are of high quality and produced with environmentally conscious methods.
How does the company plan to continue growing and expanding moving forwards? How will you balance this with product development and setting industry leading standards?
Citation plans to continue its growth through adding further assets in the fields of cultivation and extraction, but we can also expand further at the other end of the supply chain, drawing on my previous experience with owning and operating dispensaries. Our belief is that, by owning assets across the entire value chain, we will be better able to control our destiny. Our focus on Nevada over the last several years has cultivated strong relationships; and this in turn has given us access to retail and real estate assets which can allow us to enhance our presence and our value in the marketplace.
Our current mantra of producing the best products through industry leading standards will spill over to everything we touch as we focus on promoting a culture of excellence – this can be seen in our Pahrump facility, where we currently grow top tier cannabis which is then distributed through our various brands.
Citation makes use of proprietary technology in our Canadian facilities and once this proprietary technology is fully operational, we intend to expand its use to all our North American facilities. The technology enables us to create premium product, with a low operating cost and a high yield ratio. It reduces the cost of labour and the risk of human error, as well as significantly reducing our carbon footprint as a business.
The bio-secure facilities we use have implemented a mandatory two-step sterilisation shower process before operators can gain access to cultivation and production rooms, which helps decrease the risk of potential contaminants entering the production process. We have cameras and sensors which aid in detecting early potential infestations; and a medical grade air filtration system, which purifies and cleans the air in the facilities. In addition to this, we make use of water purification technology to reduce the potential spread of pathological disease; and a carbonisation system which removes toxic chemicals and compounds if they do enter the production chain.
We have a plant communication system in place driven by sonic technology, which identifies and prevents disease in the plants and controls the environment in which the plants are cultivated – by implementing technological solutions to the greatest risks which can occur in the production and cultivation process, we can further increase the yield in our facilities. The lighting in Citation's facilities is computer controlled, operating on a spectral frequency algorithm; which triggers antagonistic and degenerative responses to pathogens, moulds and mites, thereby preventing crop failure and minimising product loss.
Our pioneering automatic nutrient delivery system accurately dispenses the desired quantity of nutrient solution, meaning there is very little scope for nutrient waste to occur. In terms of sustainability, we operate a water reclamation programme, which reduces the amount of water wasted in our production and cultivation processes by converting the waste water which occurs as a byproduct of our production processes to water that can be reused in other ways, such as irrigation or groundwater recharge.
What sets Citation apart in terms of your strategy and growth potential?
Our strategy is currently focused on becoming a premier, vertically integrated operator in the state of Nevada. We have a licence to further expand our Nevada extraction lab and production facility up to 16,000 square feet, meaning we will be able to grow our processing space for extracts, concentrates and edibles; assuming successful completion of all current proposed site phases.
The Nevada site also uses our innovative seed genetics programme, which has sorted through thousands of phenotypes to find the best outliers through breeding and back crossing to stabilise the best, most effective strains of cannabis. The programme develops exotic, rare heirloom genetics – and has resulted in the creation of multiple award-winning strains.
While many competitors are focused on multiple states, we have created a very streamlined approach to growth – we would rather focus on doing what we do well. We aim to fully cement our production in Nevada first; and then we will begin to focus on our facilities in Desert Hot Springs in California: I have operated private cannabis businesses based in California in the past, so we will be able to draw on my knowledge and experience of the cannabis industry there. Overall, our long-term goal is to continue growing and marketing high quality organic cannabis, with plans to expand the scope of our operations and complete the build out of our facilities in Nevada and Canada.
Rahim Mohamed
President and Director
Citation Growth Corp
+1 877 438 5448 Ext. 718
rm@citationgrowth.com
http://citationgrowth.com/
This article will appear in Health Europa Quarterly Issue 11, which is available to read now.