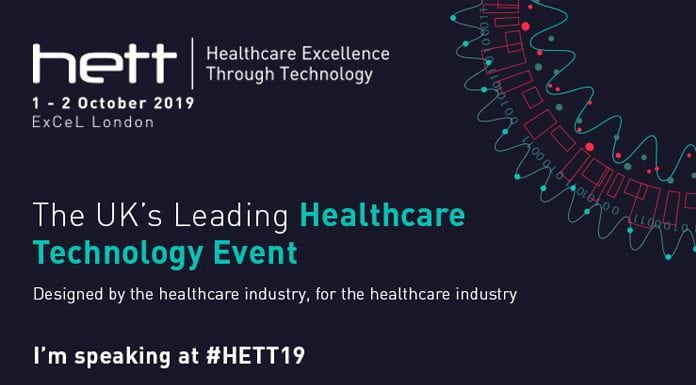 Matthew Gould to keynote as part of HETT's unique programme designed by the healthcare industry for the healthcare industry – have you registered yet?
HETT is the healthcare industry event to provide a unique platform for health and care professionals to share and solve the most pressing issues in digital health, and Matthew Gould, Chief Executive of NHSX has been announced as one of a host of prolific speakers at HETT.
The UK's leading healthcare technology and digital health event designed for the healthcare sector, taking place on 1-2 October 2019 at ExCeL, London.
Designed by the healthcare industry for the healthcare industry
Gould, who will discuss the expanding role and aims of NHSX, will be joined by Sarah Wilkinson, CEO of NHS Digital; Tara Donnelly, Chief Digital Officer of NHSX and Dame Fiona Caldicott, National Data Guardian are some of the big hitters from the government bodies instrumental in delivering the strategic digital health agenda.
A huge range of digital leaders and champions including Tracey Watson, CIO of Northern Care Alliance; James Reed, CCIO of Birmingham & Solihull Mental Health Foundation Trust; Gareth Thomas, CCIO of Salford Royal NHS Foundation Trust and James Freed, CIO of Health Education England will also join the line-up of more than 130 speakers sharing real-life case studies and experiences to over 3,000 attendees looking to drive digital transformation across the health and care sector.
The launch of the CPD accredited programme follows the appointment of a new steering committee who have helped to HETT to deliver in its mission to solve the most pressing issues facing the UK healthcare industry.
Dr Hugh Harvey, Clinical Director of Kheiron Medical and part of the HETT Steering Committee said: "Health technology is a complex and multi-disciplinary field, and HETT is a great event that brings together all the necessary stakeholders to ensure conversations happen to enable innovation to keep driving the NHS forward."
The programme
The programme focuses on four CPD certified content streams – Digitally Empowered Patients, Culture & Implementation, Integration & Interoperability and Digital Maturity.
In addition, a range of new exclusive activities will include:
The NHS Digital Academy Alumni holding their first official gathering;
NHS Digital hosting a breakfast briefing for CIOs and CCIOs on Day 2;
The AHSN Network showcasing its Innovation Exchange programme;
NHS Clinical Commissioners running their own 'Commissioning in Practice' theatre;
ORCHA is hosting an App Zone where selected leading app developers with top scores will showcase their health and care apps and share the latest developments;
HIMSS offering their latest insights on Digital Maturity in their own, dedicated theatre; and
Content from NHSX, GS1, INTEROpen and more.
Kevin Percival, Chief Nursing Information Officer, Frimley Health NHS Foundation Trust and a regular attendee at the event said: "As a CNIO, attending HETT allows me to sense check the direction of our digital transformation journey and have those critical conversations with exhibitors to explore the whole market".
Complementing the packed programme, will be the largest exhibition of any digital health event, featuring over 120 exhibitors including NHS Trusts, CCGs, CSUs, GPs, Local Authorities, ASHNs, private hospitals, independent providers and more.
Corby Ganesh, Portfolio Director at HETT added: "With a plethora of developments, deadlines and announcements in the digital health space, it's important to understand where you are on your digital journey and have clear direction on the next steps.
"HETT aims to not only help IT, clinical, operational and procurement professionals determine these next steps by providing insights and ideas that attendees can take back to their organisation but also provides an open forum for them to ask questions and receive honest answers from experts and peers to help them problem solve in a unique way."
About HETT
HETT, the UK's leading healthcare technology and digital health event taking place on 1-2 October 2019 at ExCeL London. HETT connects digital leaders with world-leading health technology innovators, provides real-life case-studies and learnings from expert speakers, as well as makes it easy to network with the people that matter – all designed to help drive digital transformation across the healthcare sector.
Register for Free > https://eventdata.uk/Visitor/HETT.aspx?TrackingCode=SilverBuckPressRelease
Recommended Related Articles