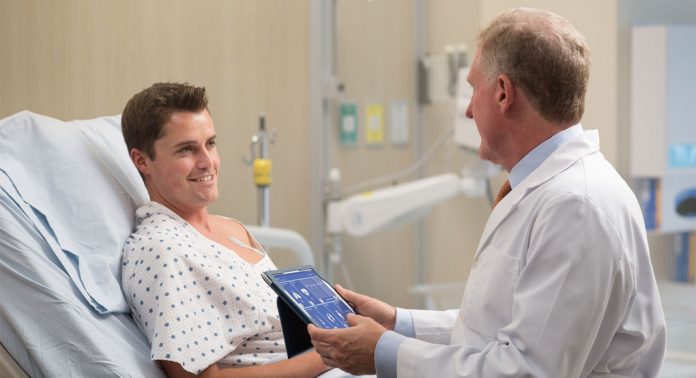 With digitalisation on the rise, discover how utilising healthcare mobility can help the world of medicine reduce its hospital management cost.
What an incredibly huge debt of gratitude we owe to mobile applications and truckloads of benefits they offer. To those mobile app developers who dedicate their time, skills and creativity to churn out mobile apps – leading us to an advanced lifestyle, where every rudimentary task such as shopping, ordering food, booking tickets, and buying apparels are as easy as pie. Here we explore how hospital management cost could be reduced by healthcare mobility.
The world of mobility and apps
What would life become minus mobility and apps? The truth is that mobile applications have become a need of the hour for the millennials, and even the thought of fathoming a second without them can make our nerves kick in!
As the world is shifting more and more towards mobile, the field of healthcare and hospital management has embraced mobile applications with open arms. The impacts that mobile apps can have on patients and society at large are galore. They have already initiated a sea change in the way the patients are connecting to the doctors and vice versa. With the arrival of apps in the medical industry, the patients have now obtained more control over their healthcare-related decisions.
Owing to these apps, people have begun to get more knowledge regarding their healthcare needs. Gone are the days when the patients used to get stymied by a plummet of visibility in their personal medical documents. Today, their ability to take more active roles in their healthcare has maximised by leaps and bounds.
The past few years have witnessed the arrival of an assortment of medical apps, which are expected to transform the future of healthcare, albeit, for all the good reasons. Apart from making our lives easier than ever, the medical apps can reduce hospital management cost to a great extent.
Besides flourishing different healthcare sectors, these medical apps can spell legions of advantageous impacts, along with incorporating accuracy and perfection in the healthcare management system.
Wondering how healthcare mobility can help in reducing hospital management cost? Let's find out!
It's become easier to generate medical reports
What happens to us when we are in the middle of generating a medical report? A lot of difficulties come into play to unravel the complex procedure! Generating various medical reports is not as easy as it sounds or seems to be. The importance of generating medical reports is paramount, especially when it comes to understanding a patient's health condition.
The cutting-edge medical apps have proven to be a game-changer in streamlining the process of medical report generation. These reports are generally stored at a centralised server, and hence, it makes it accessible to everyone who is authorised.
Mobility has facilitated report generation and ensured that only accurate reports are generated by maintaining them in a centralised database, which can be accessed even from a remote location.
The best part is that these medical reports can minimise the expenditure of regular tests associated in creating reports time and again. All the medical records will be thoroughly updated before they are shared with the patients or doctors. This will automatically cut down on the needs of making expensive medical reports over and over again.
It can save a lot of time
They say, 'time is money', and this age-old maxim seems to be best suitable in today's world, where almost all of us are dealing with time-crunch. Saving a great deal of time of the doctors, patients and healthcare centres, the medical applications can relieve our stress to a large extent.
An advanced medical app can collate a patient's data and records without consuming a lot of time. All the records and data are stored virtually like a patient's registration details, his/her health records, and the likes. This makes a lot easier for a doctor to treat and assess a patient's health condition and progress.
By saving time in generating medical reports, booking a patient's appointment, planning treatment schedule, updating about the availability of doctors and streamlining several other medical procedures, these medical apps have brought bouts of ease in the lives of both a doctor and his/her patients.
As per one of the recent reports shared by the Agency for Healthcare Research and Quality, almost 90% of admissions tend to be absolutely unplanned. It badly affects the way the medical staff and healthcare management co-ordinate with each other and the cost gets incurred resultantly.
Responding to emergency situations has gotten easier
Emergency situations are extremely stressful, and they might crop up at any point in time. If you don't want to scramble to book an appointment with your doctor especially midst an emergency situation, then having a medical app can be very helpful. Using a medical app, one can fix an appointment without squandering too much of time. The process is not complex at all.
Moreover, you can check the availability or schedules of your preferred doctors online and subsequently, fix an appointment with the one who you think would be able to help you immediately.
Using a medical app, doctors can also respond to the patients without any hassle. Thus, they can help the patients in an emergency situation with the basic treatment before they could be admitted to a hospital.
Saving human resources is no longer a big deal
It's an undeniable fact that a lot of human efforts as well as important resources get in shambles whilst maintaining the data or medical records of the patients. There is a ready-made healthcare solution available in a healthcare mobility app, which can minimise human efforts and also maintain all the information with the utmost accuracy.
Storing all the necessary human resources for different routine works including report generation etc. will be beneficial for quickly diverting them to the healthcare experts, instead of investing a lot of efforts and time in maintaining data or generating reports.
Healthcare mobility apps are helpful for future references
As discussed earlier, a medical app can help both a doctor and a patient keep a virtual record of data and reports. If a need occurs, then a patient or a doctor can use these records at any point in time in the future as well.
Sometimes, it may consume a lot of time and efforts to share the physical records of a patient. Using a medical app, you can keep such hassles at bay.
In a nutshell
With the launch of smartphones and mobile devices, most of the Internet browsing is done through these devices. Mobile Devices are handy and available to users all the time. Mobile apps are evolving in numerous ways.
They have delighted the clients and made them coming back for more. The medical apps have flourished the healthcare sectors with umpteen benefits. A large number of organisations have shared survey reports and conducted a lot of research, which has proved the benefits of cost and time saving with the usage of healthcare apps.
The medical apps are no longer the 'future.' They are 'now!' If the goal of the mobile technologies is to cut down on hospital management costs, then a well-built medical app can definitely suffice. Using it, the patients and hospital authorities can obtain numerous benefits. These advantageous impacts will not just add to the ease of working, but also save a lot of money and time.
Mehul Rajput
CEO
Co-Founder
Mindinventory
Tweet @Mindinventory