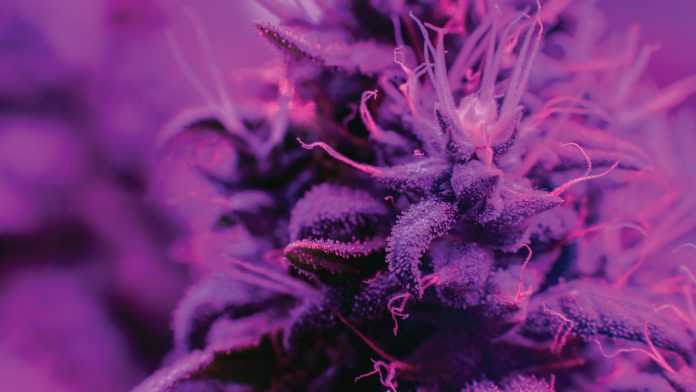 Heliospectra AB – high quality LED lighting and control with 12+ years of plant science expertise, ideal for cannabis lighting.
Introducing Heliospectra AB, the cannabis lighting company providing growers with the ability to produce standardised, consistent medicinal profiles and highest-quality flowers.
As the cannabis market expands worldwide, Europe and EU countries are now beginning to ease legislation and open commercial production. More than €500 million has been invested in the European cannabis industry to date. And with a population of 742 million people, double that of the USA and Canada, it is evolving into one of the world's largest cannabis markets. At the same time, the European medical cannabis market is placing a high standard on production with certifications and requirements to ensure standardization, safety and highest crop quality. The smart horticultural LED market is also booming, as the plant presents high cannabis lighting requirements.
Supplying a complete, integrated solution
Founded in 2006 as a research company, Heliospectra has more than 12 years of experience analysing plants' response to horticultural LED lighting and the effects of different light wavelengths or spectra to provide growers with a sustainable way to produce healthy, highest quality medicinal crops year-round using supplemental lighting.
The launch of Heliospectra's ELIXIA fully controllable, adjustable spectrum LED grow lighting 2014 gave cannabis growers the ability to influence and control plant characteristics, crop consistency and response to light, boosting plant quality and business results.
Today Heliospectra offers a diverse product portfolio with high-quality LED lighting solutions that pair with helioCORE light control and automation systems and market-leading plant science expertise with the helioCARE technical services team.
"As a Swedish company, Heliospectra's core focus has always been to supply a complete solution to produce the highest quality crops with the market-leading combination of targeted LED light intensity for cannabis and our helioCORE light control system to enable producers standardized production results and control. Our growers and customers are able to offer patients the same consistent, high-quality products harvest after harvest" said Ali Ahmadian, CEO Heliospectra.
Light quality and quantity in focus
Every customer installation and production facility is unique, and requires the right light intensity and light quality delivered to plants at the right time. Building on years of plant science and commercial crop expertise, Heliospectra's unique solutions approach ensures plant quality and consistency 365 days a year.
The new modular MITRA LED series can be configurated to fit any growing environment, from greenhouse to indoor and vertical farming, and combines a high light output with the ability to dim or adjust intensities and automate light using helioCORE and sensors.
Using the ELIXIA fully adjustable spectrum light and the helioCORE Schedule controller, Heliospectra works with growers to create distinctive medicinal profiles, reputable product brands as well as boutique craft cannabis. Breeders and cultivators are at the forefront of the industry and evolve strains and medicinal profiles including CBD, THC and terpenes to create customized, pharmaceutical-grade medicine.
"We can control the morphology within the cannabis plant by delivering not only the quantity of light but also the quality of light spectra" Heliospectra's Grower Liaison Ryan Wankel explained. "Our growers use a specific wavelength of light to control the terpenes within the plant and they are able to deliver a consistent medicinal profile to end-use consumers."
Light control and automation
Heliospectra's helioCORE combines software, hardware, and sensors, allowing growers to control and automate their lighting environments. Giving growers the ability to monitor hardware status across multiple facilities and rooms, helioCORE also delivers remote notifications and real-time response to quickly adjust light settings, intensities and spectrum strategies from any smartphone or mobile device. And businesses and operations teams now have the ability to reliably forecast yields, control consistency of production cycles and crop quality which often enables growers to achieve negotiation advantages and secure premium prices in the marketplace.
helioCORE control modules include:
DLI controller
Regulates supplemental light using algorithms and growers' Daily Light Integral (DLI) targets to optimize light use and support optimal plant growth while prioritizing lamp use at times of day when energy and utility costs are lowest.
On target controller
Maintain constant and consistent Photosynthetic Photon Flux Density (PPFD) levels at the canopy level to maximize plant growth and photosynthesis with dynamic and automated light response to seasonal and daily changes in weather and natural light inside the greenhouse.
Schedule controller
Growers apply develop and customizable lighting strategies to automate calendar schedules across production and harvest cycles. A library of pre-set schedules and sequence templates can be used to accelerate flowering, boost medicinal profiles, and extend the photoperiod for cannabis crops.
"Every grower wants to improve business performance and achieve premium produce prices or negotiation advantages in the marketplace. H8elioCORE is the first and only light control solution that enables our customers and growers to forecast quotas, standardize production and increase year-round yields with long-term predictable and repeatable results", said Ali Ahmadian, CEO Heliospectra.
Ryan the grower
Ryan Aubin currently holds a MMMP caregiver cannabis cultivation license in Bangor, Maine, United States. Selling to patients under the Ryan The Grower license, Aubin has been growing cannabis since 2001. He transitioned his past business operations from traditional HPS and HID lighting to LED technologies in 2013. Under his current RTG license, Aubin grows sativas, indicas and hybrids using Heliospectra's EOS lighting solutions for both vegetation and flowering with a proprietary, recirculating hydroponics system.
Controlling consistency to produce top shelf medicine
"It's important that your procedures and SOPs are clean. Your end-use product has to come out top notch every time because any variation in THC and cannabinoid profiles or even the way a bud looks to our medical patient every time they come to buy it can potentially put you at risk to lose a customer," says Ryan Aubin, founder of Ryan The Grower. "Under a medical caregiver license, RTG is only allowed to serve a specific number of patients at one time so it's very important to keep those people happy and provide them with exactly they're looking for."
Heliospectra's lighting is a key factor in helping the team at Ryan the Grower standardize medicinal profiles and ensure that patients receive the same pharmaceutical-grade and all-natural products, harvest after harvest. Aubin is also interested in making his business as resource efficient as possible while delivering highest quality products and medicines to his patients.
"I'm seeing a lot more density in our flowers compared to a grower using high pressure sodium (HPS) lights," says Aubin. "And, the actual amount of time it takes to trim these flowers is greatly reduced because you're harvesting less leaf from the bud area. With the Heliospectra lights, the quality and intensity are there with a true full-spectrum intensity. And you can actually see the light start to penetrate through the canopy and all the way to the bottom of the floor."
The grove nevada
The Grove Nevada is a vertically integrated business serving the medicinal and adult recreational markets In the Las Vegas, Nevada area. The Grove creates pure medical marijuana flower, concentrates and edibles which are featured in their two dispensaries in Las Vegas and Pahrump. The team was honoured in 2018 to be voted Best Dispensary in Las Vegas. With 800+ ELIXIA lights and the helioCORE™ light control system installed, the Grove's high-density, indoor vertical cultivation and production facility is one of the world's largest cannabis grow operations, with two tiers of plants in vegetation and flower to optimize and scale floor space.
Committed to producing premium product from seed using all-natural soils and to grow in the most environmentally responsible way possible, the Grove selected Heliospectra's lighting due to the crop performance under 600W LEDs versus 1000W HPS and the immediate 40% reduction in energy consumption. They also identified upfront Heating, Ventilation and Air Conditioning (HVAC) and infrastructure savings of 45 tonnes from installing Heliospectra in the hot, arid desert climate of Las Vegas.
Accelerating harvest cycles with effective cannabis lighting
"We consistently cut seven days off our production cycles to accelerate harvest with Heliospectra" explains Mike Howard, Head of Cultivation at The Grove Nevada. "The Grove has also been able to customize our lighting strategies with the ELIXIA adjustable spectrum lights and the helioCORE control to optimize the growth of specific strains based on genetics."
The helioCORE Schedule control enables The Grove's growers to use an easy drag and drop calendar feature to create proprietary templates and apply them across the full plant growth cycle in each room. They can also monitor and adjust lights across the facility while viewing runtimes and energy use via smartphones, tablets or other mobile devices. Remote alerts and notifications enable the cultivation team to respond in real-time. The ability to program individual wavelengths or colours of the light spectra can also boost terpenes and cannabinoid profiles.
"We have the ability to apply a high, pure blue treatment for three days before harvest and achieved myrcene levels of 10% and THC levels at 30%" explains Howard. "The flexibility to create schedules and manipulate light quality with a high blue to influence and standardize medicinal profiles or adjust the red and far red ratios to mimic the natural sun and trigger flowering is one of the biggest benefits of working with Heliospectra lights."
Rebecca Nordin
Heliospectra AB
+46 31 40 67 10
rebecca.nordin@heliospectra.com
Please note, this article will appear in issue 10 of Health Europa Quarterly, which will be available to read in July 2019.