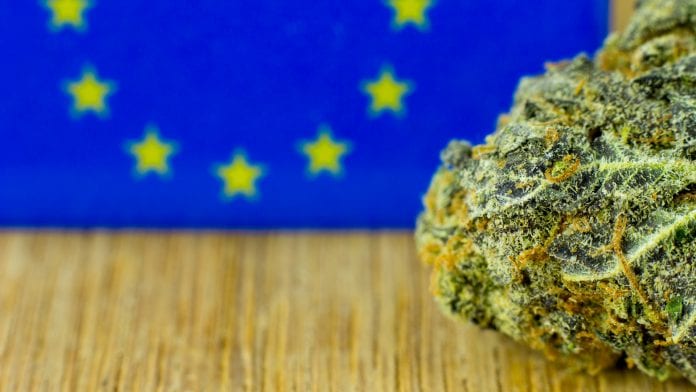 European Industrial Hemp Association Managing Director Lorenza Romanese tells MCN about Novel Foods legislation and industrial hemp in the EU.
The European Industrial Hemp Association (EIHA), founded in 2005, is the only pan-European membership body serving the industrial hemp sector, boasting members from 25 EU Member States and 12 third countries.
In response to the undue burden newly placed on hemp industry stakeholders in the EU by applications for approval under Novel Foods (NF) legislation, the EIHA has launched its Novel Food Consortium, aimed at alleviating the financial pressure exerted by Novel Foods applications and advocating for a more streamlined regulatory approach. EIHA Managing Director Lorenza Romanese tells us more.
What inspired the formation of the Novel Food Consortium?
The Consortium was established primarily and purely to defend the operators working in and for the EU industrial hemp sector. The sector is mainly composed of small and medium-sized enterprises (SMEs) which cannot afford their own NF application, and as a consequence, are likely to will disappear. This has been our main driver to launch the collective NF application in the name of our members.
EIHA intends to secure a fair market for its members who farm, process and trade in CBD-related products – a constant, reliable and EU-wide regulated common market status.
The main tasks for EIHA are to finally achieve legal and planning security for the European hemp industry and its attendant CBD market, including a level playing field for all European companies and global players, as well as to avoid free rider effects by entities that are not willing to contribute.
EIHA's Board proposed the creation of a Novel Food Consortium to its members during the General Assembly of June 2019, with the aim of submitting a joint Novel Food application and sharing the costs. EIHA estimates that an individual company registering a single product under Novel Food guidelines needs to invest between €350,000 and €500,000. The EIHA Novel Food Consortium will have the advantage of reducing the costs per company to an affordable level. These fees will increase over time, meaning that the founding members will have a preferential partnership rate. Based on the latest assessment, it is estimated that the consortium will need up to €3.5m for financing all relevant and unprecedented toxicological studies on CBD and THC.
The steps already taken by EIHA prior to the creation of the NF Consortium include:
The hiring of a service provider (ChemSafe); and
The designation of a taskforce whose members were strictly appointed based on their expertise.
The toxicological studies
The ingredients tested will cover a whole range of cannabinoids containing ingredients (defined as: isolate, gold, regular and raw). Therefore, the application will secure all food products using these ingredients.
ChemSafe, EIHA's service provider, will carry out the toxicological studies in Good Laboratory Practice (GLP)-certified laboratories and follow a standard study plan according to criteria outlined by the Organisation for Economic Co-operation and Development (OECD). Once confirmed by ChemSafe, the testing will be conducted on the product considered to be the 'worst toxicological case' among the four products to be submitted as Novel Foods. The worst toxicological case will be selected on the basis of the analytical profile of each product.
The duration of the project is estimated between 24 and 36 months, by which time the applications should been approved under the Novel Food rules.
EIHA projects GmbH
EIHA projects GmBH was founded as a corporation under German law, with the goals of collecting the special contributions to finance this project; ordering, organising and financing the toxicological studies of the chosen laboratories; and acquiring all rights for the distribution of the approved products based on the data protection granted under the Novel Food Regulation. EIHA projects GmbH will manage these rights and transfer them to the members.
The European Commission recently paused all Novel Food applications for CBD and hemp products, as it is considering recategorising CBD as a narcotic extract rather than as a food.
What is the EIHA's position on this decision?
We clearly disagree with this interpretation, and we are not on our own: 13 other hemp associations around the world supported this vision. According to EIHA's view, industrial hemp and its downstream products are not narcotic or psychotropic drugs. Hemp is exempted from the scope of the United Nations Single Convention of 1961, whose authors made a clear distinction between cannabis varieties grown for the production of drugs (falling under the scope of the treaties) and varieties grown for any other purpose (that is to say, low-THC varieties). On top of that, EIHA states clearly that not all hemp extracts shall be considered novel, but only the enriched and isolated ones. EIHA collected a great deal of evidence which clearly demonstrates that traditional hemp extracts have been widely used as food for centuries.
Traditional hemp extracts, which have a long history of consumption in Europe and worldwide, should therefore be considered as traditional food according to food regulations. Hemp extracts processed by new extraction methods should be subject to the respective legal frameworks of the Novel Food Regulation (EU) 2015/2283.
What are the potential impacts of the Commission's decision on Europe's hemp industry?
If the preliminary conclusions are confirmed, this will mean the end of the EU industrial hemp sector. Simultaneously, Europe will lose a great opportunity to build a more sustainable future.
What will be the potential impact on companies which have already applied for and received Novel Foods authorisation?
As far as I know, nobody has received an approved NF application in the EU for products containing naturally extracted (plant derived) cannabinoids. Only synthetic products were considered suitable for risk assessment phase in EFSA, which does not mean they are fully approved or marketable yet – but they probably will be very soon.
All applications have been stopped because the Commission is changing its mind on hemp; and this happens quite regularly! For centuries before 2019, hemp was considered a traditional food, then suddenly in January 2019 it was redefined as a Novel Food. All of this is happening even though in 1997 the Commission confirmed to EIHA by written letter that hemp flowers and leaves were not a Novel Food. And now, it is a narcotic.
Some hemp industry representatives have argued that plant extract in particular should not be regulated as a Novel Food at all because hemp and its extracts have been continuously in use by human civilisations for thousands of years. Do you agree?
Yes, I do. Hemp has provided essential raw materials and a high protein and health-promoting food source for centuries and possibly even millennia. Historical records show that hemp extracts, oils, flowers and leaves – all of which are naturally rich in CBD and other cannabinoids – were historically widely consumed. Hemp formed an integral part of our European diet.
In 2018 EIHA reacted to the Commission's changes to the Novel Foods catalogue by presenting Member States with many sources of historical evidence. EIHA has prepared an extensive array of strong evidence that hemp and cannabinoids have been consumed in Europe for centuries. One of the oldest cookbooks in the world, De Honesta et Voluptate (1475), lists a recipe on how to make modern-day CBD oil; medieval monks ate hemp soup; an Italian recipe (1887) shows how to make hemp flower tortellini; a Polish cookbook lists hemp as a vegetable; the Maltos-Cannabis Hemp Extract drink won a prize at the World Exhibition in Antwerp in 1894; and more. This evidence clearly proves that it is disingenuous to argue that leaves and flowers in food are novel today.
How could EU policy evolve in order to better support hemp producers and consumers?
First, make it right: hemp is not a drug!
Member States should not apply the drug control legislations to hemp and its derived products, as long as the limits established for THC content are respected; while operators should be allowed to harvest and produce from all parts of the plant – including flowers and leaves – and market any kind of product, while maintaining compliance with the THC content limits.
Industrial hemp products are not drugs (they do not have the potential to relieve pain and suffering) nor narcotics (there can be no misuse, abuse or dependence). Therefore, and reflecting, in particular, the spirit and objectives set out in the UN Single Convention on Narcotic Drugs, hemp and its derivatives should be considered outside the scope of international drug controls.
Make it big: let hemp grow
Public policies should promote hemp use in food, feed and manufactured products and finance the development of sustainable value chains in the EU
The maximum THC level allowed in the field should be restored from 0.2% to 0.3%, in order to allow the breeding of new varieties and to align the EU with international standards, making our farmers more competitive
Hemp and hemp preparations containing a naturally occurring cannabinoid content should not be considered as Novel Food
Reasonable, science-based guidance values for THC in food and feed should be established
All hemp-derived raw materials should be permitted as natural ingredients for cosmetics
The hemp sector has already proven how it can deliver in terms of quality and sustainability, through the hemp-derived food, CBD and cosmetics markets. However, a clear, common and science-based regulatory framework is still missing. This uncertainty limits investments; hence the necessity for proper development of a fibre and shive value chain.
Make it thrive: investing in a sustainable future
The contribution to the environment of the hemp plant should be recognised and the use of hemp for carbon farming encouraged
The EU should value and promote the use of hemp fibres for the production of short and long fibre for textiles and favour the establishment of sustainable value chains
The use of hemp-based construction and other materials should be incentivised both in public and private sectors, with clear goals for the total or partial substitution of other less sustainable alternatives
A perfect circular economy will be achieved when hemp can finally be the object of massive investments for valuing the lower part of the plant, including the fibre for textile industry, the shives for construction materials and the carbon storage potential of the whole plant, for offsetting emissions during the green transition. This will happen only if public policies will finally recognise the real value of hemp in the decarbonisation of the economy.
Lorenza Romanese
Managing Director
European Industrial Hemp Association
https://eiha.org/
This article is for issue 4 of Medical Cannabis Network. Click here to get your free subscription today.