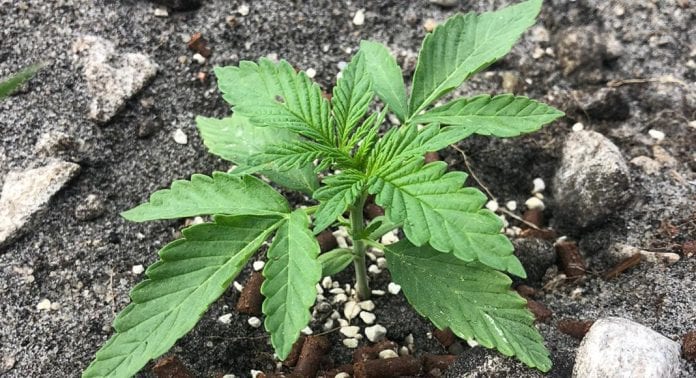 Stephen J Wyatt, founder and CEO of Hemp Futures, based in Estonia, tells MCN about the importance of customer engagement and accountability.
Estonia-based CBD producer Hemp Futures was founded in 2019 with the goal of creating 'clean, green and organic' products; and operates across more than 68 hectares of certified organic land.
"Estonia is a hidden jewel," explains Hemp Futures founder and CEO Stephen J Wyatt, a former US Marine. "The environment is very pristine; the water is good; the soil is organic. We're lucky in that we don't have a lot of native pest insects, which means we don't use pesticides at all for growing hemp."
Finola, the variety of auto-flowering organic hemp which Hemp Futures cultivates was bred specifically for climates like Estonia's.
Hemp Futures, which prides itself on the quality of its CBD products, plans to take advantage of a niche in the wider medical cannabis market, Wyatt adds: "We know, both through research and through our own experience, that there are a lot of companies representing their products CBD; and they're not what they claim to be. Our focus is to grow our own product and produce CBD oil using CO2 extraction technology; manage the entire process in-house from seed to consumer to guarantee a superior product.
"Once we turn the soil via a conventional tractor ploughing, everything else is done by hand, from harvesting to drying. This is what we mean by 'hand-crafted'. We take care during the harvesting process to select the right part of the plant at the right time – sometimes we leave the plant in the field a little bit longer; other times we may pick a little prematurely – we keep a journal on the growing process, so that we can keep track of which plants will produce the type of yield, the consistency and the quality that we're looking for."
Products and market growth
At publication, Hemp Futures' products consist primarily of indoor-grown flowers to make tea, smoke, or for use an ingredient in edibles.
By the autumn of 2020, the company will begin bottling its own full and broad spectrum CBD oil for sale via its online store. Hemp Futures is in the early stages of developing a 'preferred customer' loyalty programme, aimed at rewarding its regular customers for the frequency with which they use the company. Customers will also be rewarded for referring their friends and family members who purchase products.
Customers are invited to let Hemp Futures know what they want from a preferred customer and/or referral programme, with proposed schemes including offering users the chance to test new products.
Initially, Hemp Futures plans to cover the EU market. "We see the EU as our primary market – our backyard; and we see it as a market that is going keep pace with or perhaps outgrow the US over time: the population of Europe is larger than that of the US," Wyatt explains. "By operating initially within Europe, we eliminate customs issues and multiple layers of federal, state, and local government regulations; in the EU we have a common set of laws which regulate CBD.
"Our Estonian customers can take pride in knowing that one of their neighbours, in their own backyard, is growing and producing CBD by hand; and then we want to offer the same across Europe. By raising our profile as a superior brand in Europe, we expect to offer our products wholesale to US customers and to other regions outside Europe; and as we expand, we'll be better able to meet those demands."
The mission of Hemp Futures
The company's overall goal is to create a well-recognised brand known both for the high quality of its product offering and the exceptional standards of its customer service. In terms of Hemp Futures' overlying principles and guiding ethos, Wyatt says: "We are here for a purpose: we're here to serve both those who have a need for CBD and those who are interested in CBD. A key part of our mission is to break down the myths and stereotypes; to help users understand the potential legal ramifications of CBD consumption; as well as to work towards actual legislative change, so that the law can become more favourable towards producers and consumers – there are a lot of different things that we want to do.
"Our mission is to be that company that you can depend on; a company which will spread accurate information, and which offers a superior product. We are become the company which represents the needs of multiple communities across Europe – Germans buy and use CBD for different reasons as compared to Hungary, for example – by engaging with the wider EU community; and by incorporating the feedback that we receive from the community into what we deliver."
Looking forward
As the European medical cannabis industry grows and the legislative approach of an increasing number of EU Member States softens, expansion seems inevitable. "The market is primed for growth: I believe that the market will grow significantly over the next two to five years," Wyatt predicts. "The whole myth behind cannabis or CBD being detrimental to people's health is a political ploy based primarily on racism from the US and the US' strong arm tactics with other countries to follow their racist lead, with the aim of dictating to citizens what they can do. That myth is now being questioned – people are beginning to understand that marijuana is not this devilish, demon drug which causes people to do all kinds of wild and crazy things. Because that is not true. We are diligently working to get the word out about that as well; within the cannabis community we are becoming a source that people can depend on for accurate information and education on CBD. We want people to be able to say: look, these people will tell you the truth; they do the right thing; you can count on them. We want people to buy our product, but we also want them to hold us accountable for developing a superior product."
Hemp: economy and industry in Estonia
With the growth of the industry and increased uptake of medical cannabis products among consumers, governments and policymakers are increasingly aware of the economic and employment benefits which countries can gain from embracing the cannabis and CBD industries. Estonia, which legalised cannabis for medical use in 2005, is Europe's second largest hemp producer after France; and exports around 90% of the hemp it grows in the form of hemp seed oil.
Wyatt says: "As a resident of a foreign country, it's important to me that what we stand for, the way we live, and the way we run our company are all a reflection of the people we are and the relationship we want to have with other folks. Since joining the medical cannabis industry, I've met nothing but amazing people: hemp producers in Europe have not cutthroat, greedy, or dishonest. The people we have and are working with are trustworthy.
"The industry is laidback and relaxed – our corporate culture reflects the same. However, we work to help our customers solve their problems; but in the meantime, let's be friendly, let's be open, let's be inviting, let's be engaging. I want to let people know that they can come to us and we will be there for them. We live how we live over here because we're enjoying it; Estonia is very nice."
Growth and innovation
In its drive to deliver a superior product to its customers, Hemp Futures employs two 'master growers' with several years of experience in growing and cultivating hemp and cannabis. The master growers are working towards the development of new and innovative products, through crossbreeding and cultivating new strains and new forms of CBD and hemp oil – "we may even branch out into the beauty cream business," says Wyatt, though he emphasises that Hemp Futures' key focus is still CBD flower and oil for the time being: "As far as CBD, CBN, CBG and other cannabinoid compounds are concerned, we are looking to produce all of these over the next few years – our customers will be able to enjoy them for many more years in the future."
As a small, family-owned business, Hemp Futures trades on its reputation for high quality products and engaging, personalised customer service. Without the economic or industrial safety nets afforded to larger multinational producers, Hemp Futures' reputation – and, by extension, its ability to maintain its customer base – hinges entirely on the quality of the goods it offers. Wyatt explains: "We have to be responsible that the products we sell will do what we say they are going to do; and that our products provide our customers with safety and comfort, without causing them damage in any way. As a business, we want to be around for many years to come."
Stephen J Wyatt
Chief Executive Officer
Hemp Futures OÜ
steve@hempfutures.eu
www.hempfutures.eu
This article is for issue 3 of Medical Cannabis Network. Click here to get your free subscription today.