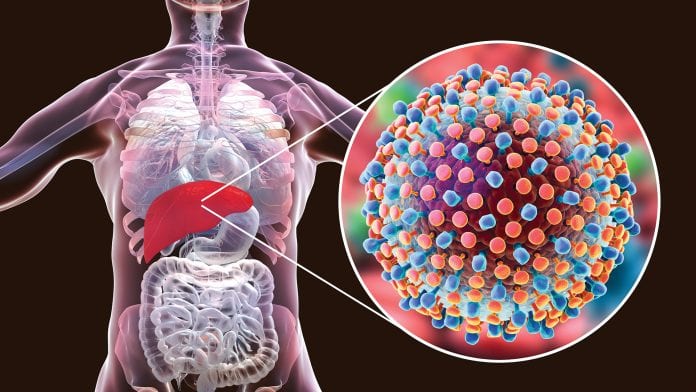 Following an 11% fall in hepatitis C-related deaths between 2016 and 2017, Rachel Halford makes the case for a national strategy to eliminate hepatitis C in the UK.
In May 2016, the UK joined 193 other countries in committing to eliminate viral hepatitis C globally by 2030, as part of the World Health Organization's Global Health Sector Strategy on Viral Hepatitis. This commitment marked a watershed moment in the fight against hepatitis C, a blood-borne virus which primarily affects the liver. Earlier this year, NHS England went even further and announced a target of elimination of hepatitis C in the UK by 2025.
Globally, it is estimated that 71 million people are infected with chronic hepatitis C, including around 210,000 in the UK. Hepatitis C disproportionately affects disadvantaged and marginalised communities in the UK, including injecting drug users, homeless people, prisoners and certain migrant communities.
Opportunities and challenges in the fight against hepatitis C in the UK
To monitor the UK's progress towards eliminating hepatitis C as a major public health threat, Public Health England produces an annual 'Hepatitis C in the UK' report. The latest edition, released in August 2018, highlighted some positive developments, with an 11% fall in hepatitis C-related deaths between 2016 and 2017, following on from a 3% fall in deaths the previous year. More people are accessing treatment for hepatitis C in the UK than ever before, with 14,348 accessing treatment in the UK in 2017/18, more than double pre-2015 levels.
This encouraging progress follows the arrival in 2014 of the new direct acting antiviral (DAA) treatments for hepatitis C, which offer a significant improvement on the old, interferon-based treatments. Whereas the old treatments required a course of injections over a 48-week period and had significant side effects and low cure rates, the new DAA treatments are taken orally for 8-12 weeks, have very few side effects and cure around 95% of patients.
The new treatments have revolutionised hepatitis C care, making treatment both more effective and accessible.
However, in other regards the 2018 'Hepatitis C in the UK' report made less encouraging reading. The report revealed no significant reduction in overall prevalence of hepatitis C or in numbers of new infections, which suggests that the WHO target of reducing new cases of chronic hepatitis C by 30% by 2020 and 80% by 2030 represents a significant challenge for UK hepatitis C prevention and treatment services.
In addition to the lack of progress in reducing prevalence and incidence rates, it is estimated that around 40-50% of those infected with chronic hepatitis C in the UK remain undiagnosed. As the 'Hepatitis C in the UK' report notes, meeting the WHO goal of a 65% reduction in mortality from hepatitis C depends on sustaining the current improvements in the numbers of people accessing treatment, which in turn is dependent on capacity to find and treat those who remain undiagnosed, and to re-engage those diagnosed but not treated.
Addressing these ongoing issues will require a range of actions, and it is The Hepatitis C Trust's view that a comprehensive, written national hepatitis C elimination strategy is needed to co-ordinate the various actors and actions needed to achieve elimination by 2030 at the latest, a view shared by the All-Party Parliamentary Group on Liver Health, leading clinicians, patient organisations and industry. Such a strategy should cover the approach to raising awareness of hepatitis C, preventing new infections, and increasing testing and treatment rates, with some of the key issues that must be addressed outlined below.
We must boost awareness
It is vital that awareness of hepatitis C transmission risks is increased among at-risk groups and the wider public. A government-led awareness campaign, comparable to the approach taken to HIV in the 1980s, could help to raise awareness of hepatitis C among the general public. The use of peer programmes, whereby former patients deliver talks and provide support to those with a background similar to their own, are a particularly effective way of increasing awareness among at-risk groups, and The Hepatitis C Trust is actively involved in delivering peer support in substance misuse services and prisons. Increasing awareness of hepatitis C transmission risks is a vital tool in both preventing new infections and finding undiagnosed patients.
As well as increasing awareness among at-risk groups and the wider public, more needs to be done to increase knowledge of hepatitis C among healthcare professionals. The Hepatitis C Trust's helpline still too often hears stories of patients going years without being diagnosed, despite presenting to their GP with symptoms that should have led to the offer of a hepatitis C test. To support efforts to increase awareness of hepatitis C among key healthcare professionals, The Hepatitis C Trust co-ordinates HCV Action, a network for hepatitis C professionals, which holds roadshows and public health meetings, produces resources and circulates examples of best practice. However, other measures could help to further support professional knowledge of hepatitis C, such as the circulation of key hepatitis C-related information and resources by Public Health England and clinical commissioning groups and ongoing hepatitis C training opportunities for healthcare professionals.
We must strengthen prevention efforts
Preventing new infections of hepatitis C is also key to achieving the elimination goal. Whilst increased awareness of hepatitis C transmission risks can support prevention efforts, there is also a need for greater harm reduction services for those at risk. For example, the provision of sterilised injecting equipment and support transitioning to opioid substitution treatment (OST) is crucial in reducing transmission between injecting drug users, which accounts for around 95% of new hepatitis C infections in the UK. With the 2018 'Hepatitis C in the UK' report highlighting suboptimal provision of clean injecting equipment across the UK, a greater emphasis on harm reduction is key to preventing new infections and must be supported in the commissioning and funding of services for injecting drug users.
Innovative approaches to preventing new infections should also be explored. Drug consumption rooms, for example, offer the opportunity to support injecting drug users with harm reduction and have been successfully implemented in a number of European countries. Another innovative prevention strategy is the 'treatment as prevention' approach, which involves treating large numbers of actively injecting drug users and others still engaged in risky behaviours to halt further transmissions. This approach is currently being trialled by NHS Tayside in Scotland, with models indicating that a reduction of hepatitis C among those injecting drugs from over 30% to below 10% would result in a corresponding decline in transmission from 10% to below 1%, leading to effective elimination of the virus. Should such an approach be proved to be effective, it should be implemented across the UK.
We must improve and prioritise testing and diagnosis
A rapid expansion of testing will also be needed to ensure sufficient numbers of patients are diagnosed and enrolled into treatment. There are a number of measures that can be taken to improve the approach to testing in key settings. For example, 'opt-out' testing of clients should be introduced in substance misuse services, with monitoring systems and targets for test offers and uptake included in commissioning contracts. In prisons, another high-prevalence setting, an opt-out testing policy is already in place, but more needs to be done to ensure effective implementation, including guidance and training for prison healthcare teams. Just as importantly, re-testing must take place regularly in high-prevalence settings, to ensure new infections are picked up.
There are a number of other settings in which hepatitis C testing should be prioritised, including pharmacies, homeless hostels, mosques and A&E departments. Pharmacies are a particularly important setting, with many current or former injecting drug users accessing them to collect clean needle and syringes or OST. Interim results from an ongoing pilot project by the London Joint Working Group on Substance Use and Hepatitis C have shown community pharmacies to be an effective setting for finding those with an undiagnosed infection of hepatitis C, with results from the first six weeks of testing in six London pharmacies showing a 50% hepatitis C antibody positive rate among those tested, with 47% of these previously undiagnosed.
We must expand access to treatment
As the 'Hepatitis C in the UK' report notes, achieving the WHO target of a 65% reduction in hepatitis C deaths by 2030 will depend upon sustaining current improvements in numbers accessing treatment. With most patients in touch with services having now been treated, there is a pressing need to find undiagnosed patients so that they can receive treatment. In support of its target of elimination by 2025, NHS England is currently engaged in negotiations with industry to agree a new funding approach to hepatitis C treatments. If agreed, such a deal is expected to cap the cost of treatments to the NHS above a certain threshold and include a role for industry in case finding. This is a positive step, but The Hepatitis C Trust believes that there must be central co-ordination to ensure a strategic and equitable approach to case finding and treatment.
Engaging more patients in treatment will also require treatment to be made available in settings most convenient to patients. Making treatment available in community settings such as pharmacies, substance misuse services, sexual health clinics, homeless hostels and GP surgeries supports patients to engage with treatment and can be particularly beneficial for patients who traditionally have difficulty accessing secondary care services.
Elimination is possible, but more action is needed
Considerable progress has been made in relation to hepatitis C in recent years. Achieving elimination by 2030 (or even by 2025) is feasible, but it will require the mobilisation and co-ordination of a range of actors. Despite this, the government maintains that it has no plans to publish an elimination strategy. With the prospect of a new funding deal offering the opportunity to treat many more patients, it essential that a national strategy is developed and implemented to ensure the opportunity to eliminate hepatitis C as a public health threat in the UK is seized.
Rachel Halford
Chief Executive
The Hepatitis C Trust
Tweet @HepatitisCTrust
www.hepctrust.org.uk
This article appeared in issue 7 of Health Europa Quarterly, which was published in November 2018.