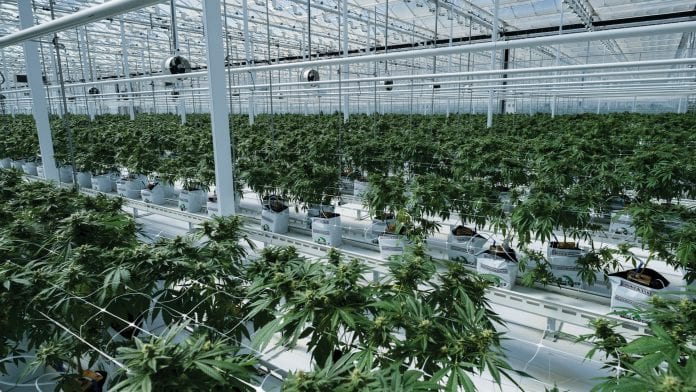 By legalising medical cannabis in the Eurozone and gaining traction with national legislators, things are about to get very busy in Greece and the world of HEXOMED.
When Greece passed medical cannabis legislation in March 2018, it effectively put it at the forefront of thought leadership in the EU. Considered one of the most complete and advanced legal frameworks for the cultivation, production and distribution of medical cannabis in Europe, the legislation means Greece will be well-established ahead of other nations as the nascent industry gains a foothold.
And that means a lot of work for Manos Chatiras, CEO, and Leonidas Garyfallos, COO, both co-founders of HEXOMED, a medical cannabis company established in partnership with Canadian cannabis giant, HEXO Corp.
Greece's green new industry
With the installation licence granted by the Greek government at hand, at the top of their to do list by the end of 2019 is breaking ground on a 36,000m2 medical cannabis cultivation and production facility located in Larissa, in the Thessaly region of Greece. The greenhouse facility, being built by Dutch greenhouse experts, Havecon, will be fully compliant with EU GMP and GACP frameworks. When fully operational, HEXOMED plans to employ between 150 and 180 people in a boost to the region's economy. As a main hub for exporting medical cannabis products across all legal European markets, the company – and country – are making bold moves to own the space, Chatiras explained.
"An EU GMP facility of the scale and technology required to deliver an annual estimated throughput of 20 tons of dried and dried equivalent medical cannabis products requires a significant level of investment. Until there is an all-encompassing EU set of laws around medical cannabis, Greece provides the level of stability and transparency which is a prerequisite for such projects to be implemented successfully," he says.
"We chose Larissa for a multitude of reasons, including but not limited to climate, related available workforce, academic background, as well as proximity to all main ports and airports of Greece. The University of Thessaly is considered top tier and even more so in the agricultural sciences, which obviously play a significant role in our project. Furthermore, proximity to main interstates, access to full-scale utility grids and an established industrial park create an appealing proposition for any such large-scale industrial installation."
That is certainly part of what attracted strategic partners, HEXO Corp, in the first place, notes Jay McMillan, HEXO Corp's VP of Strategic Business Development.
McMillan adds: "We see being in Greece as a springboard to the rest of Europe because of its location. They have a stable political situation, an economy ripe for a new industry and it's a natural for cultivation."
Five things to know about Havecon
Havecon was founded in 2006. Since then, it's become renowned for building state-of-the-art, large scale greenhouses featuring best-in-class technology;
Biggest project to date? The company has built several 'extreme' sized greenhouses up to 25 hectares in both Europe and North America. The largest greenhouse for HEXO Corp is 10 hectares. Annually, the company averages building 150 hectares in greenhouses;
Company motto: "We do what we say and say what we do, no matter what." As a result, they stand out for their short communication lines and fast construction schedules with partners, Voorwindengroep and Subs;
Breakthrough technology? Whether it's diffused glass ceilings or recycled water irrigation, Havecon leads with the newest advances and best high-tech materials on the market; and
How big are they? Employee numbers, including Voorwindengroep and Subs, are around 200 people, but can range up to 400 with subcontractors.
A different approach
Unlike other Canadian licensed producers also establishing themselves in the EU, HEXO will not have to ship from Canada. HEXO, was incorporated in 2013 and is known for its award-winning and innovative medical cannabis products. Despite HEXO's significant cultivation capacity and all that footprint that represents, the company is taking a different approach when it comes to establishing itself outside of Canada's borders.
"Most licensed producers of cannabis are shipping across the world and it's not simple. But if you have products and approval from within the EU, it will mitigate logistical hurdles, give us dramatically better operational efficiency and let us deliver our award-winning products and customer service," McMillan notes.
With the company's focus on creating joint ventures with Fortune 500 companies in cosmetics, vaping and beverages for the North American recreational cannabis market, a Eurozone base for high quality, consistent medical cannabis just makes good sense, adds HEXO's CEO, Sébastien St-Louis.
"By bringing brands powered by HEXO, our infrastructure and our expertise to Europe, we will be well prepared to serve a burgeoning market. This new capability will allow us to bring even more value to our hub-and-spoke partners in the beverage, cosmetics and food space by giving them access to licensed cannabis infrastructure and brands in Europe."
Although the EU will be on a far more conservative timeframe than Canadian lawmakers when it comes to changing the rules around recreational cannabis, more than 30 countries around the world already legalising medical cannabis, putting it one step further down the road to adult-use legalisation, says McMillan.
"It's hard to predict when there'll be an adult-use market in Spain, France and the UK. There's a wave of medical cannabis being approved worldwide, and we expect more countries will adopt recreational, too. The rules will vary between countries, but as governments make cannabis available, we'll be their partner in the marketplace."
HEXOMED's position in the EU means it will also be adept at responding to the varying ways in which patients are prescribed medical cannabis. Germany's 82.5 million citizens, for example, have federal health insurance coverage for medical cannabis. Yet while there is a significant acceptance of non-intoxicating CBD products, medical patients are given access to only certain strains.
"Treating the EU as a unified region with the same set of medical cannabis needs and habits is a fatal mistake. There are many more things outside the obvious language barriers that one needs to be aware and they are different for each European country. HEXOMED's local approach to Europe will allow the flexibility to accommodate for all these differences meeting doctors and patients' local requirements one at a time," Chatiras notes.
When adult-use cannabis is legalised, however, the Eurozone will not necessarily mirror consumption habits in Canada. The much larger and more concentrated population together with lifestyle and social norms, as well as stigma, will play a role. For example, Iceland has the highest rate of recreational consumption, at 18.3% of the population, says United Nations Office of Drug and Crime (UNODC). France, Italy and Spain range between 11.1% and 9.2% respectively. Yet, there is a financial imperative to consider: while UK consumption is at just 6.2%, UNODC estimates that a legalised industry would turn over $11.59 billion (~€10.47 billion) annually, with $1.7bn going straight to the Treasury.
As exciting as it is to be at the forefront of the new industry that will help patients, says Chatiras, it's equally gratifying to have a role in growing economies.
"The economic benefits to the country associated with the medical cannabis industry are not to be ignored. Between foreign direct investments, creation of jobs and exports," he says. "Greece's economy is only to benefit."
HEXO Corp: Growing cannabis on a global scale
When two Canadian brothers-in-law founded HEXO Corp out of a basement office in 2013, they had just one aim in mind: to build a world-class medical cannabis company.
It was a lofty goal, yet six years later, HEXO Corp is now one of Canada's biggest and most innovative legal cannabis companies, having expanded its operations last year as a respected medical cannabis cultivator into the legal adult-use consumer goods market in Canada.
Considered an industry leader for its award-winning products, adherence to the highest manufacturing standards and exceptional business practices, the company has undergone rapid expansion, even for the hectic pace of the Canadian cannabis industry. Having quickly outgrown its original 650 sq m greenhouse, the company initially added a 3,344 sq m custom facility; in late 2017, it contracted Dutch greenhouse specialists Havecon to design and build an impressive, state of the art 23,225 sq m cultivation and production facility.
While that was still under construction, Havecon then broke ground on an additional 92,903sq m growing greenhouse, all on the same campus in rural, French-speaking Quebec.
But cultivation is just part of the equation in the cannabis industry, which increasingly relies on technology and innovation to meet demand. Last year, HEXO Corp added a 32,516 sq m centre of excellence in research and development in neighbouring Ontario. This year, they acquired another cannabis company, bringing cultivation and production space up to 232,257 sq m. Just six years after incorporating, the company has grown from two to more than 1,100 employees, 25 of whom are PhDs tasked with keeping HEXO's foothold in innovation firmly planted.
And, according to CEO and co-founder St-Louis, they're just getting started.
Cannabis by the numbers
Number of cannabinoids in the cannabis plant with potential medical benefits: 100+;
Number of countries with legalised medical market: 50+;
Global spending on legal cannabis by 2024: US $40.6 billion;
Market value of top seven potential European cannabis markets for legal medicinal use: US $42.9 billion;
Number of countries with legalised adult-use: recreational market: 4
Number of global past-year cannabis consumers (2017): 188 million; and
Total estimated number of cannabis consumers: 263 million.
"We're a world leader already, miles ahead of the Americans"
He says the company's business development strategy is currently focused on a hub-and-spoke model, whereby it partners with global Fortune 500 consumer packaged goods companies to bring high quality and rigorously tested cannabis to beverages, health and beauty products, vapes and cosmetics. It's a natural progression of the company's global ambitions, he notes.
"We're a world leader already, miles ahead of the Americans in terms of scale and infrastructure. The next five years will see our infrastructure develop to levels where the cannabis industry will be unrecognisable compared to where it is today."
Globally, he says that "the greatest strengths from the Canadian [cannabis] industry that we bring to the international stage are robust governance from corporate and quality point of view. In addition, innovation and cutting-edge technology are what is needed to get the best products to consumers. By partnering with Fortune 500 companies, we bring cannabis technology, they bring market expertise and distribution. Within these partnerships, you can assign an expert CEO to that vertical."
St-Louis points to the company's recent partnership with beverages giant, Molson Coors Canada, as an example of the efficiencies the hub and spoke approach creates.
"With Truss cannabis beverages through our Molson Coors Canada partnership, we've installed a beverages CEO who lives and breathes that, while we can live and breathe cannabis technology, like rapid onset for drinks. These partnerships mean our brands will be more relevant and our technology will be the best, worldwide."
Worldwide is where HEXO is going, starting with its Greece-based European partner, HEXOMED. Although an ocean and a continent away from where everything began in rural Quebec, HEXOMED CEO and co-founder Manos Chatiras says the same exceptional standards in cultivation and purity of product that made HEXO so notable are foundational to the Eurozone business.
"The Greek marketplace and the broader European opportunity present us with a set of must-meet standards that, in true HEXO fashion, we will not only meet, but strive to exceed with HEXOMED," he says.
"HEXO has a proven track record of building relationships with clients based on trust. We plan to leverage this experience by leaning on HEXO'S rock-strong foundations across all requirements of our business. This is what will separate HEXOMED from all others."
HEXOMED's mission can be traced right through to forward-looking environmental practices already in place in the Canadian operations. The company places immense importance on its corporate social responsibility and how operations impact the natural and social environment on a local, provincial, national – and now an international level, he says.
"With this amount of holistic support, from operations right through to CSR, our future is a bright as the sun that will power our greenhouses."
References
World Drug Report 2019
United Nations Office on Drugs & Crime
New Frontier Data
Arcview Market Research
BDS Analytics
Manos Chatiras
HEXOMED S.A.
+30 210 6390267
info@hexomed.com
This article will appear in Health Europa Quarterly Issue 11, which is available to read now.