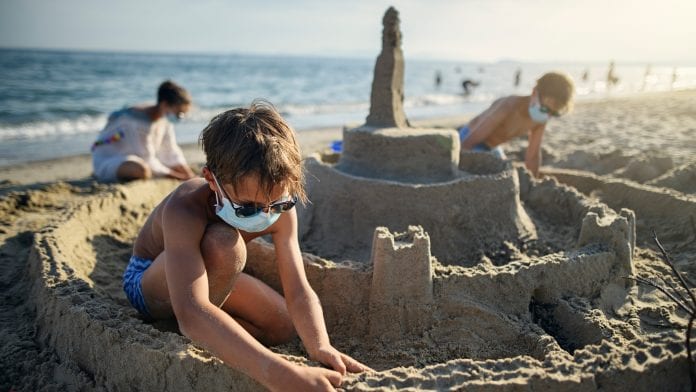 Zidac's team of experts recommend four key items to take with you to stay safe on your summer holiday.
With summer holidays quickly approaching, many of us are eagerly awaiting our planned vacations, staycations, and time away with family and friends. Following government guidelines on travel in response to the COVID-19 pandemic, it is likely that the nature of our summer holidays this year will be different than what we are used to. Perhaps some of us are now restricted from travelling to the sandy Spanish beaches, hiking the Alps, or going kayaking in Norway, and have thus taken this as an opportunity to explore the many picturesque places our home countries have to offer.
There are a number of factors to consider in order to be prepared for any kind of holiday, but the majority of our safety concerns remain the same regardless of location. There are four items Zidac's team of experts suggest you always take with you, all in order to maximise your comfort and to help keep you and your loved ones safe and healthy – whether you are relaxing on the beach, exploring a new city on a city-break, trekking in the mountains, or unwinding with a good book in the countryside.
Sunscreen
The importance of using quality sun protection is undisputed. Many of us are quick to use sunscreen when basking in the sunshine at the beach, but how many of us do the same on a cloudy day? Sun Protection Factor (SPF) indicates the amount of protection offered by the solution against UVB rays – the higher the value, the greater the protection. Zidac recommends everyday use of at least SPF 30, regardless of the weather. Quality sunscreen does not only protect against the appearance of sunburn, but it also provides essential protection against UVA and UVB radiation. These two types of radiation are damaging to skin, but in different ways.
Ultraviolet A radiation (UVA) has a long wavelength and causes the skin to age. It can lead to damaged collagen, wrinkles, and genetic defects that can lead to cancers. This radiation can penetrate through windows and clouds.
Ultraviolet B radiation (UVB) has a short wavelength and causes the skin to burn. This can mutate the skin cells' DNA and is carcinogenic, meaning that it can change the structure of the skin cells and mutate the genetic code causing faults which can lead to potential skin cancer such as melanoma. This type of radiation damages the outermost layers of the epidermis, causing sunburn and blisters1.
UV radiation exposure is cumulative, and the buildup can cause irreparable damage over time. Damage is dependent on exposure time and intensity of radiation. Zidac's sunscreen comes in SPF 30 and SPF 50 (100 ml and 500 ml), offers high and reliable protection, and covers UVA and UVB. It is dermatologically tested and suitable for sensitive and non-sun-exposed skin.
Skin Revitaliser
Skin aftercare is incredibly important and certainly not something to do without. Zidac's Skin Revitaliser soothes, hydrates, and refreshes your skin when applied. It is fast absorbing and helps replenish moisture and vitality to face and body, while supporting the healing process of damaged skin caused by wounds, external friction to the skin, sunburn, and insect bites.
Skin Revitaliser contains a powerhouse of ingredients, of which the most well-known are aloe vera and vitamin B3/niacinamide. Aloe vera is well-known for having cooling properties and for being anti-inflammatory; it boosts the production of new skin cells, while helping soften hardened skin cells and stimulating collagen production to improve elasticity and dryness. Vitamin B3 eases redness and irritation, regulates sebaceous gland oil production, and can help with hyperpigmentation while also reducing the appearance of scars. It prevents water loss by increasing the production of ceramides that create a skin barrier, while also encouraging the skin's hyaluronic acid production.
This gel is not only to be used to soothe the skin after sun exposure, but its rich properties also enable it to be used as a solution to many discomforts, from insect bites to skin which has been damaged by injury. Its soothing properties also make it an excellent gel to use on skin which has been irritated, for example by mask wearing and chafing.
It is a product with many functions that can help address a myriad of irritations, while coming in one conveniently sized 100ml bottle – making it easy to carry with you so that you are always prepared.
DEET-free insect repellent
The insects we encounter may vary from location to location, but the irritations they cause are very similar. There are certain aspects in insect bites that are important to be aware of: for example, in many cases site bites are open to secondary infections, making it much more important to prevent the bite from taking place rather than treating an existing bite, in order to avoid an infection. Certain insects can also transmit certain diseases, such as mosquito bites transmitting the West Nile virus, malaria, Zika, and others. Another example is Ixodes ricinus: the castor bean tick. This tick is common throughout the UK and Europe and is a major carrier of Lyme disease. Using the right insect repellent will prevent these insects from coming close enough to bite you, thus transmitting the disease they may carry.
Seeing the diseases and irritations these bites can carry and cause, we are likely to spray insect repellent all over our bodies and also on our children, so it is very important to consider what is in the repellent especially since we inhale a significant amount of it. Zidac's Insect Repellent is all natural – it is N,N-Diethyl-3-methylbenzamide (diethyltoluamide, or DEET)-free and contains a blend of natural repellents, lemon eucalyptus and citronella oils.
Lemon eucalyptus oil acts in a similar way to DEET to mask natural skin odours, but it is a biochemical pesticide meaning that it is naturally occurring and controls pests through non-toxic mechanisms2. It is long-lasting and therefore does not have to be applied as often as many other common pest repellents. Its other active ingredient is citronella oil, which is derived from a group of grasses. This natural substance adds a pleasant citrus scent while also masking natural skin odours that would attract pests, thereby repelling them.
Antibacterial hand gel
With infection rates of COVID-19 falling and vaccination rates at an all-time high, there is a risk of us getting comfortable as we anticipate a return to our 'normal'. But the COVID-19 virus particles are not the only ones you want to disinfect your hands from – various bacteria and viruses, such as the flu and the common cold, salmonella, E. coli and others can also live on surfaces. Hygiene awareness has drastically increased during the COVID-19 pandemic, and it is important that we remain vigilant even after the pandemic.
In addition to using sanitiser that guarantees effectiveness in killing microorganisms in accordance with the European standards for medical products, it is also important to use one that prioritises skin care. There is a real risk associated with dry hands associated with continuous hand sanitiser usage: when the skin is dry, it can crack; and these cracks allow harmful bacteria to enter the human body. This needs to be avoided at all costs. While Zidac's hand sanitiser protects users from harmful bacteria in accordance with the highest standards, it simultaneously hydrates and soothes the skin which is especially noticeable and appreciated after prolonged usage.
Keeping a handy 50- or 100ml bottle of Zidac's hydrating sanitiser on you at all times allows for you to disinfect while on the go, keeping you and your family safe without sacrificing your hands.
References
1 www.skincancer.org/risk-factors/uv-radiation/
2 www.epa.gov/ingredients-used-pesticide-products/what-are-biopesticides
This article is from issue 18 of Health Europa. Click here to get your free subscription today.
Contributor Details